Engineering Technician in Training
Terracon
15 Marway Circle, Rochester NY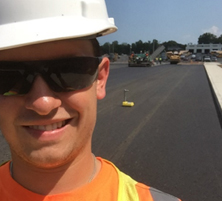 "Terracon is a consulting business of engineers and scientists. I have learned many things such as how to test soil densities and concrete while also be able to observe pile driving, asphalt, and proof roll operations. I have also learned to be able to find the optimum compaction density of soil through extensive laboratory tests that I was required to use skills that I have learned from past sciences courses. My experience was great and I learned a great deal of how our society create and regenerate structures and all the efforts to erect them. There are also many environmental assessments that I have learned through learning how to control soil contamination and erosion to help keep our environment stable and clean while also advising clients to create projects with the least amounts of environmental impacts possible."
Organization: Terracon
Located nationally, Terracon is made up of consulting engineers and scientists. Terracon relies upon demonstrated experience and knowledge of local conditions and regulations to deliver solutions that are timely, practical and make good business sense. Terracon also monitors the integrity and stability of underlying soil along with working together with clients to keep the integrity and reduction of deterioration of the materials used on projects. Mr. Chuck Guzzetta off the office in Rochester NY provides many job opportunities for student to during the summer months to gain experience and knowledge toward this line of work.
Website: http://www.terracon.com/careers/
Contact: Chuck Guzzetta, (585) 247-3471
About the Internship:
On the job you will observe concrete pours and earthwork where you will take multiple tests to make sure everything is up to specifications. You will also get to travel and see various parts of New York while overseeing multiple projects and meet many new people. This is a paid internship where your hours will vary because different projects you will be on with start and end at different times of the day. Overall you will learn much about the environmental and geological aspects of current and future construction efforts.