Intertwining her academic interests in dance and psychology, Maribel Flores '20 graduated from SUNY Potsdam with a singular vision for her future—to help people dealing with trauma through dance movement therapy. "I've always been curious about what combining dance and psychology would look like. This field is literally that, a nice balance of movement, psychology and studying human behavior. We use it to promote emotional, social, and cognitive states of wellbeing," Flores explained.
"My life experiences have brought me to this field. It wasn't an accident; I'm supposed to be a dance movement therapist."
Much like the focused determination needed to solve a Rubik's Cube, Flores masterfully combined her interests at SUNY Potsdam to support her unique career path. From psychology classes with Dr. Arlene Stillwell, to dance classes with Donald Borsh and Robin Collen, she made all the right moves—graduating with a degree in dance with minors in pre-creative arts therapy and therapeutic recreation.
Back in high school, Flores' aunt had always encouraged her to go away for college to experience a completely new environment. So, after growing up in New York City, she set her sights on Northern New York and enrolled at SUNY Potsdam. Although she admits she was homesick at first, she quickly got involved with a variety of clubs and organizations on campus. "What kept me grounded was just staying busy. I was part of Team NV, Bear Witness, the Dance Ensemble, I joined Sigma Gamma Phi, and I joined the honor society too. I think just getting involved in those things helped me a lot," she said.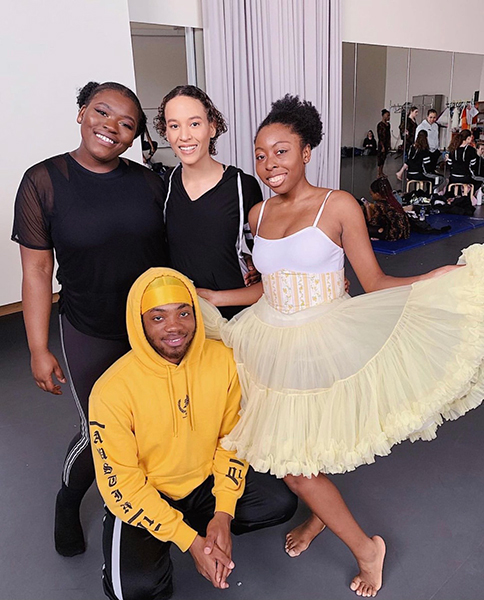 SUNY Potsdam's cutting-edge Performing Arts Center—a 97,000-square-foot building with a 350-seat Proscenium Theater, a 200-seat Black Box Theater and a 200-seat Dance Theater—provided the perfect space for her to develop her dance skills and to grow as a person. "Dance and movement teach you how to work with other people, even when you don't like them, and I feel like that's a valuable lesson I learned at Potsdam," she said.
After graduating from SUNY Potsdam in 2020, Flores moved back to New York City and enrolled in a master's degree program at the Pratt Institute in dance movement therapy focused on self-discovery, and self-healing as a steppingstone to help others. She has been examining traumatic events in her own life, and using dance therapy as a tool for healing. "In this program they help you find yourself before you go out and help other people," she said. "It's really opened my eyes to a lot of hidden trauma that I've experienced."
Flores was raised in Brooklyn and then moved to Manhattan when she was 12 years old. That same year, a tragedy rocked her family when her uncle was shot and murdered near her home. "I've been living with it all these years, thinking I'm OK. I just put it in the back of my head, like it's not a big deal that it happened," she said.
Within the graduate program, she has started to heal from the overwhelming, and dramatic death of her uncle through dance movement therapy, and in turn, she has been developing the tools to assist others in need. "That's the work of dance movement therapists. We want to find what's living in the person's body, and work through that together. It's not something that I can really put into words, it's something that someone needs to experience. I feel like it's such a spiritual way of working," she explained.
Her thesis, "Finding my professional voice as a dance therapist after years of silence," is a heuristic study that examines her personal tragedy, and how she's using dance movement therapy to address that. "I'm trying to find my voice again after facing these traumatic experiences, and trying to figure out how all of this impacts the way I go about my practice. If I'm working with a client who is kind of experiencing the same thing, how do I work with them? Am I going to shut down because I can see the same things in them that I see in myself, or am I going to rise to the occasion to help them through it without counter-transference?"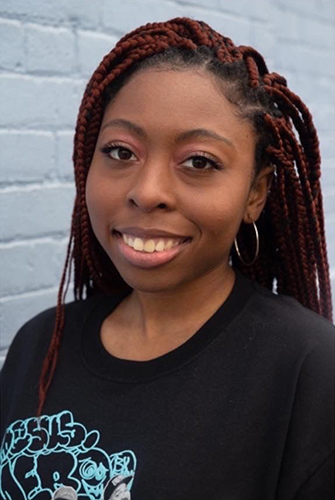 Outside of the classroom and dance studios at Pratt, Flores has been gaining real-world experiences implementing dance movement therapy techniques around the city. In May 2021, she completed her first internship at an in-patient psychiatry department at Maimonides Medical Center in Brooklyn. She's now working one-on-one with dementia patients at an assisted living home in Manhattan, using movement as a tool for healing.  "I get to work with different populations and expand my knowledge. It's very hands on," she said.
In addition to working with her elderly clients, Flores has also been teaching dance at P.S. 145, the Bloomingdale School. "I want to be a dance therapist, but I also want to be a teacher in some capacity in the future. The kids are little balls of energy and I just love them. We're going to be getting into modern dance techniques soon, something that I learned at SUNY Potsdam, and I fell in love with," she said.
When she graduates with her master's degree in May, Flores will officially be a Registered Dance Movement Therapist (RDMT). She plans to then pursue higher levels of certification, becoming a Licensed Creative Arts Therapist (LCAT), and a Board Certified Dance Movement Therapist (BC-DMT), the latter of which will allow her to run her own practice.
"For the longest time, I said that I want to run a dance studio," she said. "I'm so passionate about this that I don't even have the words. I just want a space where people can come and get whatever resources they need, related to dance movement and healing."
Article and photos by Jason Hunter