It's been a busy four years since the shadow of Zoe Walders '16 spun through the performance spaces of the SUNY Potsdam Department of Theatre and Dance. Graduating with a Bachelor of Arts in Dance, Walders immediately jumped into a performance role at Jacobs Pillow dance center in Beckett, Mass., and acted in the Rochester-based independent student film "It Didn't Mean Anything." From there, the dance and choreography work arrived on a steady tide, immersing Walders in 14 different endeavors through 2018-19.
Among the highlights, her work in New York City with Urban Bush Women was particularly impactful. The non-profit African American women's dance company focuses on racial justice and the Black experience—themes that continues to inform Walders' work. Last year, despite COVID-19 restrictions, Walders took part in four productions, including the filmed dance-theatre production, "A Love Letter to Brian, Lesley, and Michelle." The show is directed and choreographed by Hettie Barnhill, cofounder of Create a Space Now, an interactive social platform geared around the discussion of Black Lives Matter through performing arts and multimedia. The show will be available online on Feb. 14, 15 and 16 at 7:30 p.m. Each performance will be followed by a question-and-answer session with the creators and performers. Links to the performance and the question-and-answer session—and a chance to see Walders in her element— are available by contacting the Community Performance Series Box Office at 315-267-2277 or online at www.cpspotsdam.org.
Walders holds dancing, speaking and administrative roles in the production. It's importance, she said, lies in the stage it creates for dialog and sharing.
"There needs to be a space for dialog, artistic expression, learning and understanding the importance of the Black Lives Matter movement," Walders said. "Our goal is to use our art and our methods of communication to open that space. As a performer, I felt like I was entering a space and was responsible for holding that space, which was gratifying but also really challenging."
That "A Love Letter" is being presented by her alma mater brings Walders full circle, in a virtual way. Now located in Rochester, she feels fortunate to be able to practice her craft outside of a dense urban center. While it's all too easy for artists to trade their pursuits for the practical aspects of life because of time and energy constraints, she is thankful to be able to stay fully in the dream of her own creativity. Part of that resilience was forged at the SUNY Potsdam Department of Theatre and Dance, where she learned to trust her abilities and received faculty support that continues to be a reference point into the present day.
"Four years later, I am stilled floored by my relationship with Robin Collen," Walders said. "She was my professor, mentor and advisor. If I felt a spark for anything in the dance world, I could say to her, 'I'm excited by this abstract concept that hit me in the middle of the night like a firework,' and she'd say, 'Cool, let's figure out how to make it happen.'"
Collen, a theatre and dance professor and associate dean of the School of Arts & Sciences, sometimes uses Walders as a sounding board to test projects and ways of communicating, helping the dancer to feel valued. "Our relationship provides so much for me so consistently, which says a lot about what a wonderful educator and person she is," Walders said.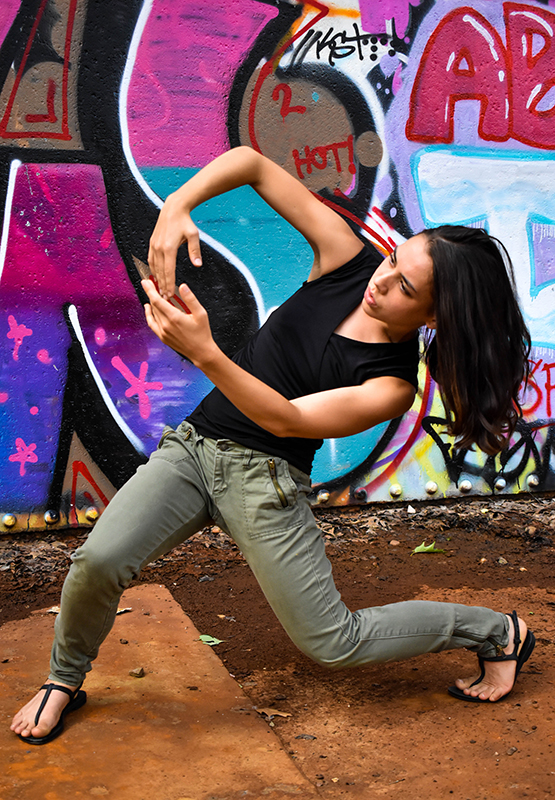 That sense of gratitude flows both ways. "Zoe was curious and took the importance of her education very seriously," Collen said. "Whatever I offered her, she consistently took it much further into a glorious creative inquiry—well beyond any expectations I had. I value Zoe's friendship and I regularly solicit her input and engage with her about art and life."
 Walders' found her pathway to a dance major after trying other options. She arrived in Potsdam not sure of the course her life would take, but discovered that performance spaces were where she felt most excited to be. She started choreography classes and tapped into a growing energy. Walders stopped trying to focus on what it meant to follow her art in a practical sense, and instead let its passion carry her to the future that awaited. It took confidence to set aside the practical considerations and fear of falling that could have held her back. But she did, and the dance lifted her.
"I really started to see how many options I had in dance, and how I could give myself to all of those options and be completely exhausted and do it all again the next morning," she remembered.
Serious creative endeavors help shape the soul. In no small measure, artists discover and define themselves through the often-challenging aspects of the creative process, framing who they have been and deciding who they want to become. Walders became so immersed in her work that at one point she crashed —but learned from it. She was carrying 25 credits and an honors course while working in two different shows. She didn't know she had mononucleosis until she suddenly fell asleep where she shouldn't have been napping. It was a wake-up call to pace herself and let her art develop naturally.
These days, it's easier to see how the pieces of her creative life fit together. And Walders is looking to opportunities on a horizon where COVID-19 melts away. A residency that she was forced to put on hold and other chances to breathe new life into her dance are — for now — only just beyond reach, fluttering on fragile but promising wings.
"I don't know an artist who isn't looking past COVID-19," Walders reflected. "We are always trying to figure out a way to do our art. I am definitely seeing beyond my performances in my little apartment."
Article by Bret Yager, top photo by Zachary J. Frazee