As he retells the story of meeting his future wife at SUNY Potsdam, Drew Coles '12 said he feels like he's falling in love all over again.
"It was really the summer of yes for both of us. We took a trip to Maine, we took a trip down to New York City, we just gallivanted across the countryside, but we were supposed to part ways at the end of the summer," Drew said. "We stayed true to our agreement and she helped me pack up, and she watched me drive down the driveway. I waved, and she waved, and we hoped then that we would find each other at another time in our lives. Then I got on the road, 30 minutes in and I said, 'What are we doing? Shouldn't we see this through?' And she said, 'Yeah, I'm definitely thinking the same thing. We should give this a try, because this is too good to just dismiss.'"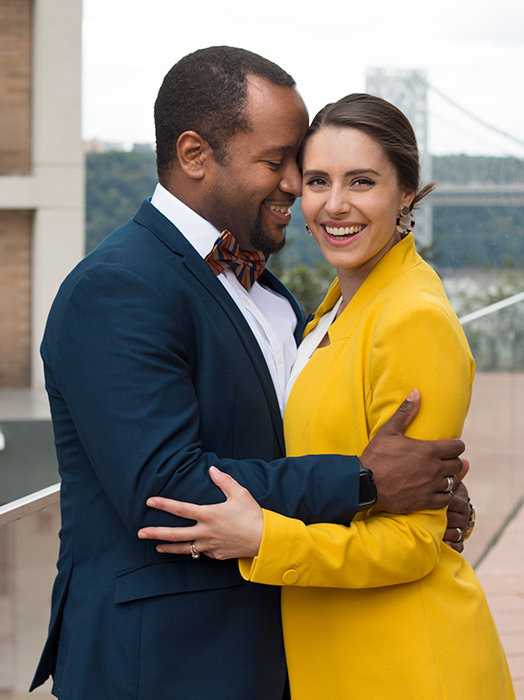 Fast forward to a decade later and Drew and Erin are now married and running a highly successful wedding band business, The Metropolitan Players, in the heart of New York City. Combining their music performance and business skills, they tapped into a thriving market in the Big Apple where they employ 60 musicians, and a staff of six administrators.
In a good year their company generates about one million dollars in gross revenue, and has received numerous accolades including The Knot's Best of Weddings Award from 2015 to 2021. With over 100 five-star reviews on the well-known wedding planning website, The Metropolitan Players has risen as a top choice for couples. "It's fertile ground in New York City to be doing this kind of thing," Drew said. "The good thing about the business is that we do love it. I haven't made it through a ceremony without crying in years."
For Drew, the trajectory toward a highly successful wedding business all started at SUNY Potsdam while pursuing his degree in music business at The Crane School of Music. Now he's come full circle, as one of the newest faculty members at SUNY Potsdam. In addition to owning and operating The Metropolitan Players with his wife, he's now leading Crane's music business program as an assistant professor and program director—the same one that he graduated from back in 2012.
With a fresh perspective, and the experience he's acquired as a musician, entrepreneur and educator in NYC over the past decade, he's charting a new course at Crane. "I personally view this degree as a launching pad. After I graduated, I received a Master of Music degree, an MBA, and then got a Doctor of Education degree," Drew said. "I didn't view it as a one-way street into a job in which I sat behind a counter at a music store. I viewed it as an opportunity to do literally anything. I've been trying to bring in as many voices that can illustrate that as possible—alumni who can add to the conversation of what this kind of a degree can possibly be, and the doors that it can open."
To create hands-on learning opportunities for his students at Crane, Drew launched a practicum working group for them to learn marketing skills and create content for social media and the music business website. "This gives students the experience of learning how to start marketing campaigns, how to execute them, how to facilitate an event, and how to foster connections," he said. "Students should really find their zone of genius here, and they should be able to claim it by the end of the degree."
"I really found myself at Potsdam. I figured out how to learn and I really understood what I needed to focus on in the classroom to be successful." 

-Drew Coles '11
Drew is leading by example. Years earlier when he was a student at Crane, he not only learned essential entrepreneurial skills, but he performed extensively as a musician. He joined eight different groups his senior year, playing with groups ranging from jazz and wind ensembles, to the clarinet choir and a saxophone quartet. He traveled to Mexico to perform with the Crane Latin Ensemble, and he made late night appearances on stage at local Potsdam businesses like Maxfield's with his funk band, The Third Rail. "That's something that is really unique about SUNY Potsdam, because I don't think I'd be the same if I couldn't be in all those ensembles," he said.
In the summer of 2011, after completing all of his in-person classes as an undergraduate student, he remained in Potsdam to play music gigs on a dinner cruise ship in Alex Bay, and weekly performances at a local church. One evening he invited his future wife Erin out for drinks with his friends. A great night filled with laughter, conversation and dancing, ended with them kissing on the dance floor. "We left reality for a moment. That ended up being the start of the summer that we were claiming we were going to part ways cleanly at the end. That was what it was supposed to be, and we basically ended up hanging out every single day," he said.
That fall, he departed for New York City, but what seemed like the end of their relationship, was in fact just the beginning. They kept reuniting, meeting up halfway between Potsdam and New York City, as Erin continued her studies at SUNY Potsdam. Drew started his internships in New York City, splitting his time between Chamber Music America and Such Sweet Thunder Inc. At the end his six-month internship, they both offered him jobs, and he chose the latter, a publishing company focused on producing jazz books, recordings and sheet music. Over the next three years, he worked as the marketing and production director at Such Sweet Thunder Inc., he received his Master of Music degree in Jazz Performance/Jazz Studies from Queens College, and he worked as a music teacher at El Puente Academy—all while performing at dozens of weddings through Creations Music.
And then on Nov. 19, 2012, Drew made the trip back to SUNY Potsdam for a well-orchestrated proposal on stage at SUNY Potsdam's College Theater. Erin had been working in the president's office, and Drew made arrangements to have her escorted to the theater by then secretary, Diane Brown. "They walked in, and there's a fog machine going, and the lights are dimmed, and Erin left her glasses so she couldn't see," Drew remembered. "And Diane said, 'I think you're supposed to go up.' And Erin was confused, 'I'm supposed to go up in the middle of a thing, clearly a production is happening right now, right? and I'm supposed to go up?'"
Erin made her way up to the stage and saw Drew standing behind his keyboard. He started playing a song they had written together during the summer they had fallen in love. Then he got down on one knee and proposed as a string quartet continuing playing their song in the background. "As soon as she said yes, the quartet went to full bowed strings, playing this song that we wrote a year and a half earlier, about how we would spend all of time trying to fight for one another in love," he said.
Drew and Erin following the proposal at SUNY Potsdam in 2012.
Drew was on cloud nine as headed back to the city and continued balancing graduate school and his day job, while performing at wedding receptions and corporate events all over New York City. His work with Creations Music would soon come to an end though after issues he was having with the management of that company. "They did some things that I thought were pretty unconscionable to a member of band whose mother had just passed away, and I ended up leaving rather abruptly in support of that person," Drew recalled. "And then I thought I could essentially do a similar thing, have a similar kind of music, and just treat people well. This also coincided with when Erin and I were planning our wedding, so we tossed it back and forth and decided to start a company and band of our own."
Building off of their foundation at SUNY Potsdam, Drew and Erin both enrolled in a Master of Business Administration program at Metropolitan College of New York. "We used that degree to really help write the business plan. Erin wrote at least half of the thing. That helped our business get off the ground," he said.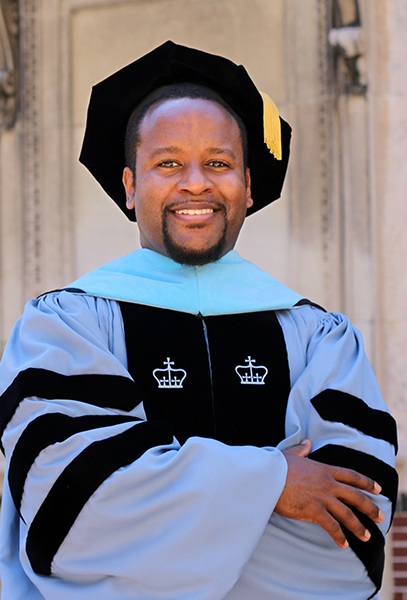 Their business thrived, but Drew also had his sights set on becoming a college professor, so he enrolled in a doctoral program in college teaching at the Teachers College of Columbia University. He received his degree in 2019, and just one year later was hired to lead The Crane School of Music's Department of Music Business, where he's now wrapping up his first full academic year. Combining music, love, education, and entrepreneurship, Drew has quickly emerged as a leader at SUNY Potsdam—a shining example for his students on how to succeed after graduation.
"I really found myself at Potsdam. I figured out how to learn and I really understood what I needed to focus on in the classroom to be successful. I also figured out what to focus on outside of the classroom to feel satiated as a person," he said. "I tell the students in my classes as well, it's so important that you figure out how you operate as an individual. That's the thing that I got from Potsdam and found here through trials and tribulations and great successes."
Article by Jason Hunter