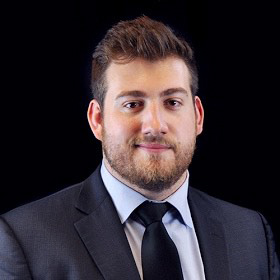 With focused determination and a passion for the music industry, Jordan Olinsky '17 parlayed his experiences at SUNY Potsdam into an impressive career in the music business industry. Just four years removed from The Crane School of Music, Olinsky is leading the way as the southwest division manager at Buffet-Crampon, a music company that has been manufacturing wind instruments for close to 200 years.
After graduating in 2017, Olinsky drove home to Syracuse, bought some new suits, and ten days later he boarded a plane for Seattle for his first job with the company as the northwest division manager. He hit the ground running, overseeing their sales operations in a large swath of territory in the Pacific Northwest ranging from Washington and Oregon, to Alaska and British Columbia. Spending eight days a month on the road, he was responsible for visiting music stores and schools to better understand the needs of his customers.
"At the fundamental level, I sell Buffet-Crampon products. If your music store says that you need to visit schools, then you go visit schools. If their retail team needs training on how to sell our instruments, then that's what you do," he said. "A huge part of what we do is going into schools and talking to band directors to introduce them to our products."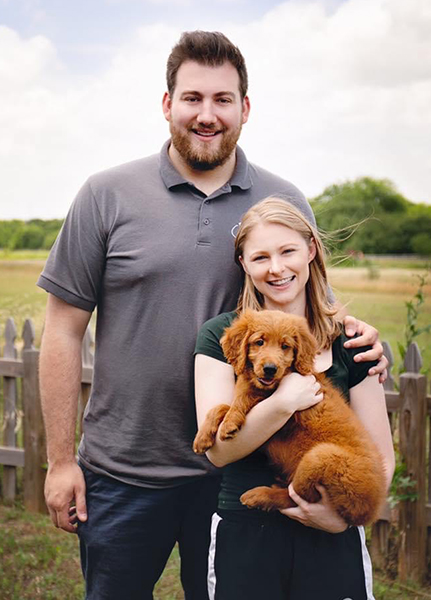 In January 2019, he moved to Houston, Texas, where he assumed the role of southwest division manager for Buffet-Crampon. "Texas is the biggest marching band market in the country because of high school football. It was a big promotion that was going to be a lot more work. For example, my sales target in the northwest was about $900,000 annually, whereas my sales target in Texas is about $4.5 million," he explained.Olinsky now lives in Houston with his fiancée, SUNY Potsdam alumna Samantha Sheats '17, who has also found great success since graduating from Crane after landing a job as a major gifts officer for the Houston Symphony Orchestra. 
"We're both working on our MBAs. Both of us want to move into management roles, especially since we got such a strong start," Olinksy said. "When I was hired, at the time I was the youngest division manager that had been hired by any music products company in the world. Because we got these great gigs—getting very lucky early on thanks to the experiences I had in college—we wanted to continue to work up the ladder."
His connection to SUNY Potsdam's Crane School of Music dates all the way back to middle school when he first started attending Crane Youth Music (CYM). That's also where he met Dr. Mark Hartman for the first time. With several ensembles in which to perform at the music camp, Hartman placed Olinsky not only with other middle school students, but also with a more advanced group of high school students in order to push his limits.
"Dr. Hartman gave me this cool opportunity and I really started to admire him.  I came back to CYM every year, and then when it was time to apply to colleges, SUNY Potsdam was the only one. I was like, 'I've got to study with Dr. Hartman.'" -Jordan Olinsky '17
Dr. Mark Hartman with Olinksy during SUNY Potsdam's 2017 Commencement ceremony.
Olinsky auditioned at Crane on the trombone, but was not accepted academically at the College at first. "I had a 1.7 GPA going into my senior year of high school, and had some academic things to figure out. Turns out I had dysgraphia (a writing disorder associated with impaired handwriting), and a few things like that that were holding me back a bit," he said.
Olinsky was devastated that he wasn't accepted. But then four days after his rejection letter, he received a call from SUNY Potsdam's Office of Admissions looking to reverse course, and still admit him based on other criteria, including his SAT scores. "I don't know what Dr. Hartman did, but he pulled some strings," Olinksy said. "He saw something in me. Based on my trajectory in high school and how I started to figure things out, he thought that I would be successful at Crane. That really impacted me. So, through my four years at Crane, I always had to make sure that I was living up to what Doc saw in me."
At Crane, he joined numerous ensembles over his four years, ranging from Bearbones trombone quartet and the Crane Wind Ensemble, to Jazz Ensemble and Latin Ensemble. Despite his love for trombone performance, Olinsky switched course and started focusing more on the music business program at Crane. Before long, he was exploring the music industry through a business lens. When the Wind Ensemble went on tour, he became the student tour manager and oversaw the logistics of hotel stays and itineraries for the trip. His junior year he traveled to Cuba to help establish a partnership between SUNY Potsdam and the Universidad de Cienfuegos, and then the following year he traveled back to Cuba with the entire Crane Latin Ensemble.
Olinksy plays the drums during a trip to Cuba with the Crane Latin Ensemble.
Olinksy, right, performs with other members of the Crane Latin Ensemble in Cuba.
From left, McCoy, Olinsky and Baxter during a trip to Cuba.
When the Crane Latin Ensemble Directors Dr. Marsha Baxter and Dr. Peter McCoy decided to bring the Mambo Legends to SUNY Potsdam, that opened even more doors for Olinsky. He helped to host them on campus, and through that experience, he met Mambo Legend Mitch Frohman, who in turn offered him a job in New York City.
Working for Frohman, and his music label Small Truth Revolution Records, Olinsky managed Frohman's social media accounts, and scheduled performances for him in the city. "I started calling clubs in New York and trying to get gigs booked. And then because I was a competent player thanks to Doc Hartman, I would go to these gigs and they'd let me sit in," he said.  "I'd leave classes Friday at 2 p.m., I'd get in my truck and drive seven hours to New York, and then sit in on a Latin gig at 1 a.m. It was a crazy experience. I would pop five-hour energy drinks and crash on couches in Manhattan."
One connection led to another, and Olinsky found himself managing social media accounts for several artists at the record label. "Because of that initial entrance with Mitch, I started getting involved in the New York salsa scene," he said. "When their artists would come to town, I would show up at the gig early, and on behalf of the record label I would shake hands, and buy them a drink, kind of do the artist relations thing."
At the time, one of the label's artists, Andy Gonzalez, was nominated for a Latin Jazz Grammy Award and they flew Olinsky out to Los Angeles for the event. Not realizing it until he arrived, if Gonzalez had won, Olinsky would have had to accept the award on his behalf and give a speech. "I was texting with the label and I was like, 'Hey, where's Andy.' They said, 'Andy's not there, it's just you.' I was panicking. Unfortunately, he didn't win, but honestly at the time I was a little relieved."
Those hands-on experiences, coupled with several trips to the National Association of Music Merchants (NAMM) Show, the world's leading trade show, rounded out his music business degree at Crane and set him up for success at Buffet-Crampon.
Now in a place to give back to his alma mater, Olinsky reached out to Hartman to identify an incoming student who would benefit from a brand-new Courtois trombone valued at more than $5,000. In April, Octavia Duvigneaud '24 received the new instrument in front of SUNY Potsdam's Sara M. Snell Music Theater.