The 2017 Fall Island Vocal Arts Seminar came to the Crane School in late May, run by Artistic Director Stephanie Blythe ('92) and Executive Director, Crane voice professor Lorraine Yaros Sullivan along with Music Director Alan Smith. This year, Crane alum Daniel Mertzlufft ('15) was back as Assistant Director and also contributed as a composer when Stephanie and Alan premiered a commissioned song cycle by Daniel. Crane Music History Professor Gary Busch also contributed, lecturing on the songs of Charles Ives. Some Fall Island Alumni were back to perform, and of course there were nine new fellowship artists, pianists and vocalists whose growth and training was the focus of the of the seminar. Stephanie Blythe was also featured on North Country Public Radio (NCPR) discussing the Seminar.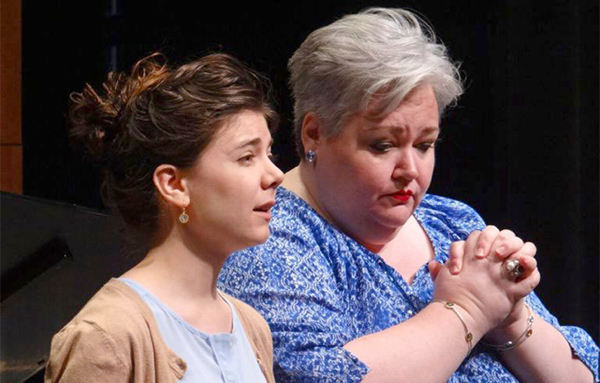 Stephanie Blythe (right) conducting a master class during last year's Fall Island Seminar
Camino de Santiago walk: About 15 student members of the Crane Chorus embarked upon an amazing journey in May and June, completing a portion of the Camino de Santiago in Spain. They walked 200 miles over three weeks from León to Santiago de Compostela, led by Crane professor Jeffrey Francom. The trip follows the April performance of Joby Talbot's Path of Miracles, an hour-long a cappella exploration of the phenomenon of the Camino de Santiago, the ancient Catholic pilgrimage route across northern Spain to the cathedral of Santiago de Compostela in Galithia. Below are pictures at the beginning and end of their journey.
| | |
| --- | --- |
| | |
| Setting Off | Finishing Up |
Alumni News
Reunion Weekend at SUNY Potsdam was full of many Crane-related events, as always. This year's SUNY Potsdam Alumni Award Recipients included two Crane School of Music alumni: Bob Christianson ('72) and Kickie Britt ('69 and '74).
The Crane Alumni Band Concert also had their second reunion, capped off by a concert in Hosmer Hall.  The concert will be hosted by Brian Doyle, Crane Director of Bands, including special guest conductors Rebekah Covell (Hon. '15) and Michael Schaff.
Also during Reunion, we celebrated Esther Scott's remarkable achievement of attending her 75th college reunion. Esther is a proud member of the class of 1942. Here she is with Dean Michael Sitton at reunion 2017.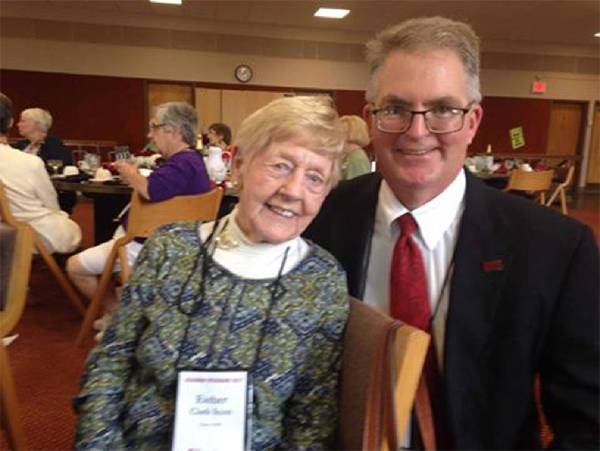 The Lake George Music Festival took place in August. Founded in 2011, and currently directed, by Crane alumni Alexander Lombard ('06), the Festival's Music Director & Conductor is Roger Kalia ('06, pictured below). Roger was announced earlier this summer as one of the nine 2017 Solti Foundation U.S. Career Assistance Award recipients. Details are at http://bit.ly/2rK9jum. Roger is also Assistant Conductor of the Pacific Symphony and Music Director of the Pacific Symphony Youth Orchestra in Orange County, CA.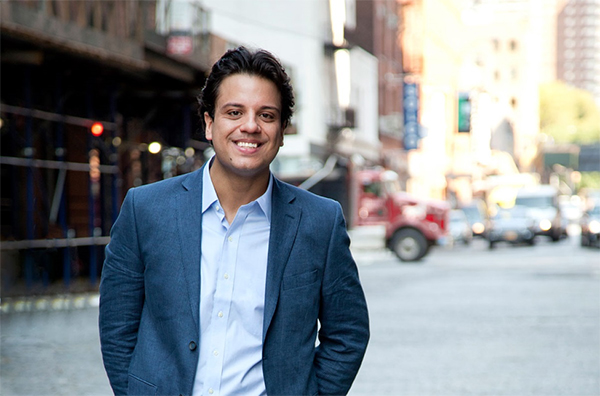 Renée Fleming ('81) was featured on NPR's All Things Considered in May, alongside NIH Director Francis Collins (pictured below). The two teamed up for a weekend program called Sound Health on June 2 – 3, 2017, at the Kennedy Center in Washington, D.C.. Sound Health was focused on the connections between music, health, wellness and science through musical performances and presentations from neuroscientists. NPR's Robert Siegel interviewed the two about intersection between art and science. Hear the interview at http://n.pr/2rA36Ab. For more on Sound Health, see https://www.kennedy-center.org/festivals/soundhealth.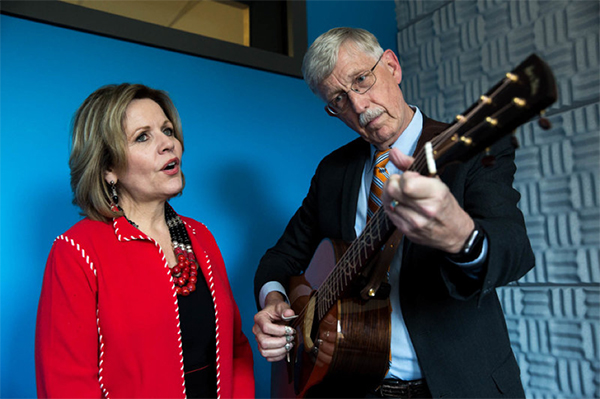 We offer congratulations to Kyle Peters ('15), who completed his Master of Music – Percussion Performance degree at the Eastman School of Music this May, and then quickly moved into a position teaching at the Eastman Community School. He also remains an active performer. Here is Kyle performing on his Eastman degree recital.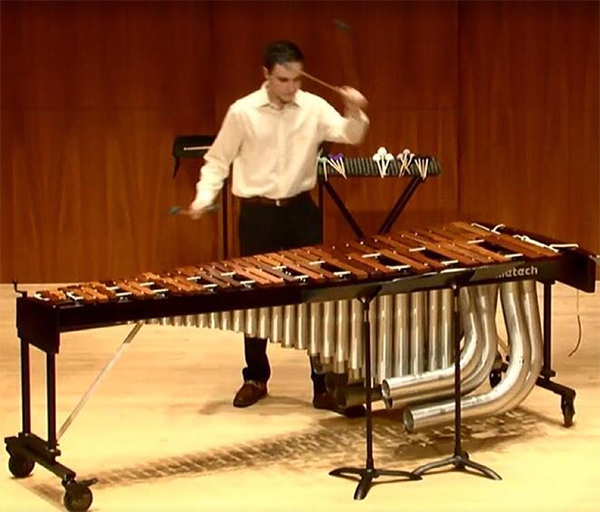 In July, Katie Beck ('12) was on stage accompanied by the Boston Pops as a vocalist for Sondheim on Sondheim, a special tribute to composer and lyricist Stephen Sondheim held at the Tanglewood Music Center. Katie earned her master's degree at the University of Southern California's Thornton School of Music last year, and this fall she joins the young artists post-graduate program at Opera Colorado in Denver.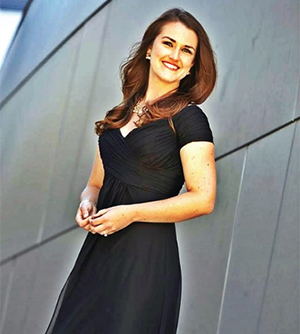 Mezzo-soprano Edith Grossman ('15) was in a production of La Cenerentola at the San Francisco Conservatory of Music in August, as one of the stepsisters. San Francisco Chronicle music critic Joshua Kosman singled her performance out, writing, "Grossman in particular gave evidence of a voluminous vocal instrument deployed with eloquence and force." The production was part of this summer's Merola Opera Program, which operates in close collaboration with San Francisco Opera Center and San Francisco Opera. Edith is one of just 23 singers, selected by audition, in the program this summer. Last summer she performed in several productions at the Seagle Music Colony.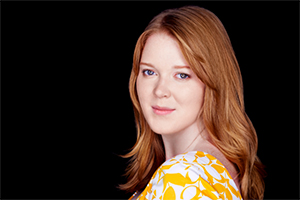 Faculty news
The Spring/Summer 2017 issue of The Wheel, a journal of Orthodox Christian thought, featured an interview with Crane Harp Professor Jessica Suchy-Pilalis, who has researched and taught courses in Byzantine music at Crane. You can read the interview at http://bit.ly/2gXFwd3.
Young-Ah Tak, Assistant Professor of Piano, spent part of her summer on the faculty at the American Piano Forum and Samuel Barber Institute (APF|SBI) International Piano Festival, in West Chester, PA. She was also featured (at left) on the cover of the August issue of Korea's magazine The Piano, along with her teacher, Prof. Yong Hi Moon of the Peabody Conservatory, who performed at Crane last April. The two pianists gave a duo concert at the Seoul Arts Center on September 5, and this concert, along with the twenty-year relationship of Dr. Tak and her teacher, are the subject of an article in this leading Korean music publication.