Isaac Griffith '15 & '16 knows the importance of being involved, getting out of your comfort zone and opening a new horizon.
Griffith's interest in global learning and social justice on an international level began to take root during an undergraduate trip to Cambodia in 2014, part of a SUNY Potsdam travel abroad class examining the origins and impacts of human trafficking. Since then, Griffith has earned two master's degrees, and has led and coordinated travel experiences in Dubai, one of the world's emerging cities. He is also a work readiness instructor and site monitor for the Italian American Civil Rights League in New York City, helping participants improve their resumes and interviewing skills and secure jobs.
"I think it is important for every student to have an opportunity to get out of their comport zone and see something different," said Griffith.
The tour company The Dubai Experience — like many of its kind — has been impacted by COVID-19. But at their full strength, Griffith's excursions explore and share a dynamic Dubai, a cultured old city and a new cityscape which evolved at a breathtaking pace, fueled by oil development. Juxtaposed against his experience in impoverished Cambodia learning about human trafficking and the influx of organized crime, Dubai holds a different lesson, "on how quickly a society can develop, based on its circumstances," said Griffith, who would like to help launch a Dubai study abroad experience at SUNY Potsdam.
"We can look at how a society develops, through the lens of Dubai itself being so young, yet highly advanced," Griffith said. "We can even explore behaviors of mending cultures in comparison to the United States, since the majority of the population of Dubai isn't even from there, yet they all function well."
Griffith graduated from SUNY Potsdam in 2016 with a Master of Science in Education, Curriculum and Instruction. He achieved a second master's degree in sociology two years later from St. John's University, where he was president of the Alpha Kappa Delta international sociological honor society. His time in the North Country helped remind him of a key enduring fact: the time is always now.
"It's important to get involved," Griffith said. "College is a short four or five years. Joining Greek life by becoming a member of Delta Kappa Theta, landing positions in the Black Student Alliance, being public relations chair at Student Entertainment Services, and being a member of the Law Enforcement and Tactics Club have all benefited me, in some form, in how I function with people daily."
Griffith credits Dr. David Bugg, a SUNY Potsdam associate professor and service learning coordinator focused on sociology and criminal justice, with helping him find his academic compass.
"Dr. Bugg has been a great mentor, leader, and friend who has always been there for me," Griffith said. "I have to thank Dr. John D. Youngblood for building my character as a man. Dr. Youngblood has taught me drive and focus in the struggles that we both face in our everyday lives."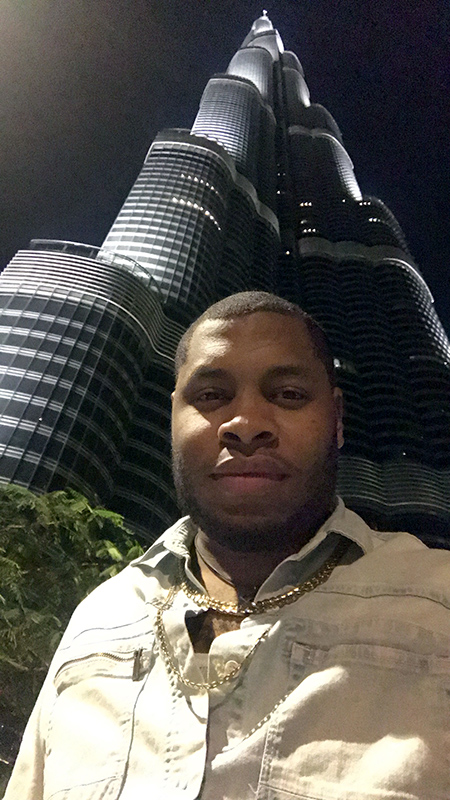 But the origins of Griffith's drive for success and his embracing of new horizons goes further into history —back to his parents, who came from separate Caribbean nations right around the time those islands gained independence from Britain. His father, from Barbados,  moved to England in 1965 and worked for the London Transport as a bus conductor and train driver. He then moved to the United States in the early 1980s, working in maintenance at a nursing homes, then at United Airlines and finally the mail room at the Louis Dreyfus Company.  
His mother was born in St. Vincent and the Grenadines and was a domestic worker from the age of 14, moving to the U.S. in 1982 and getting her first job there seven years later.  Griffith's parents settled in Brooklyn and raised him there.
"They both came from humble beginnings and have pushed me to get an education," Griffith said. "I know my parents want the best for me, so I need to push myself to be able to make a way for myself and make sure I can put myself in a position to take care of them." 
Griffith's long-term goal is to become a professor and, as part of that, to earn a Ph.D. But like many, he has a real and challenging world to navigate, and must figure out how to make that work financially.
"As a Black man, coming from New York City, I do everything in my power just so others can get a chance," Griffith said. "With everything going on in the world right now, you have to understand how people that look like me have to work two and three times as hard just to be viewed for an opportunity. I'm simply a servant seeking to help those that want to do great for the world we all live in. If my progress can be a beacon for others to follow and advance beyond me, then I've done my job on this planet."
Article by Bret Yager