From Potsdam to Hollywood, Keisuke Hoashi '89 has continued to push the creative envelope his entire life. 
The SUNY Potsdam alumnus has appeared in more than 85 TV shows and movies, 80 national TV commercials, and 150 live theatrical productions—everything from "Mad Men," "Curb Your Enthusiasm," and "Big Little Lies," to "Bob's Burgers" and national TV commercials for TD Ameritrade, Citibank and Wells Fargo.
The son of Japanese immigrants, Hoashi was born in New York City in 1967. He grew up on the 18th floor of an apartment building in Queens, living in tight quarters and sharing a room with his two older sisters. In high school, he pursued a passion for music, and was selected as one of only four trumpeters for the All-City High School Orchestra that went on to perform at Carnegie Hall. When he graduated, he enrolled at Boston University for their music, writing and journalism programs. But it proved to be a decision he regretted, and not a good fit for him. He had also initially applied to SUNY Potsdam, and at the end of his freshman year he received an unexpected letter asking him if he was looking for a change and would consider transferring to SUNY Potsdam. "It was a lifeline. Clearly Potsdam wanted me, and I can't tell you how good that felt after a really bad freshman year," Hoashi said.
He started at SUNY Potsdam in the fall of 1986 with his sights set on both music and English, attempting what he called the "parallel career way of thinking," by merging the two different disciplines. He focused on music education at The Crane School of Music where he mastered the trumpet by working closely with Music Professor John Ellis and learned how to play the trombone.
"I had a wonderful time at Crane. SUNY Potsdam turned out to be the perfect place for me," Hoashi said.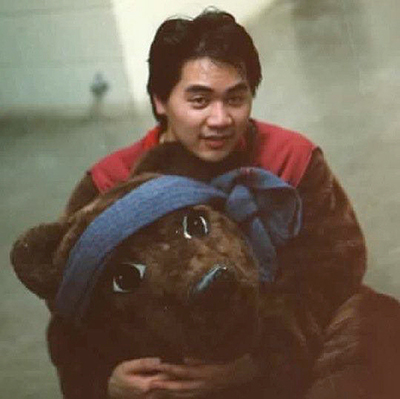 In his junior year, he realized that he wanted to focus more intently on English, and switched to a minor in music. He developed strong relationships with faculty in the Department of English and Communication, and took a technical writing class with Professor Alan Steinberg that really appealed to him. The course focused on learning the skills to effectively communicate about technology and law, and how to translate technical jargon into content that the general public could easily understand. When he wasn't in class, he worked as a copy editor and arts editor for The Racquette newspaper on campus, a position that gave him a glimpse at real-world operations, dealing with deadlines and the challenges of office politics. He also worked as the co-editor-in-chief for the English department's North Country literary magazine where he built a foundation in desktop publishing, and was responsible for laying out the entire magazine.
All of those hands-on experiences helped to shape Hoashi. But it was a live performance at SUNY Potsdam's former coffeehouse in the Barrington Student Union that foreshadowed his future career as an actor. At his core, a comedic energy lay in wait, and one night he decided to step on stage to sing quick-witted, snarky political songs by Tom Lehrer. "It was a tremendous success. I'm not a great singer, but the material was so much fun to do. It was a performance experience outside of the typical Crane curriculum, which I think is so valuable for anyone who wants to become any kind of professional entertainer. I enjoyed it so much," he said.
After completing his degree from SUNY Potsdam, and with the support from faculty in the English department, he lined up a position with the New York State Assembly as a writer. Anthony Boyle, English professor emeritus, kept an eye on the job market and saw that that position would be a good fit for Hoashi with his aptitude for technical writing. "For a year and a half, I worked at the Capitol in Albany as a tech writer. I was the guy responsible for all you poor suffering people getting those pamphlets in the mail, a friendly note from Senator Smith talking to you about potholes," Hoashi joked. In his spare time, and in an effort for find a creative outlet, he also produced humorous, fake pamphlets from the Assemblymembers to their constituents. "I turned out to be a pretty goofy employee," Hoashi commented.
He left his position in Albany after one year, and enrolled at Rensselaer Polytechnic Institute for a graduate degree in technical communications. The university offered a one-year program where he got to work for IBM, offering hands-on training at one of the most recognizable technology companies in the world. One day, he was searching for other creative opportunities, and started flipping through the local newspaper when he spotted an audition notice for "My Fair Lady." He hadn't done any acting since his fifth-grade performance as Captain Hook, but quickly fell in love with his role as the cast leader for singing and dancing in the production. "I was the only minority in the cast. That's kind of where I fell in love with acting, on stage in Galway, N.Y.," he said.After graduating with his master's degree in 1993, he found a position in El Segundo, Calif., that caught his attention—in large part because of its proximity to Hollywood. He moved to Southern California and started working as a multimedia designer for NCR Corporation, a technology company known for manufacturing automated teller machines and creating database software. "By that time, I had decided that I wanted to try this acting thing and that it was going to make me happy," Hoashi said.
"I'm in Hollywood, so I'm right where 99 percent of the acting work was at that time. I could pay for my own rent. I could pay for my car and gas. I could pay for food, and I could pay for acting classes, because I had this great job. In recruitment terms I became my own sugar daddy."
He worked days at NCR while pursuing acting classes and unpaid roles in his free time. Hoashi started his acting career by appearing in national TV commercials, a list that now includes TD Ameritrade, Microsoft Xbox, KFC, IBM, Citi, Visa, and Yamaha.  In 1998, he decided to leave NCR after it became untenable to balance the two careers, and it was clear that he had the talent and experience to make it as a full-time actor.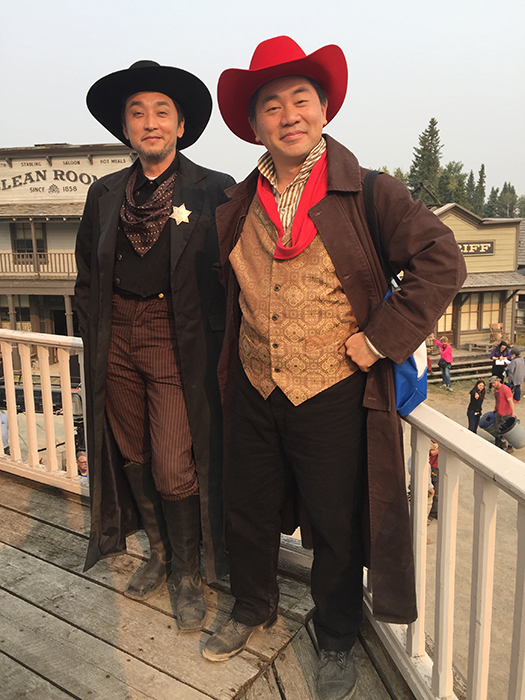 The path to success wasn't always an easy one. "I learned pretty early that Hollywood and acting works almost entirely on what you look like and not what you can do. Completely antithetical to what we learned in college and corporate America. Even the roles you get to audition for are based on your headshot, not your resume. So, if they're looking for a samurai, they look at me and say, 'Oh, maybe this guy could play that role,'" he said.
He would often be type-cast as the Asian delivery person or a sushi chef, but over the years he has made an effort to seek out a broad range of roles. If a casting notice called for a Japanese doctor in their 50s, Hoashi's agent will submit his headshot not only for that role, but also for jobs that do not specify an ethnic background. One of his first roles was on "Sabrina the Teenage Witch" as a sushi delivery boy. "The obvious joke would be to have some guy dressed as a sushi chef, delivering a bag of sushi with a thick accent. I didn't do any of that. I just put on jeans and a button-down shirt and gave it in my regular voice," he said.
He has continued to challenge stereotypes in Hollywood. He recently appeared on HBO's "Perry Mason," which was set in prohibition-era America. Rather than portray his character with a thick accent, he pushed back against that framework. "The director and I talked about it and I think it turned into a much better performance," Hoashi recalled.
Although there have been times when an accent has been essential to his role, like his voice-over role as Shinji Kojima, an animated character from Japan on the TV show "Bob's Burgers." "It was almost absolutely necessary to have someone with a similar background to mine, because it was a Japanese character," he said.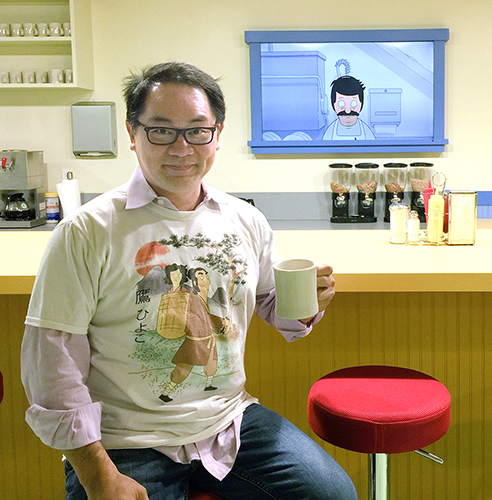 "Bob's Burgers" was his first foray into voiceover acting, something that he has grown to love, and something he now considers his dream job. With his script in hand, he doesn't have to worry about memorizing his lines, but can instead focus on the task of presenting his character with nothing more than his voice. "For me, it's not difficult, because it's so much fun to do. It's so exciting that you don't realize that you're working hard. I just recorded a new animation show and we only did an hour of work, and by the time we finished I had to change my shirt because I was sweating that much, and that was exhilarating."
Comedy is without a doubt his favorite genre, and 20 years ago it led him to embark on his most personal project to date—writing a musical parody based on "Memoirs of a Geisha," called "Memoirs of a Ninja." He wrote the musical and librettos, worked with a composer, and produced the show. His award-winning musical ran in North Hollywood for six weeks. "It was a natural outgrowth from the coffeehouse at SUNY Potsdam and all of those terrible fake brochures that I made in the New York State Assembly. It all came together on stage in front of people and it was an incredible learning experience—pushing me in new directions," he said.
One of those new directions brought him back to New York in the summer of 2005 when he started working as an instructor for the Hartwick College Summer Music Festival & Institute (HCSMFI). He helped to overhaul the musical theater program and introduced film making and acting classes to the campers. The following year he cofounded the New York Summer Music Festival (NYSMF) and continued to fly back from Los Angeles to Oneonta every summer to work as an instructor and communications director for the new festival.
Meeting talented young students was a highlight of the experience for Hoashi. During his first year at Hartwick, he worked with a brilliant young singer, Cassie Davino. "She helped develop the very first musical theatre program. She was extraordinary, with an exquisite voice. I saw later that she attended SUNY Potsdam, and in her sophomore year she tragically died in a traffic accident," Hoashi said. To this day, he holds that connection to Cassie and Crane near and dear to his heart. Now a special memorial, Cassie's Harp, pays homage to the talented former music student outside of Crane. Hoashi plans to visit the memorial during his next trip to Potsdam.More recently Hoashi dealt with the loss of his father. About 10 years ago, his dad started to develop dementia and it became difficult for him to remain in New York City, where he had lived since emigrating from Japan. Hoashi's mother and father moved back to a small town north of Kyoto, Japan. In 2014, his father passed away just before Hoashi got the role on "Bob's Burgers." "I went into the audition with that weighing upon me," he said.
"I graduated to a higher level of acting that day because I was able to draw upon the sorrow of losing my dad, but also knowing that he would be really excited for me to get this job. I decided that I was going to make use of my dad's voice, and some of the things that I've heard him say, to make the character come to life."
In light of the global pandemic, Hoashi's acting gigs came to a crashing halt. Just before COVID-19, he had lined up a potential major role on a new TV show, but it's unclear if it will be financed at this point. His voiceover work has been a lifeline though, as he's been able to continue auditioning from his home studio. The voiceover studios sent him a case with a computer, professional microphone, and mixer equipment. "I plug it into my little studio—which is just a closet lined with a lot of blankets—and we're able to use Zoom and other teleconferencing software to create a virtual session and high-quality audio," he said.
Whether working from home or in the studio, Hoashi continues to land acting roles in Hollywood, and to embody a positive comedic energy that is the cornerstone for his success as an actor.
Article by Jason Hunter