The music persists — and will prevail.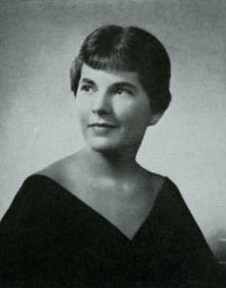 It filled Pamela Michne Fox's childhood on Long Island, beginning with the notes of her mother's piano and filtering down through the sense of warmth and fun in her mother's stories about The Crane School of Music. It helped Fox '59 know she wanted to follow in her mother's steps and attend the same college.
Woven with the clear, resonant notes of a Steinway, Fox holds fond memories of traveling to Europe with longtime Crane School of Music Dean (and 1918 graduate) Helen Hosmer, on a music study tour for 16 coordinated with the Experiment in International Living. The trip was a whirlwind of music and a feast of culture that included Paris, the Mozarteum University in Salzburg, music festivals in Edinburgh, and lectures every place they went. Fast friendships were forged, as were Fox's ties with a Swiss host family that would strengthen and lead to multiple visits from both sides over the years.
"I loved all of my professors at Crane," she recalled. "I enjoyed anything I took from Robert Washburn ('49), who taught many courses, mainly music history. I especially enjoyed Jim Ball, who was my piano teacher."
Graduating from the same institution as her mother (Edith Michne '33) meant that Pamela was also able to study under one of her mother's classmates, now a cherished professor—Mary English '35.
Shortly after graduating with a major in music education with a concentration in piano, Fox was back on Long Island, where, for four years, she taught vocal music to elementary and high school students. While attending a Music Educators National Conference, she met Alan Fox, owner of a bassoon company now known as Fox Products Corporation. The company would grow to be the largest bassoon manufacturer in the world and also a creator of fine oboes, contrabassoons and English horns— a venture begun in 1950 in a modified chicken coop on the Fox farm in South Whitley, Ind. The pair married, and Fox moved with her husband to Indiana, where she taught music for another three years and became an officer in the company.
Nearly six decades have passed, but the connection to SUNY Potsdam and the love for music that brought her there persists across time and geography. Fox returned to Potsdam and Crane in 1999 to attend her 40th reunion. When the coronavirus pandemic relents, she'd like to come back and meet some of some of the students who have followed in her footsteps, and get to know the programs and faculty that drew them all to the same place. 
"I really enjoyed my time there," Fox said. "It was probably the most enjoyable time in my life."
Fox has set a record for SUNY Potsdam, with two new scholarship endowed funds for The Crane School of Music and for the College more broadly — gifts totaling more than $1 million. It's the single highest amount the College has ever received for scholarships in the name of education for all. As the economy shrinks in the grip of COVID-19 and jobs that have traditionally helped sustain college students have evaporated nationally, Fox's gift couldn't have come at a better time. It is guaranteed to assure that more young people are able to graduate and to take advantage of broader opportunities.
"I know there are students who need, and I am happy to be able to help them. I want everyone who wants to go to college to be able to have that chance, and I hope they go to SUNY Potsdam," Fox said. "Hopefully they can make a career out of what they love, and what they learn there."
Fox, for her part, may never stop playing music. Arthritic in two thumbs, she no longer plays for anyone else. But she plays for herself as much Bach as she can get through, precious note by precious note. The joy comes from the music, the memories, and the contemplation that others can find their own sources of solace for years to come.
Article by Bret Yager