When he's not carving through the fresh powder at Alpine Meadows in Lake Tahoe, Mike Rogge '08 leads a successful career as the editor of The Ski Journal and the founder/owner of the media production company, Verb Cabin. Since graduating with his degree in writing and literature from SUNY Potsdam over a decade ago, Rogge has turned his dream into a reality—skiing as many days as possible and writing about it professionally.
"I felt like I was being given the tools by my professors at SUNY Potsdam that enabled me to be four or five steps ahead of the competition."
Rogge slapped on his first pair of skis when he was just five years old and started writing about the sport when he was 17. When he came to SUNY Potsdam in 2004, he took it to the next level and started writing about skiing professionally, while also pursuing a degree in writing and literature in the Department of English and Communication.
"I felt like I was being given the tools by my professors at SUNY Potsdam that enabled me to be four or five steps ahead of the competition, postgraduate burnouts at Jackson Hole who had way better access, but I don't think they had the literature and writing skills that some of the professors at SUNY Potsdam were tooling me up with," he said.
Rogge wasn't sure he could make a living as a ski writer, but his English professors gave him the encouragement that he needed. "I can remember Dr. Victoria Levitt taking me seriously when I told her that I wanted to write about skiing for a living. She and my other professors didn't ask me to settle—they told me I could do it," Rogge said.
One of them was Associate Professor Dr. Donald McNutt. "He was a big influence on helping shape my worldview of literature and what I could do with my writing. He was really great! I'm extremely proud of the fact that I got my degree from SUNY Potsdam. I absolutely loved going to school there," Rogge said.
Some of his early professional writing opportunities came during an internship at the Glens Falls Chronicle. "That was an incredible experience where I learned how a print business works," he said. He was also introduced to a dress code that was short-lived—wearing a shirt and tie. "I had to wear a shirt and tie to go interview a clown who was retiring. It was one of the most humbling experiences of my life. It was great. They said that no one was going to respect a journalist if I didn't respect myself. The irony is that now I interview Olympic Gold medalists on a regular basis, and if I ever wore a tie, they would think that I was a narc or something," Rogge said.
During the winter months at SUNY Potsdam, he started writing for Newschoolers.com, a Montreal-based website dedicated to the world of skiing. They liked his writing samples and hired him to cover the ski scene in Northern New York and Vermont—even covering a ski event in Pennsylvania one time. "My dad likes to tell this story that I was getting paid $100 to write this article about an event in Pennsylvania, but it cost me $150 to get down and back with gas, and I slept in my car. I was driven. I wanted to pursue this," Rogge said.
The hard work paid off. After graduating from SUNY Potsdam, and a short stint at Ski the East—a clothing company and film production company in Burlington, Vt.—Rogge landed a job as a writer for Powder Magazine in San Diego, Calif. "I like to say that's where I got my master's degree. I learned quite a bit under Derek Taylor and Matt Hansen, who were the editors there," he said.
After three years at Powder magazine, Rogge left and started his own publishing company, Verb Cabin. His first project took him to Haiti to work with an artist named Kehinde Wiley. "He's a really interesting artist. He's perhaps best known now for painting the official portrait of Barack Obama. Out of that trip, we made a 22-minute documentary that's on our website and we also published a coffee table book—my first published book, which is sort of ironic in that I've been a ski writer for 15 years and my first book is on Haitian art. It was really fun," Rogge said.
With freelancers all over the world, Rogge's company does custom photo, video and copywriting projects for outdoor retailers like Eddie Bauer, Salomon, Grundéns and The North Face. "What we try to do with these brands, rather than sell a product, we try to tell a story that works within their world," he said.
Rogge also works as the editor of The Ski Journal, a quarterly coffee table magazine covering the cultural aspects of skiing, the mountains and the people who visit them. "Most outdoor and ski magazines come to your house and they might live on the back of your toilet for a week or two. We're a coffee table magazine and when people are done with our mag, because of the quality, they end up putting it on their bookshelf. It's pretty cool. We try to cover the canon of ski history and try to add to it where we can."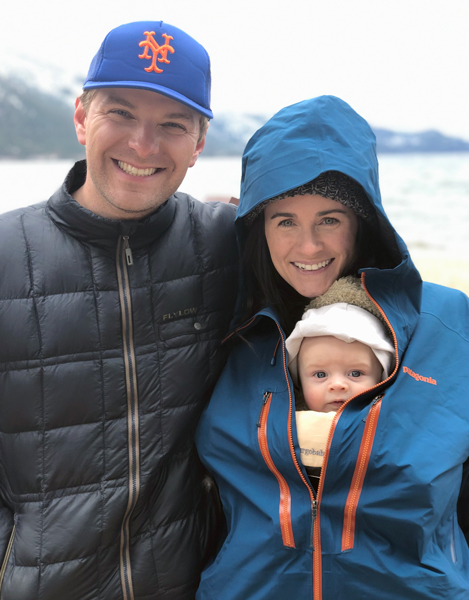 Although the publication is based in Bellingham, Wash., Rogge works remotely from his home in Lake Tahoe, Calif., where he lives with his wife, Meghan (Forbes) Rogge '06—also a SUNY Potsdam alumna. They didn't actually meet at SUNY Potsdam though—it happened years later, when Meghan first moved to California and her sister, Jenn Forbes '09, a friend of Rogge's from college, set them up.
"My wife was looking for any kind of familiar face on the West Coast, and Jenny knew that my wife enjoyed skiing and knew that I was out here writing about skiing, editing ski magazines, making films and thought we might be friends," Rogge said. "We went to Alpine Meadows on our first date and we went for a short hike from the summit. Since then, that was six years ago, we got married, we own a house and we have a son who is seven months old. We realized that we were in Potsdam at the same time. We just never crossed paths," Rogge said.
Part of that was probably due to the fact that Rogge was pounding the proverbial pavement, or in this case, the ski slopes, in an effort to launch his writing career. "My friends probably don't have a lot of distinct memories of me at parties, because I was leaving on the weekends to pursue my ski writing career, especially in the winter, obviously," Rogge said.
"It was a great school experience and I really enjoyed it. My best friend in the entire world, Alex Buecking, and I were roommates at Potsdam, my wife is from Potsdam, my sister in law went to Potsdam. It was great! It really shaped my life in an interesting way," he said.
Article by Jason Hunter