Scott Rajeski '88 was well acquainted with snow by the time he enrolled at SUNY Potsdam for his undergraduate degree. As a child in Upstate NY, he often shoveled his elderly neighbors' driveways, instilling in him a personal commitment to care for others.
Throughout his time at Potsdam, Rajeski continued his acquaintance with winter weather—recalling many snowy treks to Maxcy Hall for basketball games—and used his four years to build upon the foundation of his upbringing to become a hard-working leader and professional.
Now, Rajeski serves as the president and CEO of Latham Group, Inc., the largest designer, manufacturer and marketer of in-ground residential swimming pools in North America, Australia and New Zealand. Under his leadership, Latham launched an initial public offering (IPO) at the Nasdaq stock exchange in Times Square on April 23, 2021. It was the first company in New York's Capital Region to take its stock public in several years.
"Taking the company public was a milestone," Rajeski shared. "Becoming a public CEO and ringing the bell at the Nasdaq were never on my bucket list, because the percentage of people who can do that is so small, so the opportunity was just amazing. It was the result of decades of success and hard work."
In over 30 years as a professional, Rajeski has never shied away from work that was difficult.
After graduating from SUNY Potsdam with a major in mathematics and a minor in business economics, he began as an eager management trainee at the former Potsdam JCPenney on Market Street. To expand his horizons in the business world, Rajeski applied for the 4+1 MBA program at Clarkson University in partnership with SUNY Potsdam. He received a full scholarship and graduated in 1991.
By that time, Rajeski had married Cindy (Guyette) Rajeski '89, and the young couple moved back to the Albany area, where he returned to his old summer job as a security guard at the Saratoga racetrack. Due to the recession and Gulf War, jobs were scarce, and Rajeski remembers receiving countless rejection letters.
"I was probably the most educated worker at the racetrack," Rajeski said, "but I used it as an opportunity to network with folks at the different events I worked at. I always had my resume with me."
By the end of the summer, Rajeski's strategy had worked. His resume made its way to General Electric (GE) in Schenectady, and he started with the company that September. Throughout his time at GE, he completed their Financial Management Program and Executive Finance Leadership Program, relocated throughout the East Coast and regularly traveled across the world to India and Germany.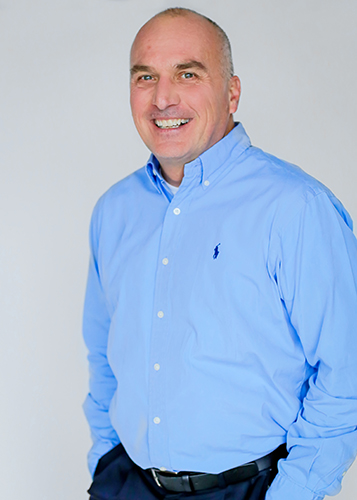 "I always took the hard job," Rajeski said, reflecting on this period with GE. "I always took the position that no one else wanted, and I went into a situation where the business or the position was somewhat broken and they needed someone to come in and roll up their sleeves and make an impact."
When GE was sold in 2006, Rajeski made the difficult decision to leave the company in order to stay with the team he had grown to trust. For the next several years, he invested his time in three different companies: Momentive Performance Materials, Latham International and Global Foundries.
Rajeski's first position at Latham lasted only six months before he made the decision to advance his career elsewhere. Years later, he realized he missed the intimacy of the small company, and when a recruiter approached him about returning as Latham's CFO in 2012, he agreed.
After four years, Rajeski was asked to consider adopting the role of CEO. His initial response was to disqualify himself as "a dumb math guy," but then he reminded himself that his success thus far was a result of embracing the challenging assignment.
"I may be the shortest-tenured CEO in the history of Latham," he remembers thinking, "but I'm going to give it all I've got. I'm going to give it the good old Potsdam try."
Five years after taking the job, his leadership has proven to be a triumph. Latham has not only reached stock and sale milestones, it has also been recognized for its workplace environment, earning one of the Times Union's 2021 Top Workplace awards.
Creating a corporate culture where people feel rewarded and respected is important to Rajeski. "My leadership strategy has always been to show them I care about them as a person first, and then my next concern is how they are doing as an employee," he shared.
Rajeski's care for others is also demonstrated in his philanthropy to causes that are important to him, his family and his company. He traces his desire to give back to his time at Potsdam, namely as a member of the Phi Chi Epsilon fraternity, which often participated in local service projects.
"It's not about how much money you give; it's about your support being directed right back into something you're passionate about," he said.
Rajeski is also dedicated to investing in the next generation of leaders as a mentor. Some members of his team—including multiple fellow SUNY grads—have followed him from his time at GE or Global Foundries because they trust and appreciate his guidance.
His advice to young professionals is to recognize that they are the only ones who have control over their own destiny. "Whether you want to be a CFO or a superintendent, it's the same; you have to work hard, earn your stripes, prove yourself as a leader, take care of people and build a team. It's a series of stepping stones to get to where you want to be."
As for himself, Rajeski knows there is more to come with Latham. "We'll continue to grow, we'll continue to build the team, and we'll continue to set growth targets and milestones—those big goals that people think they can't even dream to achieve—and we'll just keep knocking them down, one at a time, and stay on top."
Through each success and milestone, Rajeski is grateful for the people in his life on whom he can rely, including many friends from Potsdam. He is always seeking opportunities to reconnect with old friends, whether getting lunch with a fellow Bear while traveling or hosting a get-together at his home.
"We hosted a reunion party at our house just before COVID, and I think we had about 60 folks come," Rajeski said. "Folks drove in from Arizona, Florida, all over the country, for a three-day weekend to just hang out, celebrate and reminisce. It was probably one of the best weekends I've had in a long time."
Whether former college buddies or aspiring recent graduates, Rajeski will always take time to invest in his Potsdam family. He looks forward to coming back to campus one day and sharing his career insight with current students, inspiring them as they go out to find their own success.
"I truly, truly loved my experience at Potsdam," Rajeski remarked. "It was a phenomenal place to go to school, and I wouldn't trade it for the world."
Article by Alexis Donnelly '18