Indelible lessons and inspiration from The Crane School of Music ripple through the life of Dr. Talonda Thomas '06 in clear notes that now touch hundreds of lives.
Thomas, founder and director of the New York Musician's Center, knew immediately upon graduation from SUNY Potsdam that she had a gift she wanted to begin paying forward. Originally from Albany, Thomas did not return home nor look back for opportunities near her roots. Instead, equipped with a Bachelor of Music degree in music education, she headed to a public school teaching position on Long Island, where she developed a growing certainty that she had something more to offer, and important ideas for engaged learning beyond the traditional classroom.
The product of that vision opened its doors soon after: a music school that started in Thomas' home, expanded and finally moved to its current Bellmore location, where it now gives students exposure to quality instruments and instructors, and some of the top stages to be found anywhere.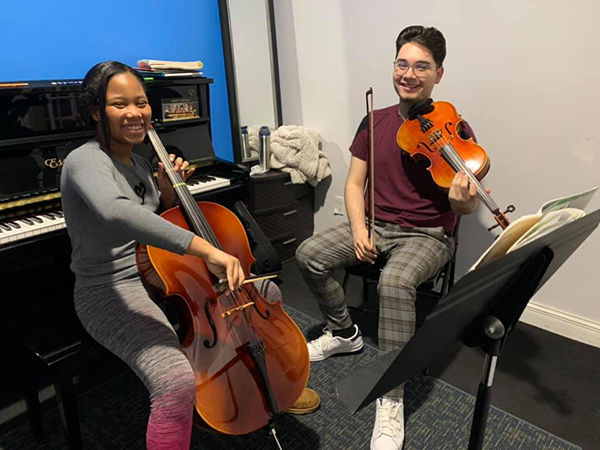 In the best of times, the New York Musician's Center is bursting with 700 students from 80 ZIP codes and a multitude of backgrounds, each developing musical gifts that can nourish, transform and give meaning to an entire life. In the worst of times, amid a pandemic, the music and the school are an emotional lifeline for students feeling swept away by events they cannot control.
"Music is the primary socio-emotional outlet for children," said Thomas, who has spent countless hours in the refuge of piano notes. "The opportunity to sing and play music with others has been stripped from so many kids, and many children even had their instruments locked up in their schools during the pandemic, which left them with even higher anxiety. Now that the world is transitioning into our new normal, kids need the relief that musical creativity allows."
A staff of some 40 music teachers from around the world infuse the musician's center with a rich and diverse cultural heritage. Piano, strings, drum, and vocal lessons are offered in one-on-one settings, augmented by summer music camps and student performances at Carnegie Hall. The center was voted the best music school on Long Island in 2019 and 2020 by the Bethpage Best of L.I. contest.
But the arrival of the COVID-19 pandemic forced Thomas, who holds a Ph.D. from Capella University focused on K-12 music education, to think quickly and creatively about how to deliver instruction and how to keep the musical connection with her students. The center has been forced to grapple with challenges surrounding online delivery of classes and with local authorities to reopen, which the school did on a limited basis on June 24.
The struggles have not diminished Thomas' bright outlook. In fact, her strategy for resilience can be traced to her time at SUNY Potsdam and Crane.
"One particular memory that I hold dear were the Candlelight ceremonies each winter," Thomas said. "Seeing the community come together and make music taught me the power of the stage. It helped me learn what it felt like to make music among other singers, with amazing instrumentalists, and how the community shared the love of the arts. I now spend my life attempting to give that great feeling to children all over New York."
Thomas found an unexpected ally in the fierce North Country winter and at Potsdam, a gratifying acceptance of family.
"We all had to 'rough it out' with the weather," she recalled. "The first thing someone said to me when I arrived in Potsdam was that I would learn function over fashion — basically making do with whatever we needed to make things work. I carry that with me everywhere. There's always a way to achieve a goal as long as I know it's not always going to be smooth sailing." 
Thomas was a non-traditional student, juggling the responsibilities of full-time motherhood with course work. Her son, a toddler at the time, was left with his own indelible experiences of the North Country.
"Potsdam was incredible with allowing me to expose my son to the arts while I was there and providing great resources to a hard-working student who didn't even live on campus," she said. "My son never forgot his days with me there and is now in college studying music himself."
Thomas' goal these days is quite simple: to allow the ripples made by her music to continue their spread. She wants to keep supporting students and their desire to make music, regardless of their experience level or individual life barriers.
"Owning a music school, I get to see a student from the first time that they touch an instrument and watch them grow," Thomas said. "I'm trying to create a space where kids can grow confidence, musical competence, and the love for the stage so that they can shine in and on whatever stage in life they experience. My goal is to serve at least 5,000 students each year and produce the top musicians around the world — just as SUNY Potsdam does."
Article by Bret Yager