Dr. Tasia White '12 has a newly minted Ed.D. and passion for transforming how people view their own professional success. She wants them to be fulfilled by their work, and that part is trickier than some think.
As national interest turns to the need for greater support of diversity in the workplace, White is in a position to offer the perspective of both a woman of color and a person who made the study of such diversity—and the barriers to it—the subject of her dissertation.
White graduated from SUNY Potsdam with a Master of Education in organizational performance, leadership and technology, a foundation for her 2020 Doctor of Education in human resource development from Drexel University. Along her journey, she spent six years working as a housing coordinator and director of residential living and learning for Clarkson University, where she worked her way through the master's program at SUNY Potsdam and helped assure safe and comfortable housing for thousands of Clarkson students. She then returned in 2016 to her undergraduate alma mater, Juniata College, in Huntingdon, Pa., to serve as a director of residential life and finally as assistant dean of students.
White plans to bring her accumulated professional experience to the hundreds of pages of unpublished research that wouldn't fit into her dissertation. She would like to further refine her findings and present them in a book that would underscore several key takeaways for increasing workplace diversity. Among them: Financial reality often creates too high of a barrier to degree attainment.
"There is this pressure to have these higher degrees but not a lot of financial support to get there," she says, noting that because of Potsdam's affordability, good planning and her job in resident life at Clarkson University, she was able to get her master's degree debt-free. But she has since had to take on debt to get her doctorate.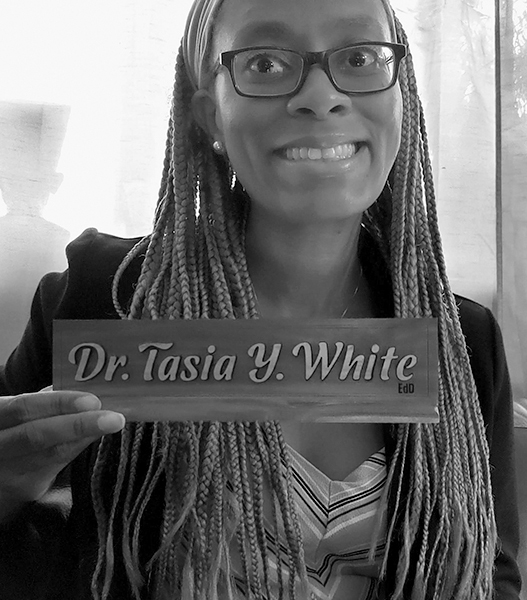 White's second key concern involves the placing of workers in the right position with the right resources.
"Sometimes we're put in a position because that is what the institution needs, but it doesn't take into account the full scope of what the person is able to provide," she says. "We need to be providing tools and mentoring rather than placing people in roles with no support or resources and saying, 'figure it out.'"
Third, work expectations need to be tailored to the whole person, White believes. Burnout and lack of fulfillment benefit no one in the long run. That's where her new consulting business comes in. White is the founder of Vonni Coaching & Consulting, where she works as a transformation leader, life coach and training and development expert focused on the whole person. Her study of what needs to improve in the modern workplace helps her to reach touchstones with those who seek out her coaching.
"There really aren't enough people who know how to develop others—leaders who understand the concept of developing the people behind you," she says. "I see myself as trying to make up for that."
In analyzing their sense of success, people often focus too hard on parts of their achievement rather than viewing their life holistically, White believes. Finding one's sense of fulfillment involves more than just looking at a job or at family, she says. Instead, the whole picture should be viewed from the center.
"We think we have to have certain things by certain times because we think we should, or our parents think we should," she says. "The question needs to be, what makes you happy? Because if a goal is not right for you, you won't get there. Or you'll really hurt yourself getting there."
White drew inspiration from SUNY Potsdam faculty. Coursework with Professor Emeritus Dr. Tom Fuhr, who taught executive and higher education leadership, helped White form her own style of leadership and sense of ethics and motivation, and ways to effectively manage a department or run a team. Business Administration Professor Dr. Anthony Betrus continued to inspire her long after she graduated from Potsdam. She returned to take a class from him on instructional design even though her work at Potsdam was complete and the course was not part of a program she was pursuing.
"His passion and enthusiasm really stand out in a classroom setting," White recalls. "I went back to take the class from him just to revive my interest in learning."
At the end of the day, White wants to find herself in a role where some of the norms of employment are being reconsidered, and she can help people understand and pursue their dreams in an authentic, enduring way.  This entails, in no small measure, giving people a new frame through which to view themselves and their own sense of satisfaction, so that their dreams can endure the test of time.
Article by Bret Yager