Sporting jeans and a yellow jacket, and exuding a self-proclaimed hippie vibe, Claudia (Kaufmann) Mengel '76 walked into the Manufacturers Hanover Trust Company in Rochester, N.Y. to open a checking account back in 1977. After sitting down to fill out the paperwork, the then-22-year-old scanned the room, looking at all the empty walls. She wondered why they didn't have any artwork on display—something that was disconcerting for a recent SUNY Potsdam graduate with a degree in art.
"I was looking around, and I realized that there wasn't art on any of the walls—these amazing walls in this beautiful old building, and there's no art," Mengel said.
After setting up her checking account, Mengel asked who ran the bank and wasted no time tracking down the bank's vice chairman, Bill Buckingham, to discuss the matter. "I'll bring in art, and I'll hang it on all the walls and then you can invite all your clients and your customers and we'll have a cocktail reception and we'll have a show," she told him.
He agreed on the spot.
She started framing her artwork with her boyfriend (and future husband) Craig Mengel. After the art reception, Mengel's work remained on display in the bank for about a month before selling some pieces directly to the bank, as well as other interested parties. As she was taking down the show, Buckingham offered her a job, and she jumped at the chance. "I was given an opportunity that sounded like it would have some security, and I was just totally open to taking it. That one pivotal thing changed my life," she said.
After one promotion at the bank, Mengel enrolled in a credit training program that created further promotions and the ability to move wherever she wanted in the banking system. One year later, she transferred to the New York City branch, where she remained for the next 23 years. She worked through two mergers, first with Chemical Bank and then with Chase, as she balanced her life in finance with her life as an artist. Mengel continued to climb the ladder, reaching the level of vice president of creative services, overseeing branding and global positioning in marketing. She was also an integral part of the team that launched J.P. Chase Manhattan's first website.
"For the beginning part of my career, I would be at the bank during the day, and then I would go home at night and work in my studio, or I would take classes at the Art Students League. On the weekends, I'd pretty much either work in my studio or go to the museums or some of the major galleries—just really be enriched in the art world, while I also had my day job," she said. "It wasn't a journey I ever thought I would take. There couldn't be anything further from an artist to be in finance. But, I trusted the journey."
"The people at SUNY Potsdam were really down to earth. You don't find that in Long Island and in the city. That was really refreshing and comfortable for me."
Mengel's journey as an artist, leading to a career in finance, started during her childhood on Long Island. "I've been painting since I was a little girl. I've been creating my entire life. My mom was a seamstress and I've always used my hands to create things—it's so important for me, for my being. It's the thing I jump out of bed for in the morning," she said.
Her passion as an artist really developed under the guidance of her middle school art teacher, Eileen Walk. "I thrived in her class. I learned how to draw. My work was good. And then I got to high school and I didn't take any art classes. I didn't like them," Mengel said.
During her junior year in high school, she visited Walk, who was shocked to learn that Mengel didn't plan on pursuing art in college. Walk encouraged her to pursue art as her major in college since it was her greatest passion. "She said to me, 'You need to pull a portfolio together, and if you come down here every day after school, I will get a portfolio together with you,'" Mengel recalled.
Over the next two months, she worked with Walk to prepare a portfolio for college. She was accepted into several art programs, but ultimately, she chose SUNY Potsdam because of the printmaking opportunities and the positive energy from students on campus. "I fell in love with the printmaking facility and one of the things that Potsdam offered that other schools didn't have, was doing lithography on the stones. They were still using the old-fashioned stone process and I was totally intrigued by that," Mengel said.
While at SUNY Potsdam, she didn't have the distractions of the city and she was able to really dig in and focus on her work. "I just found that people were really down to earth, everyone was humble in what they were doing. There was great talent, but I didn't feel that there was a lot of competition. I thought that there was a lot of collaboration. It was small too, so you knew everybody in your sphere," she said.
After building a strong traditional art background at SUNY Potsdam while studying painting, ceramics, photography, drawing, design and printmaking, she started to develop her own voice. "One of the periods of art that was really appealing to me was the beginning of the 1950s, the abstract expressionist movement, and I was particularly enamored with the San Francisco Bay Area abstract expressionists—that period of time really spoke to me," she said.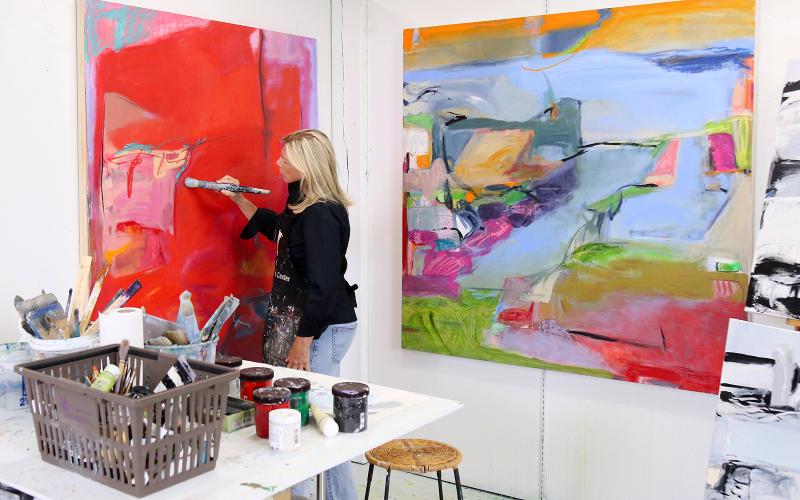 Mengel's artwork explored and continues to explore the world around her through an abstract expressionist lens, focusing on landscapes and nature. Her paintings depict the expression and soul of a subject, rather than an actual interpretation. "It's important that what I put on the canvas comes from a place that isn't totally intellectual, but more spiritual in essence. I don't paint the literal object, I paint my imagination of the object," she said.
Fast forward to New York City in the late 1990s. Mengel had been working in the world of finance for over two decades while doing her artwork on the side. New York City was the perfect location for creating and viewing world-class artwork, but she had reached a point where she wanted pursue a full-time career as an artist. The combination of her training as an artist and her work in the business world set her up for success. "The skill sets that I was acquiring brought me to that time and place in 1999, to be able to really speak about my work. There are a lot of artists who are really good artists, but don't know how to take the work to the marketplace. There is definitely a business side to art, there's no question about it," Mengel said.
She got set up in an art studio in Norwalk, Conn., based in an old factory where 30 other artists rent space. Mengel made a name for herself as an abstract expressionist and she now sells her artwork all over the world, selling both painting and prints through studio visits and direct sales. "I do sell work, but selling the work isn't a measurement of success, it's just something that I've been blessed with, that it gets out into the world," she said.
In 2008, she faced the tragic loss of her husband Craig—an entrepreneur, filmmaker and loving husband for 30 years. "I think when my husband died, when you go through something like that, you're forever changed. Everything else doesn't matter in the same way. So, the work is great, but it's work. I just don't put that pressure on myself. I've been through so much, realizing every day is a gift, that's what's really important to me. I honestly don't waste a day," she said.
Mengel truly does embrace life, faith and giving back to others. She has taken two trips to Ecuador for outreach work through the Northfield Congregational Church, spending the first year in Quito, where she worked in orphanages and medical facilities on building projects. For her second trip, she spent three weeks working at medical facilities in Shell, Ecuador—an isolated community in the jungle where medical access is limited.
"People living in the jungle have many challenges in their environment.  We did all sorts of work, from building new facilities to assisting the medical staff in any capacity that they needed. I actually painted murals with the kids inside the clinic to create a happier environment," she said.
Back in her studio in Connecticut, Mengel has been educating aspiring artists and helping them to discover their own creative eye. "I have five students that I teach privately, and that has been really fabulous. I've loved teaching more than I thought I would. They're very accomplished artists and part of what I give to them is helping them find their voice in their work—that's been great," she said.
People tell her that she keeps very busy. Her response is: "Yep, I really have a great life and I'm not wasting a day.' I know this is all so temporary. So, I'm not getting caught up in the minutiae anymore. Being present in the moment, being kind to others, and spreading grace and beauty wherever you can, is what really matters."
Article by Jason Hunter