Over the past year, one thing has become perfectly clear to SUNY Potsdam alumna Latesha Fussell '11, '12 & '14—family is what matters most.
"This pandemic has really put a lot in perspective about what should matter in your life. I lost my grandfather last March because of Covid, and it really shifted things for me," Fussell said. "I wish I had been able to at least be home and be closer to family to grieve my grandfather, but that wasn't possible because of the pandemic and being so far away from home."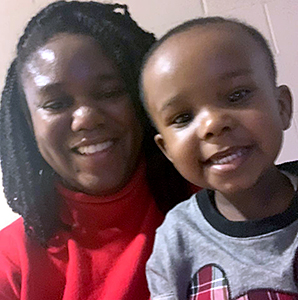 As a single mother pursuing a doctoral degree in higher education, Fussell was working full time last year at Stonehill College in Easton, Mass., balancing a heavy workload without the support of any family nearby. The loss of her grandfather, and the absence of her family, created an even greater sense of isolation.
So, she started looking for a position back in her home state of New York. When she heard about a new position in her field at Cornell University, she jumped at the opportunity. "When I was at Stonehill I was leading an entire office, I had a professional staff of four, and it was a lot," Fussell said. "I'm originally from Brooklyn, but I have family in Ithaca, and so when I had the opportunity to transition to Cornell, to be closer to family, I thought it would be best so that I can get some support to finish my doctoral program. I was always raised with my cousins, and so I thought it would be extremely important for my son to be closer to his family."
In March, 2021, Fussell accepted a new position as the director for diversity and inclusion at Cornell University's College of Architecture, Art and Planning. Fussell is taking her own life experiences, and vast knowledge of diversity issues, to be a mentor to the college community. "I am providing strategic leadership, not only for students, but for staff. I support all students, but for the first couple of weeks I've been focusing solely on students of color, just thinking about the recent acts of violence towards the Asian American Pacific Islander community," she said. "And then we have a really large international population at Cornell, and so really just reaching out to them, figuring out what their needs are."
Her recent positions—director for intercultural affairs at Stonehill College, preceded by a director of campus life for diversity and inclusion position at Wells College—really prepared her for the new leadership role at Cornell. But, it was her time at SUNY Potsdam that laid the groundwork for a career steeped in addressing diversity issues at college campuses.
As a first-generation college student, Fussell arrived at SUNY Potsdam through the Educational Opportunity Program (EOP), where she found a support system that made her feel right at home.
"It was great. I was able to cultivate some really strong relationships, and find my network. I was able to connect with some of my faculty, before actually seeing them in class—and just really the ins and outs of how to navigate college," Fussell said. "Many of my peers in EOP were black and LatinX, that's what I grew up with in Brooklyn. And then we also had a small handful of white folks, but we shared a commonality because we were all low-income students. We really connected and created a sense of family."
Unfortunately, that positive first impression was overshadowed in one of her classes, when she realized that she was the only Black student. "I didn't know what was going on with me back then, but now throughout my professional career, I've realized that I dealt with a lot of microaggressions," she said. "Faculty asking the class to pick a partner, and two white students would skip over me and pick their own pair. I was raised in a community where you have the same friends in school and out of class. I remember seeing my peers from class and they would completely look over me, and wouldn't sit next to me."
She counterbalanced that feeling of isolation by forming lasting friendships with students who understood her life experiences, and could relate to challenges she was facing in the classroom. She also joined student-run organizations like Black student Alliance (BSA). "That was a huge sense of support for me because it helped me understand who I was as a black woman," she said. "That's when I really learned how to code switch. I had to be one way when I was in classes, and I had to be another way when I attended a BSA event or when I was just hanging out with my close friends, who also identify as being black."
She continued to be proactive and find meaningful experiences through her time at SUNY Potsdam. During her sophomore year, she took a travel course to Ghana, Africa, which was her first time outside the U.S. For a month and a half, she spent her mornings learning about family, economics, government and politics within the West African nation, with her afternoons dedicated to field trips exploring the culture of Ghana. "I got the travel bug there! And Krista LaVack (former director of international education & programs at SUNY Potsdam) played a huge role. I still stay connected with her. That was my first time on a plane, and she really helped me navigate that experience."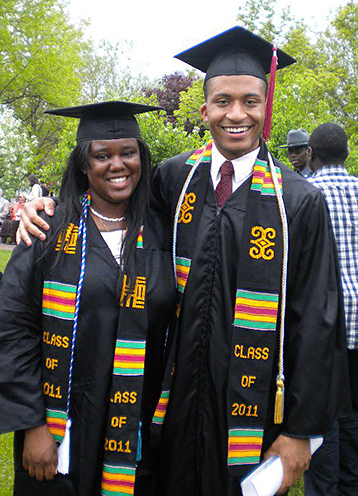 Back at SUNY Potsdam she completed her bachelor's degree in sociology, and then chose to pursue an MST in childhood education (2012), followed by an MST in special education (2014). She lined up two more international study abroad opportunities, one in Australia, followed by a student teaching placement in Trinadad, the latter of which planted the seed for a shift in her career path. "It was incredible. I think that also really helped me figure out that, or at least gave me the inclination that maybe I don't want to do education. I do really value culture, and learning from others, and creating spaces where people can thrive. And being able to see people like me, and seeing them succeed, I said, 'how can I bring this back and do this at home.'"
Shortly after she returned from the Caribbean, Fussell was back in the classroom, working with children in the special education program at Lawrence Avenue Elementary School in Potsdam, during her final student teaching placement. It was then that she heard from her longtime SUNY Potsdam EOP counselor Nancy Brown, who told her that she had been diagnosed with cancer. Brown would have to undergo radiation and chemotherapy, and would be leaving her counseling position for six months. The temporary position was extended to Fussell. "I really appreciate Nancy, she got me through my first three years of Potsdam, and so I said, 'I need to get some teaching experience under my belt, but I want to help her out.' So, I left my job at the elementary school to be a temp EOP counselor," Fussell recalled. "After the six months was over, Nancy called me back and she said she was cancer-free, but she said she wasn't coming back, she was moving to Oregon."After being supported through the EOP program during her early years at SUNY Potsdam, Fussell now had the chance to be a mentor for others, and forge strong relationships with students in need. So, she sidelined her aspirations to become a teacher, and accept the full-time EOP position left vacant by Brown's departure.
"By that time, I did fall in love with the role as an EOP counselor. I had built really strong relationships with students in my caseload, and I thought, 'this is something I want to do,'" she said.
After her first year as an EOP counselor, SUNY Potsdam Associate Professor Dr. John Youngblood reached out to Fussell to see if she wanted to join the Diversity and Inclusion Action Coalition (DIAC). An influential faculty member for her during her undergraduate years, she was honored to join DIAC when Youngblood asked. "I really trusted and valued Dr. Youngblood," she said. Just a few meetings into joining DIAC, Fussell was nominated as their new chair. "I just thought they would pick up more seasoned staff members to lead a very important committee," she said. But, it was clear that the committee saw her leadership abilities, and passion for dealing with diversity issues on campus. "The one thing I immediately wanted to change was the fact that there weren't any students on the committee," she said. "I didn't want to do anything that didn't include students, and I just didn't feel comfortable there sitting around the table with faculty and staff, where we were making decisions for students."
What started with eight or nine members when she joined, was up to 43 when she eventually left SUNY Potsdam, and her role as EOP counselor, in 2016. Since then, she has continued to build on her experiences as a leader within the field of diversity and inclusion at Wells College, Stonehill College and now Cornell University, but at the root of her success, SUNY Potsdam helped to mold her into the person she is today.
"That's one thing that I always take with me from Potsdam, the idea of bringing cultures together that are coming from different perspectives. I think being Black in America teaches you a couple of things on how to navigate your world, and I think white students specifically are never taught those lessons. I needed Potsdam to teach me those lessons, so that when I do enter a Cornell, or a Stonehill or a Wells, I need to meet people where they are," she said. "Now, I don't think everyone's prepared to do that, but if you're passionate about this work, you have to do it. Now I'm starting to have conversations that I probably should have had with my peers during my first year at Potsdam, but I'm now having those conversations with faculty and staff at Cornell."
Article by Jason Hunter