Q&A:
What do you remember about studying computer science at SUNY Potsdam?
The first program that I ever wrote here at Potsdam was on punch tape, and that went away around a month or so into the first semester of my freshman year. Then they came out with this wonderful thing called punch cards. So, we used to go over to the keypunch machine and type our cards up, and we'd drop our cards at the window, they'd process them, and you'd get your results back the next day. Professor Ted Tenny had a big influence on me as well. He used to just drive me. He'd say, 'That's nice, Ron, but you could do so much more if you extended in this area.'
How did your IT services company get its start?
Systems Made Simple was the company, SMS for short. We spent the first 12 years in the manufacturing and retail end of things, as far as IT services went. We built a lot of systems for Carrier and Eastman Kodak. That was back when mainframes were the big thing, and then these things called desktop computers were coming out, and the big buzz was going to client server. So that's what we did. We won a big contract with FDNY (the Fire Department of New York), 10 days before 9-11, and after the attacks, it was promptly canceled. That was a big blow to us and we had to lay off 75% of the company. So, we sort of went into 'hunker down' mode to try to survive, which we did. The next year, my partner and I did a bunch of research to find out where the big money would be going in the next 10 to 15 years. Everything pointed to healthcare at that time. So, we repositioned ourselves as a healthcare IT company, offering the whole spectrum of services.
Systems Made Simple was named one of the fastest growing privately held companies in 2009. How did that happen?
In 2004, President George W. Bush issued an executive order that said that the federal government was going to set aside 3 percent of its spending for small businesses that were owned by service-disabled veterans. It just so happened that my partner was a service-disabled veteran. We competed for a government wide acquisition contract, and we were one of only 44 companies who were awarded that contract. In that first five years, we did $120 million worth of business, and the biggest user of that contract happened to be the Department of Veterans Affairs. After a few years, the VA announced a competition for a special contract. We were one of 15 companies to win that, and in the five years of that vehicle, we won $1.4 billion worth of business. That really put us on the map. We won a $700 million job to manage all of the VA's data centers, and another $250 million job to scan all of the veterans' records going back to World War II to make them all electronic. At the height of that, we were processing 28 million images a month. We ended up with six offices nationwide, with a workforce of about 2,200 people. So from $2 million and 20 people, to $350 million and 2,200 people in about a seven-year time span.
How did you cope with that kind of change?
It was sometimes difficult to manage that kind of explosive growth, but I was a firm believer that if you can't measure something, then you really don't know what's going on. So we were very metric- and data-driven to support the maturation of all of our processes. I always believed that my job was to help the direct reports I had to become better leaders and be successful themselves in their leadership of others. We had just such an unbelievable culture, with a real sense of excitement at work, from the people in the proposal shop winning business to the operations staff executing on that business, which was ultimately the greatest mission of any government agency—to help our nation's veterans get their benefits and in some cases, get acclimated with a whole new way of life. In 2014, Lockheed Martin acquired Systems Made Simple, and I retired the following year. The company was spun off and acquired by Leidos, Inc., and is still in operation today.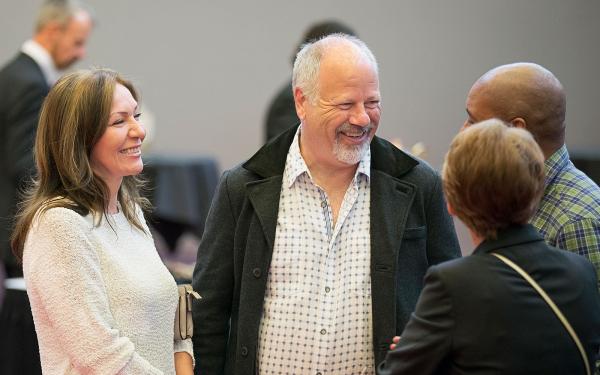 What advice do you have for today's students at SUNY Potsdam?
One of the things I tried to do while at Potsdam was to take as broad a spectrum of coursework as I could get away with in my major. Professor Tenny used to use a lot of team-based projects, and that's something I would really recommend students immerse themselves in. When you get into the real world, you're not just going to sit in some back room and crank out code. You've got to be able to communicate in a written manner, in an oral manner and you've got to be able to "play nice" with others.
What fond memories do you have of SUNY Potsdam?
It was the best four years of my life, the four years I spent here. You don't realize it at the time. I spent a lot of time down at Lehman Park, hanging out in a hammock by the river with the sounds of nature. We used to play ultimate Frisbee in the Lehman Quad. I met my wife Teresa in my senior year (her sophomore year). We instantly realized we were soulmates. We both lived in the Lehman dorm and she was down talking to the guy next door to me and came over to our room. We spent like three days talking… finally, on the fourth day, I said, "I've got to kiss this girl," and so I did! She was a fine arts major, into painting and pottery. So I'm as far 'left brain' as you can get and she's as far 'right brain' as you can get. Besides the long nights in the computer labs, we used to go down to Alger's Pub. My wife and I would go on Tuesday nights and drink Miller beer and play this pinball machine they had there. I recently found the same machine in mint condition online, and we're putting it in our game room.
Do you still stay connected with other alumni?
I still actively get together with my old college roommate. A few years after I graduated, I was working for a company called Presearch, and I came up to Potsdam to recruit. I ended up hiring several guys who happened to be in Phi Kappa Sigma. We all remained friends over the years, and I used to invite everyone to my home each year for this party I have, called Oktoberfish (everyone calls me 'Fish'). In 2009, one of the guys said, let's go up to Potsdam, I haven't been back in 15 years and it's Reunion Weekend. We came to campus, and they were having a fraternity meeting in the MPR. So I'm like, "I'll just go down to the Union and get a burger and a beer, and when you guys are done, come find me." He goes, "No, that's not going to happen." And I say, "Why not?" He goes, "You don't understand, you're becoming a brother tonight." It was the first time they had ever inducted a brother like that. I was pledged and became a brother all in one weekend! I was the Spring pledge class of 2009, class of one. Now I'm inviting all of the fraternity brothers to my new estate in Virginia for this year's Oktoberfish party.
How are you giving back to your alma mater?
Five years ago, we decided we wanted to give back to the university, so we started a scholarship fund to help computer science students with the expenses for their internships, and gave a gift that allows that to go on in perpetuity. This year, we decided to create another scholarship fund. We chose 15 different majors, and we will pay all tuition and expenses each year for three students, a sophomore, a junior and a senior, which will cover their last three years of college. Hopefully we can help students who might not have the financial wherewithal to be able to come to Potsdam, to give them an opportunity to do that.