SUNY Potsdam Announces Major Campus Construction Projects & New Programs as the Academic Year Kicks Off
SUNY Potsdam is preparing to welcome its 203rd class of new students this fall, as the Class of 2023 settles in on campus. The College will greet first-time and returning students during Welcome Weekend 2019, from Aug. 23 to 25.
Welcome Weekend
The incoming SUNY Potsdam Class of 2023 will arrive on Friday, Aug. 23. First-year students and their families will be buzzing around campus and the village on move-in day, beginning Friday morning.
Freshmen and incoming transfer students will be greeted by faculty, staff and upperclassmen during the First-Year Funnel at 5 p.m. on Friday. Campus community members will cheer on the long line of new students, as they walk to their New Student Convocation. At 9 p.m. on Friday, SUNY Potsdam will set off fireworks to welcome the Class of 2023, immediately followed by an outdoor movie screening in Marshall Park on campus.
On Saturday, Aug. 24, there will be a Transitions Conference for transfer students and freshmen who were unable to attend summer orientation, as well as teambuilding activities for all new students in the Academic Quad. Also returning this year is the Crane New Student Ensemble Concert, showcasing the talents of incoming Crane School of Music orchestral students as they perform selected works together on stage—with little to no practice beforehand. The concert will take place at 8 p.m. on Saturday in the Helen M. Hosmer Concert Hall. This event is free, and the public is invited to attend.
The College's annual Welcome Weekend Carnival will be offered on Sunday, Aug. 25 from 1 to 5 p.m. in the Maxcy Hall Fieldhouse. The event is free for SUNY Potsdam students, faculty, staff and families. There will be a variety of games and activities, including tie-dying, a make-it-yourself stuffed animal station, laser tag and more. The indoor rock climbing wall and pool will be open throughout the carnival. The event will also feature refreshments from PACES Dining Services. SUNY Potsdam students will be entered for special prizes at the carnival, and there will also be activities and games for children under 12.
Returning students will arrive throughout the weekend. The Fall 2019 semester kicks off on Monday, Aug. 26, with classes commencing in the morning.
Campus additions & updates
New and returning students will see some major construction and renovation projects break ground this year.
SUNY Potsdam is undertaking a large renovation project to the Barrington Student Union, which commenced in July 2019 and will continue through the coming year. The $8.6 million capital project will completely overhaul the building's heating, ventilation and air conditioning systems, making the union more energy-efficient and quieter when the project is complete. In addition, the entrances to Barrington will be updated and the lobby will be refurbished. This critical infrastructure upgrade will improve one of the College's most highly-trafficked spaces, improving the student experience and also benefiting the many community groups who utilize the building throughout the year.
During construction, the College Store, Student Mailroom and Student Union Dining Court will all remain in operation, with temporary alternate entrances. The WAIH Radio station will also continue to operate, with limited hours. The Union Market will remain open until Sept. 8, and then close for the rest of the semester. All major campus events that are typically held in the Barrington Student Union will be relocated to other venues this year. SUNY Potsdam has been in contact with outside groups that typically rent out spaces in the building, to let them know that the campus will be unable to accommodate community events until the renovation is complete.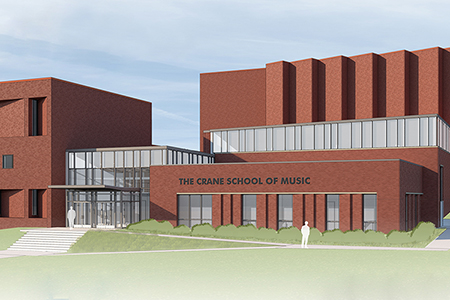 SUNY Potsdam will also break ground on a major expansion and renovation of Bishop Hall at The Crane School of Music at the beginning of the Spring 2020 semester. Preparatory work is already underway for the $3 million project. The project will create an official entrance to the Crane complex, and will include much-needed renovations to the School's major rehearsal rooms for band and orchestra, plus the addition of one large new rehearsal space and new offices. The project will also include significant improvements to the HVAC system and the replacement of fire alarms and corridor ceilings. Prior to the start of the project, Cassie's Harp and its surrounding garden will be moved and restored, away from the construction area.
New academic programs
SUNY Potsdam students will return to an expanded list of academic programs to choose from this year. The College has two new graduate programs and one new undergraduate minor.
The new Master of Science degree program in management prepares students to be leaders in a broad range of careers and industries, with core coursework in policy, ethics, data management, financial oversight, organizational development, leadership principles and research techniques. Depending on their career interests, students can choose from three in-demand tracks: information technology, organizational leadership, or training and human capital development.
SUNY Potsdam also now offers a fully online post-master's certificate program. The Certificate of Advanced Study program in college teaching is aimed toward faculty, graduate teaching assistants, doctoral or post-doctoral students who want to bolster their instruction skills. Designed with the working professional in mind, the four-course curriculum can be completed in one academic year, in one summer, or one course at a time.
Finally, SUNY Potsdam also has one new minor for undergraduates to choose from this fall. The applied mathematics minor prepares students who want to strengthen their mathematical skills for use in other disciplines, introducing them to tools for scientific analysis, through calculus, statistics, probability and linear algebra.
To find out more about what's going on at SUNY Potsdam this fall, explore www.potsdam.edu.
About SUNY Potsdam:
Founded in 1816, The State University of New York at Potsdam is one of America's first 50 colleges—and the oldest institution within SUNY. Now in its third century, SUNY Potsdam is distinguished by a legacy of pioneering programs and educational excellence. The College currently enrolls approximately 3,600 undergraduate and graduate students. Home to the world-renowned Crane School of Music, SUNY Potsdam is known for its challenging liberal arts and sciences core, distinction in teacher training and culture of creativity. To learn more, visit www.potsdam.edu