SUNY Potsdam Professor Derek C. Maus Hosts 'A Deeper Dive into African-American Literature' in Honor of Black History Month 
In honor of Black History Month, SUNY Potsdam Professor of English and Communication Dr. Derek C. Maus has launched a daily podcast series celebrating poetry and prose by Black authors.  
"A Deeper Dive into African-American Literature" introduces listeners to Black writers and their works, with bite-sized daily video podcasts sharing information about their lives and selections from their poems, plays, essays, and novels. To catch up on the podcast, visit https://people.potsdam.edu/mausdc/bhm/. 
"The idea of the series is not to stake some claim about which African-American authors are the 'most important' or the 'best' but rather to present some names that might be a little less familiar to the average person than monumental figures like Frederick Douglass, James Baldwin or Toni Morrison. My suggestion is not that you read the writers featured in this series instead of those more famous ones, but rather in addition to them," Maus said.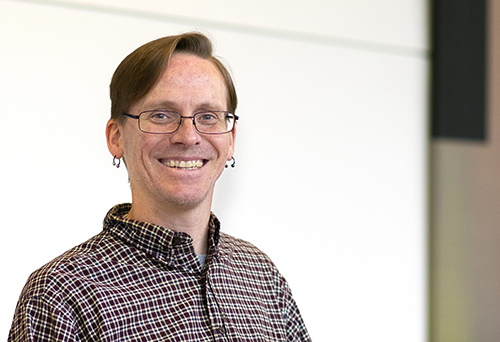 The podcast series is hosted on YouTube, with Maus' narration accompanied by images and details on each author. Each episode clocks in under five minutes, making it easy for anyone to fit into their daily schedule. The podcasts are also archived at the website listed above so that listeners can catch up with the whole series at their convenience. 
Maus conceived of the podcast series idea after speaking with Center for Diversity Director Clifton Harcum about the College's Black History Month activities for this year. "In the past, we've tended to do events that brought a speaker to campus, like in 2012, when Dr. John Youngblood and I collaborated to get Touré to visit Potsdam for a day. Those are great opportunities for the people who can actually make it to the talks, but these podcasts give us the chance not only to widen the focus onto far more individual African-American writers, but also extend the reach of Black History Month far beyond Feb. 28. Clifton has been wonderfully active in that regard and this series fit well with what he had already been working on," Maus said. 
Initial episodes focus on authors as varied as Jupiter Hammon, an enslaved Black man in Long Island, N.Y., who published the first work of literature written by a Black author in North America, and Anne Spencer, a poet who was an active participant in the Harlem Renaissance even though she wrote from a perspective deeply linked to her home in Virginia. Later episodes in the series will feature more contemporary writers, including authors such as Brit Bennett, Bryan Washington, Akwaeke Emezi and Morgan Parker, each of whose work has debuted within the past five years.   
Maus received his bachelor's degree in history and English from the University of Arkansas, and went on to earn his master's and Ph.D. in English from the University of North Carolina. Since joining SUNY Potsdam in 2001, he has taught more than 40 different courses on a wide range of topics, primarily dealing with contemporary literature. Maus is the recipient of a number of honors and awards, including a Fulbright Lecturing Grant to Austria, the Eakin Visiting Fellowship in Canadian Studies at McGill University and the American Council of Learned Societies Project Development Grant. He is the author of "Unvarnishing Reality: Subversive Russian and American Cold War Satire" and "Understanding Colson Whitehead," and co-edited "Post-Soul Satire: Black Identity After Civil Rights," along with his SUNY Potsdam colleague, Dr. James J. Donahue. Maus and Donahue are currently co-editing another collection of essays about contemporary African-American satire that will be published in 2022.  
SUNY Potsdam's Department of English and Communication challenges its students to complete a core of courses that explore the varied ways people speak, write and read. The department offers Bachelor of Arts, Bachelor of Fine Arts and Master of Arts programs in literature, writing, professional writing, creative writing, speech communication and English and communication. For more information, visit www.potsdam.edu/academics/AAS/Engl.  
About SUNY Potsdam:  
Founded in 1816, The State University of New York at Potsdam is one of America's first 50 colleges—and the oldest institution within SUNY. Now in its third century, SUNY Potsdam is distinguished by a legacy of pioneering programs and educational excellence. The College currently enrolls approximately 3,600 undergraduate and graduate students. Home to the world-renowned Crane School of Music, SUNY Potsdam is known for its challenging liberal arts and sciences core, distinction in teacher training and culture of creativity. To learn more, visit www.potsdam.edu.