Exhibition of Works by SUNY Potsdam Alumni Now on Display in Barrington Student Union Starbucks Café at SUNY Potsdam 
The new Starbucks café located in SUNY Potsdam's Barrington Student Union just got a jolt of color, thanks to a recently completed installation of artwork by alumni. 
The exhibition was coordinated by SUNY Distinguished Teaching Professor Dr. Caroline Downing, and The Art Museum at SUNY Potsdam. It features the works of Department of Art graduates Victoria Ervin '22, Cameron Hewes '15, Charlotte King '09, Chloe Koegel '21 and Kirby Thompson '22, among others. Three large canvases by Kaitlen Leonard '19 give a great pop of color to offset the strong industrial look in the café.  
Downing was "thrilled to showcase alumni artwork" at the Starbucks café, and is excited about future exhibition opportunities with PACES Dining Services.   
 Jeimi Toribio '23, a SUNY Potsdam museum studies intern who is double majoring in archaeology and anthropology, hung the artwork, carefully measuring and professionally installing the pieces. After the installation, she sat down to appreciate the final product, while sipping an iced matcha latte with almond milk.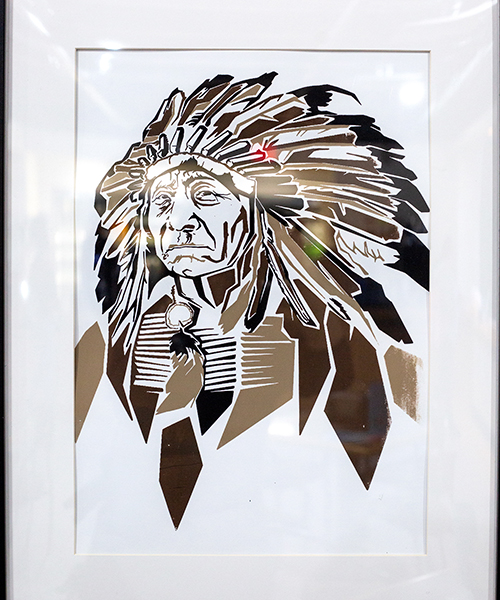 The exhibition and café are open to the public, and the café serves a full range of Starbucks beverages. Located in the Barrington Student Union Lobby, the café is open from Monday to Friday from 7 a.m. to 5 p.m., and on weekends from 8 a.m. to 3 p.m. 
About PACES Dining Services: 
Potsdam Auxiliary and College Educational Services Inc. (PACES) is a not-for-profit corporation operating under contract with SUNY Potsdam. PACES' mission is to offer high-quality products and services, while maximizing customer value and financial return, to the benefit of the larger SUNY Potsdam community. PACES Dining Services is rated the No. 1 dining service for comprehensive colleges in the SUNY system in the Student Opinion Survey. For more information, visit www.potsdam.edu/offices/paces. 
About SUNY Potsdam:  
Founded in 1816, The State University of New York at Potsdam is one of America's first 50 colleges—and the oldest institution within SUNY. Now in its third century, SUNY Potsdam is distinguished by a legacy of pioneering programs and educational excellence. The College currently enrolls approximately 3,000 undergraduate and graduate students. Home to the world-renowned Crane School of Music, SUNY Potsdam is known for its challenging liberal arts and sciences core, distinction in teacher training and culture of creativity. To learn more, visit www.potsdam.edu. 
---
General News
Arts & Culture