SUNY Potsdam Alumni Association Honors Katherine Beck '12 of Chicago, Ill., with 2022 Rising Star Award 
The SUNY Potsdam Alumni Association recently honored Katherine Beck '12 of Chicago with the 2022 Rising Star Award during Reunion 2022.  
The Rising Star Award is presented to alumni who have demonstrated outstanding professional achievement in the first decade following graduation. 
About the recipient: 
Hailed by the Boston Globe for her "uniformly excellent" performances, mezzo-soprano Katherine Beck '12 is one of opera's greatest rising talents.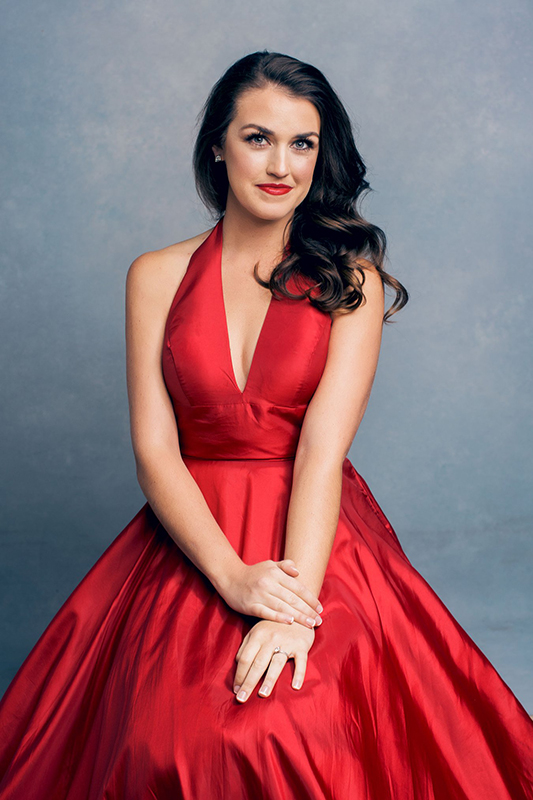 Despite the changing pandemic protocols of the performance world, Katherine has continued to make her name and talent known. Earlier this year, she joined the Metropolitan Opera for its production of "Akhnaten" and the Arizona Opera for "Così fan Tutte." Last year, she made her debut with the Lyric Opera of Chicago at the prestigious Ryan Opera Center, performing the role of Wellgunde in "Twilight: Gods" and singing repertoire—ranging from classical to Broadway—for their online and radio concerts. Prior to the pandemic, Katherine's characters took the stage at the Santa Fe Opera, Opera Colorado and Opera Buffs Inc., Los Angeles. 
Faculty who worked with Katherine at The Crane School of Music will never forget her roles in the Crane Opera Ensemble's productions of "Amahl and the Night Visitors" or "L'Enfant et les Sortilèges."  
Former Professor of Music Kirk Severtson remarked, "Katie was a young lyric mezzo with a facile coloratura, an earnest stage presence and an eagerness and appetite for a career as a singer... She demonstrated a consistently strong work ethic, high level of responsibility and career pathway focus, and was well-liked and a leader among her peers." 
After earning her bachelor's degree at SUNY Potsdam, Katherine went on to receive her Master of Music degree from the Thornton School of Music at the University of Southern California. She has also participated in many performance training programs, including at the Arizona Marion Roose Pullin Studio and Tanglewood Music Center. 
Over the years, Katherine has accrued a plethora of awards and recognition. In 2021, she was the winner of the Luminarts Vocal Fellowship in Chicago and received second place in the Annapolis Opera Vocal Competition. Previously, Katherine was a semi-finalist in the Metropolitan Opera National Council Auditions and the winner of both the George London Foundation Award and the Mildred Miller International Voice Competition. 
To add to her growing accolades, and in recognition of her continued success in the 10 years since graduating, the SUNY Potsdam Alumni Association is proud to present Katherine Beck '12 with the 2022 Rising Star Award. 
For more information about SUNY Potsdam's Alumni Association, visit www.potsdam.edu/alumni. 
About SUNY Potsdam:  
Founded in 1816, The State University of New York at Potsdam is one of America's first 50 colleges—and the oldest institution within SUNY. Now in its third century, SUNY Potsdam is distinguished by a legacy of pioneering programs and educational excellence. The College currently enrolls approximately 3,000 undergraduate and graduate students. Home to the world-renowned Crane School of Music, SUNY Potsdam is known for its challenging liberal arts and sciences core, distinction in teacher training and culture of creativity. To learn more, visit www.potsdam.edu.