Community Performance Series Welcomes Audiences for Upcoming Concerts at SUNY Potsdam's Crane School of Music 
The Community Performance Series is thrilled to return to in-person performances with outstanding guest artists this fall at SUNY Potsdam's Crane School of Music. 
Colin MacKnight will take the stage at the Helen M. Hosmer Concert Hall on Sunday, Oct. 17 at 3 p.m., in the 21st annual Ranlett Organ Recital. He will lead a free "organ encounter" the day before, on Saturday, Oct. 16, also at 3 p.m. in Hosmer Hall. 
CPS is also set to host the acclaimed musician Rhiannon Giddens with Francesco Turrisi on Saturday, Nov. 6 at 7:30 p.m. in Hosmer Hall, as the third Maresca Visiting Artists. 
"It is with great pleasure that we welcome audiences back to campus. It has been far too long since we've shared in the experience of live performance, and what a way to return! Please join us this fall, but also please do your part to ensure the safety of yourselves, our community and our guest artists," said CPS Executive Director Jason L. Dominie. 
For audience safety, Community Performance Series concert attendees must show proof of vaccination and wear a mask at all times while on campus. These safety guidelines were developed in collaboration with CPS, the College and each artist's management team. 
About the artists: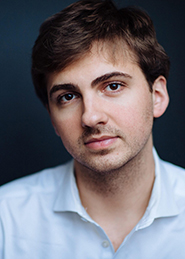 Colin MacKnight, called "a stunning player of exceptional ability" by composer and conductor Bob Chilcott, is director of music at Trinity Episcopal Cathedral in Little Rock, Ark. At Trinity, he oversees a vibrant music program which includes weekly choral evensongs, a concert series, and a chorister program. Prior to Trinity, Colin was associate organist at Cathedral of the Incarnation in Garden City, Long Island; assistant organist and music theory teacher at St. Thomas Fifth Avenue, New York City, and assistant organist at Church of the Resurrection, New York City. 
Colin's received his bachelor's, master's and doctoral degrees from The Juilliard School, studying organ performance with Paul Jacobs. For his doctoral dissertation, "Ex Uno Plures: A Proposed Completion of Bach's Art of Fugue," Colin received the Richard F. French Doctoral Prize. 
A frequent competition prizewinner, Colin's first prizes and scholarships include the 2019 Paris Music Competition, 2017 West Chester University International Organ Competition, 2016 Albert Schweitzer Organ Competition, 2016 Arthur Poister Scholarship Competition, M. Louise Miller Scholarship from the Greater Bridgeport Chapter of the American Guild of Organists (AGO), the 2013 Rodgers North American Classical Organ Competition, and the Ruth and Paul Manz Organ Scholarship. He also won the New York City AGO Competition and advanced to the Northeast Regional Competition, winning first place, which led to a "Rising Star" recital at the 2016 AGO National Convention in Houston. Colin was also a laureate in the 2016 and 2019 Longwood Gardens International Organ Competitions. 
In 2016, Colin and composer Jon Cziner were selected for an AGO Student Commissioning Project grant, resulting in "Jon's Fantasy Chorale," which Colin premiered the following year. Colin has also received the Fellow and Choirmaster Certifications from the AGO, receiving the prize for top Choirmaster score, and was named one of the top "20 Under 30" eminent young organists by The Diapason magazine in 2019. Colin has performed at venues such as St. Patrick's Cathedral, the Cathedral of St. John the Divine, and St. Paul's Chapel of Trinity Wall Street, all in New York City; the National Cathedral in Washington, D.C.; at Saint-Jean-Baptiste Church, Montreal; Church of Saints Peter and Paul, Kingston, Jamaica; Cathedral of the Incarnation, Baltimore, and Grace Cathedral in Topeka. For more information, media and a calendar of performances, please visit http://colinmacknight.com/. 
Colin MacKnight is represented in North America by Karen McFarlane Artists, Inc.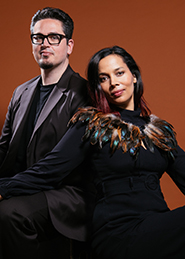 The acclaimed musician Rhiannon Giddens uses her art to excavate the past and reveal bold truths about our present. A MacArthur "Genius Grant" Fellowship recipient, she co-founded the Grammy Award-winning Carolina Chocolate Drops, and has been nominated for six additional Grammys for her work as a soloist and collaborator. Rhiannon was most recently nominated for her collaboration with multi-instrumentalist Francesco Turrisi, "there is no Other" (2019). Her latest album, "They're Calling Me Home," is a 12-track album, recorded with Turrisi in Ireland during the recent lockdown; it speaks of the longing for the comfort of home as well as the metaphorical "call home" of death, which speaks to the perils of the COVID-19 crisis. 
Rhiannon's lifelong mission is to lift people whose contributions to American musical history have previously been erased, and to work toward a more accurate understanding of the country's musical origins. Pitchfork has said of her work, "few artists are so fearless and so ravenous in their exploration," and Smithsonian Magazine calls her "an electrifying artist who brings alive the memories of forgotten predecessors, white and black." 
Among her many diverse career highlights, Rhiannon has performed for the Obamas at the White House, served as a Carnegie Hall Perspectives curator, and received an inaugural Legacy of Americana Award from Nashville's National Museum of African American History, in partnership with the Americana Music Association. Her critical acclaim includes in-depth profiles by CBS Sunday Morning, the New York Times, the New Yorker, and NPR's "Fresh Air," among many others. 
Rhiannon is featured in Ken Burns' "Country Music" documentary series, which aired on PBS in 2019, where she speaks about the African American origins of country music. She is also a member of the band Our Native Daughters with three other black female banjo players, Leyla McCalla, Allison Russell, and Amythyst Kiah, and co-produced their debut album, "Songs of Our Native Daughters" (2019), which tells stories of historic black womanhood and survival. 
Named the artistic director of Silkroad in 2020, Rhiannon is developing a number of new programs for the organization, including one inspired by the history of the American transcontinental railroad, and the cultures and music of its builders. She recently wrote the music for an original ballet, "Lucy Negro Redux," for Nashville Ballet (premiered in 2019), and the libretto and music for an original opera, "Omar," based on the autobiography of the enslaved man Omar Ibn Said, for the Spoleto USA Festival (premieres in 2022). 
As an actor, Rhiannon had a featured role on the television series "Nashville." To learn more, visit www.rhiannongiddens.com. 
To purchase tickets, call the CPS Box Office at (315) 267-2277 from Monday to Friday between 12:30 and 4:30 p.m., visit https://www.cpspotsdam.org, or visit Brick & Mortar Music in downtown Potsdam. 
About Community Performance Series: 
The Community Performance Series is a college-community partnership presenting distinctive and renowned performing artists and arts education opportunities in Northern New York. This rich mixture of programming links communities, classrooms and audiences of all ages and preserves access to the performing arts for future generations. For more information, visit www.cpspotsdam.org. 
About SUNY Potsdam:  
Founded in 1816, The State University of New York at Potsdam is one of America's first 50 colleges—and the oldest institution within SUNY. Now in its third century, SUNY Potsdam is distinguished by a legacy of pioneering programs and educational excellence. The College currently enrolls approximately 3,000 undergraduate and graduate students. Home to the world-renowned Crane School of Music, SUNY Potsdam is known for its challenging liberal arts and sciences core, distinction in teacher training and culture of creativity. To learn more, visit www.potsdam.edu. 
---
General News
Arts & Culture