SUNY Potsdam Senior Maximilian Beyer '23 Set to Complete Postbaccalaureate Research, Thanks to Cottrell Scholar Funding 
The Research Corporation for Science Advancement has announced that SUNY Potsdam Professor of Chemistry Dr. Fadi Bou-Abdallah is the recipient of a 2023 Cottrell Postbac Award, one of seven awarded nationally. The $50,000 award is given to Cottrell Scholars to strengthen their research programs, by supporting the work of an undergraduate senior working under their supervision for a year after graduation.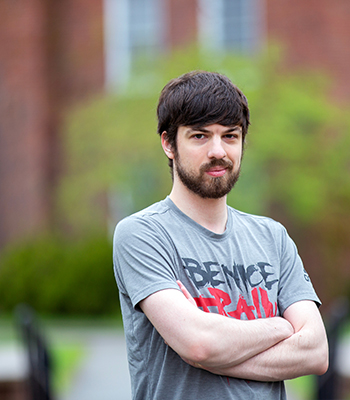 Maximilian Beyer '23, a graduating chemistry major from Scarsdale, N.Y., will conduct postbaccalaureate research with Bou-Abdallah thanks to the award. Their project is titled "Development of a Colorimetric Sensor Based on Gold Nanoparticles for the Detection of Proteins and Toxic Metals." 
Bou-Abdallah was named a Cottrell Scholar in 2017, and also previously received funding through the Cottrell Instrumentation Supplements Award to fund the purchase of a new protein purification system for his lab. To date, Bou-Abdallah has secured more than $2.5 million in grant activities to study iron metabolism in humans. 
The Cottrell Scholar Award develops outstanding teacher-scholars in the fields of chemistry, physics and astronomy, who are recognized by their scientific communities for the quality and innovation of their research programs and their academic leadership skills. Nurturing an interdisciplinary community of outstanding scientific/academic leaders, the Cottrell Scholar program fosters synergy among faculty at major American research universities and primarily undergraduate institutions. 
The Research Corporation for Science Advancement is a foundation providing catalytic and opportunistic funding for innovative scientific research and the development of academic scientists to advance American competitiveness in science and technology. To learn more, visit www.rescorp.org. 
To find out more about SUNY Potsdam's Department of Chemistry, visit www.potsdam.edu/academics/AAS/Chem. 
About SUNY Potsdam:  
Founded in 1816, The State University of New York at Potsdam is one of America's first 50 colleges—and the oldest institution within SUNY. Now in its third century, SUNY Potsdam is distinguished by a legacy of pioneering programs and educational excellence. The College currently enrolls approximately 3,000 undergraduate and graduate students. Home to the world-renowned Crane School of Music, SUNY Potsdam is known for its challenging liberal arts and sciences core, distinction in teacher training and culture of creativity. To learn more, visit www.potsdam.edu.