Christine Haile '74 of Albany, N.Y., Recognized with 2021 Minerva Award, Highest Honor Bestowed by the SUNY Potsdam Alumni Association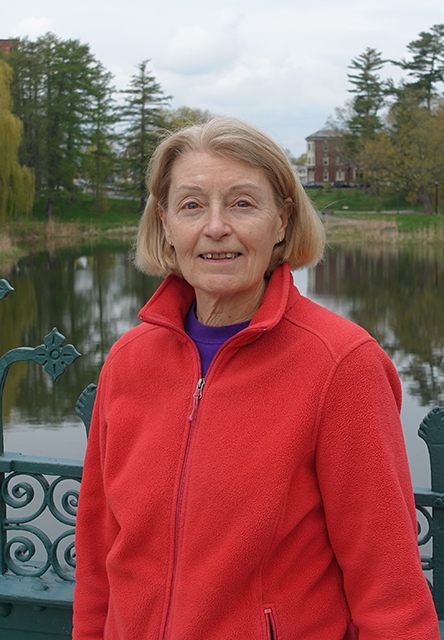 The SUNY Potsdam Alumni Association recently presented the 2021 Minerva Award to Christine Haile '74 of Albany, N.Y., during the College's Virtual Reunion. 
The Minerva Award is presented annually to graduates who have demonstrated outstanding professional achievement in his or her field. It is the highest honor that a SUNY Potsdam graduate can receive from the association. Haile was recognized for her inspiring professional achievements, and in gratitude for her service and generosity to the College. 
About the recipient:
Christine Haile '74 has been a leader among her peers since her time serving as vice president of the Student Government Association at SUNY Potsdam. In the past 47 years, she has utilized her leadership skills to grow in her career in higher education, as well as to advance the mission of her alma mater.
After receiving her bachelor's degree in political science from SUNY Potsdam in 1974, Chris obtained a Master of Business Administration degree in finance from the University at Albany. Shortly thereafter, she began a long and successful career in the State University of New York. Her professional experience covers a broad range of fields, including finance, health sciences, library systems and faculty development initiatives. Most notably, she served as Chief Information Officer (CIO) at the University at Albany until her retirement in 2015.
Chris joined the Potsdam College Foundation Board of Trustees in 2010, and continually goes above and beyond in her role, including serving concurrently as treasurer, a member of the Executive Committee and chair of the Investment and Finance Committee. As a trustee, Chris has worked diligently to improve the Board's systems and procedures, from implementing a new budget system to executing a complete review of SUNY Potsdam's IT systems.
In addition to her time on the Board, Chris has invested time and resources into the personal and professional development of many SUNY Potsdam students. She has individually mentored student leaders and, in 2015, endowed The Christine Haile '74 Women & Leadership Fund, to give students access to networking opportunities and career advancement skills. 
Chris was a trailblazer for women in her chosen field, and her endowed fund empowers current SUNY Potsdam students to follow in her footsteps, by supporting the Women, Gender and Leadership Program on campus. This yearlong program involves approximately 40 students each year who attend weekly leadership development workshops and are matched with an alumna mentor in their career field. The mentors provide invaluable insights and advice to students on how to achieve success in the future. 
For more information about the SUNY Potsdam Alumni Association, visit www.potsdam.edu/alumni. 
About SUNY Potsdam:  
Founded in 1816, The State University of New York at Potsdam is one of America's first 50 colleges—and the oldest institution within SUNY. Now in its third century, SUNY Potsdam is distinguished by a legacy of pioneering programs and educational excellence. The College currently enrolls approximately 3,600 undergraduate and graduate students. Home to the world-renowned Crane School of Music, SUNY Potsdam is known for its challenging liberal arts and sciences core, distinction in teacher training and culture of creativity. To learn more, visit www.potsdam.edu.
---
Campus Announcements
General News