National Experts Lead Training for Officers from Local Agencies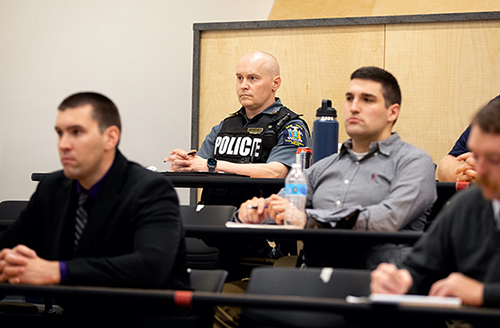 SUNY Potsdam was proud to host a special training in community policing and cultural competency, featuring national experts Dr. Lorenzo Boyd and Mike Lawlor of RENZ Consulting. Nineteen officers from Lake Placid Village Police, New York State Police, Potsdam Village Police and SUNY Potsdam University Police took part in the daylong retreat—the first of three sessions that the agencies will be taking part in, in the coming months. 
The training was sponsored by the Adirondack Diversity Initiative, as part of its Community Wellness Initiative, to help local law enforcement agencies fulfill their goals of completing expanded diversity, equity and inclusion training, as outlined in many community plans developed under Executive Order 203. The Adirondack Diversity Initiative secured funding to contract with RENZ Consulting to offer consulting and training resources to a limited number of interested agencies in the region. 
About the experts: 
Dr. Lorenzo M. Boyd is a leading authority in policing best practices, with more than 30 years of combined experience in both law enforcement and higher education. His service as a former deputy sheriff in Boston for over 13 years has informed his nearly 25-year career in higher education, where his teaching and research has focused on urban policing and diversity issues in criminal justice. Boyd currently serves as the vice president for diversity and inclusion at the University of New Haven and is the former director of its Center for Advanced Policing.  
Mike Lawlor is a nationally recognized expert on criminal justice reform, a major focus of his 24 years as a member of the Connecticut House of Representatives and as the former undersecretary for criminal justice policy and planning for that state. Lawlor was a founding board member of the Council of State Governments Justice Center and served on numerous national criminal justice reform commissions. He also led the push for legislation that made Connecticut the second state in the country to allow same-sex couples to enter into civil unions. He is also a faculty member at the University of New Haven.  
About SUNY Potsdam:  
Founded in 1816, The State University of New York at Potsdam is one of America's first 50 colleges—and the oldest institution within SUNY. Now in its third century, SUNY Potsdam is distinguished by a legacy of pioneering programs and educational excellence. The College currently enrolls approximately 3,600 undergraduate and graduate students. Home to the world-renowned Crane School of Music, SUNY Potsdam is known for its challenging liberal arts and sciences core, distinction in teacher training and culture of creativity. To learn more, visit www.potsdam.edu.