SUNY Potsdam Welcomes Guest Director/Choreographer Hettie Barnhill for Film Screening & Dance Residency 
The SUNY Potsdam Department of Theatre and Dance is proud to present an upcoming screening and discussion of the film, "A Love Letter to Brian, Lesley and Michelle." This free event will take place on Saturday, Sept. 3 at 7:30 p.m., in the Proscenium Theater in SUNY Potsdam's Performing Arts Center. The film screening will be followed by a conversation with the director and invited guests.  
Through dance, theatre and text, the audience will be invited to reflect upon their everyday encounters with social media, television, newspapers, politics, family, friends and strangers. The film, directed by Hettie Barnhill, investigates diversity and inclusion, White fragility, anti-Blackness, anti-queerness, racial fear, and the possibilities for change. 
Rebecca Rafferty of the Rochester City News writes, "Combining beauty with a drive to prove we can do better for one another, Barnhill's work is interactive in that it leaves viewers reminded of the same directive we too often ignore: that we are all participants in the world, and a deep internal look is required to discover our part in improving it for each other."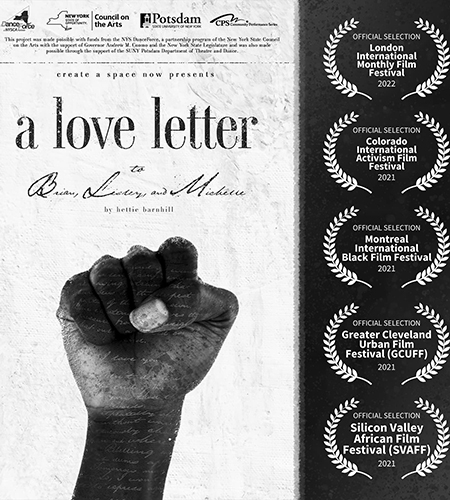 Filmmaker Hettie Barnhill—who is both the director and choreographer of this production—has appeared on Broadway in "Spider-Man Turn off the Dark," "Fela!" and "Leap of Faith." Nominated for a 2017 New York Innovative Theater Award for Outstanding Choreography, she has performed at the Metropolitan Opera, Dallas Theater Center and the La Jolla Playhouse. In 2016, she cofounded Create a Space NOW—an interactive social platform that uses performing arts and multimedia to further the discussion around Black Lives Matter. Robert Gertler is the cinematographer and sound designer of this production. 
While in residence on campus, Barnhill will be working with SUNY Potsdam dancers—teaching and choreographing.  
This project is made possible with funds from the New York State DanceForce, a partnership program of the New York State Council on the Arts with the support of Governor Kathy Hochul and the New York State Legislature. 
Please note that this film is appropriate for viewers ages 14 or older. 
For more information, contact Robin Collen at collenrl@potsdam.edu or (315) 267-2234. 
SUNY Potsdam's Department of Theatre and Dance cultivates an innovative, experiential and multidisciplinary education within an inclusive community, which prepares students for leadership and service in the arts as global citizens. Housed in the award-winning Performing Arts Center, the department is nationally accredited and offers degrees in arts management, dance and theatre. To learn more, visit /www.potsdam.edu/academics/AAS/depts/theatre.   
About SUNY Potsdam:  
Founded in 1816, The State University of New York at Potsdam is one of America's first 50 colleges—and the oldest institution within SUNY. Now in its third century, SUNY Potsdam is distinguished by a legacy of pioneering programs and educational excellence. The College currently enrolls approximately 3,000 undergraduate and graduate students. Home to the world-renowned Crane School of Music, SUNY Potsdam is known for its challenging liberal arts and sciences core, distinction in teacher training and culture of creativity. To learn more, visit www.potsdam.edu. 
---
Arts & Culture
General News