SUNY Potsdam Faculty Member Dr. Sharmain van Blommestein Releases 'Introduction to Composition, Literature & Critical Thinking' 
Dr. Sharmain van Blommestein, an associate professor and chair of the Department of English and Communication at SUNY Potsdam, has released a digital textbook, "Introduction to Composition, Literature and Critical Thinking."  
Published by Kendall Hunt Publishing Company, the e-textbook is available for download to digital devices and designed to fill a need that the faculty member saw in her introductory coursework, especially during the pandemic.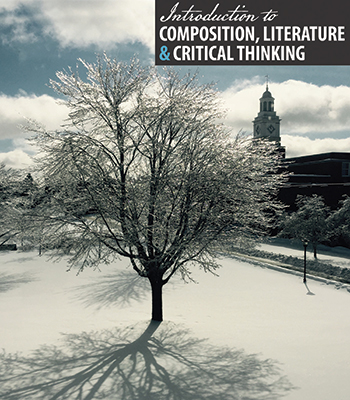 "The textbook stemmed out of COVID-19, when my students left their books in the dorms, and I had to change the whole syllabus to online links for the readings. The publisher also had the same idea in mind, and I wanted to create an e-textbook that was low-cost for our students, and where all the readings are totally online links in the book, besides by notes and information," Dr. van Bloomstein said. 
The text guides college students through elements of organizing and composing different types of works, including essays, science and technical writing, business and professional writing, and literature—from prewriting exercises to organization and incorporating proper citations.  
Dr. van Blommestein is an associate professor, specializing in medieval/early modern literature, feminist theory, and women's and gender studies topics, via British and American literary studies. She is actively involved in Collaborative Online International Learning (COIL) projects. She received her Ph.D. from the University of Florida. Her experience totals 29 years as a part-time and full-time educator. She has also taught and tutored English composition and developmental/remedial writing and reading, and she was an examiner for the Board of Regents English Composition Exam in the University System of Georgia. Her research formulates a cultural and political context for the relationship/parallel between medieval/early modern and contemporary issues on ideologies of the gendered body, the semiotic body and the body/skin as book. She examines the cultural significations of, and the semiotic prescriptions deployed in, "writing" on, and reading of, the body/skin as an act of agency. These research interests also connect to topics pertaining to medieval medicine and the social approach to health and healing; the female body and prostitution; menstruation and reproduction; women and religious women, and disease, from ancient to modern. 
SUNY Potsdam's Department of English and Communication challenges its students to complete a core of courses that explore the varied ways people speak, write and read. For more information, visit www.potsdam.edu/academics/AAS/Engl. 
About SUNY Potsdam:  
Founded in 1816, The State University of New York at Potsdam is one of America's first 50 colleges—and the oldest institution within SUNY. Now in its third century, SUNY Potsdam is distinguished by a legacy of pioneering programs and educational excellence. The College currently enrolls approximately 3,000 undergraduate and graduate students. Home to the world-renowned Crane School of Music, SUNY Potsdam is known for its challenging liberal arts and sciences core, distinction in teacher training and culture of creativity. To learn more, visit www.potsdam.edu.