SUNY Potsdam's Bachelor of Science degree program in geographic information science (GIS) has been honored as one of the very top in the country by Affordable Schools. SUNY Potsdam was ranked No. 2 in the nation in the website's "30 Best Affordable Geographic Information Science and Cartography Degree Programs" list for 2020. 
The analysis is based on the overall cost of attendance, the student-to-faculty ratio and the program graduation rate. With its affordable public university tuition, small class sizes and successful track record, SUNY Potsdam's program rated highly, said GIS Program Coordinator Dr. Kamal Humagain. 
"This is big news for us. In addition to the affordability, student-to-faculty ratio is one of the strengths of the program, where students can develop one-to-one relationships with peers and faculty. Our growing program is dedicated to the latest geospatial skills and students' success," said Humagain, who is an assistant professor of GIS at SUNY Potsdam.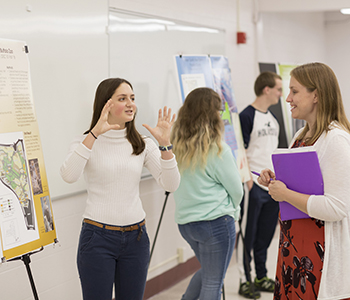 SUNY Potsdam's GIS program is an interdisciplinary major giving students the knowledge and technical skills needed to identify, analyze, interpret and solve spatially-based problems—launching them into careers into the rapidly growing industry. 
"Nearly all governments, organizations, industries and individuals rely on spatial data. GIS has been the academic and technical growth area in the recent years. At SUNY Potsdam, we train future GIS professionals by providing theoretical concepts and practical experience. Students have access to new GIS dedicated computer lab and the latest versions of industry standard software packages," Humagain said. "Whether pursuing a career or a graduate degree, students completing the GIS major will be proficient with highly marketable GIS skills. Having GIS skills makes students more competitive in the job market, irrespective of the area of their interest. We welcome students from any major to our program, so that they can learn and apply GIS skills." 
The rapid growth of the GIS industry has been propelled by the proliferation of geographically-aware websites, navigation systems and geo-enabled apps, which has brought GIS into consumers' daily lives and greatly expanded the applications of the technology, Humagain said. As a result, the GIS industry is on pace to grow at a rate of 10 percent annually, according to a study by P&S Market Research. 
SUNY Potsdam is one of the few State University of New York campuses to offer a bachelor's degree in GIS. In response to demand, faculty are developing a fully online GIS Certificate to help more students and working professionals add the credentials to their resumes as well. 
Students in the major complete a set of core courses in GIS, as well as required classes in physical geology, math, statistics, computer coding, and color and design. All GIS majors also complete a minor in computer science as part of the program, and choose upper-level electives from at least three different departments, with recommended courses in fields as diverse as politics, anthropology, graphic design, physics, and wilderness education. 
In addition to the Bachelor of Science degree in geographic information science, SUNY Potsdam also offers a minor in GIS as well. Both programs are housed in the College's Department of Geology, which prepares students for careers in the sciences, or for further study on the graduate or professional level. To learn more, visit http://www.potsdam.edu/academics/AAS/Geology. 
About SUNY Potsdam:  
Founded in 1816, The State University of New York at Potsdam is one of America's first 50 colleges—and the oldest institution within SUNY. Now in its third century, SUNY Potsdam is distinguished by a legacy of pioneering programs and educational excellence. The College currently enrolls approximately 3,600 undergraduate and graduate students. Home to the world-renowned Crane School of Music, SUNY Potsdam is known for its challenging liberal arts and sciences core, distinction in teacher training and culture of creativity. To learn more, visit www.potsdam.edu.