SUNY Potsdam Geology Faculty Dr. Page Quinton & Dr. Michael Rygel Awarded $370,113 National Science Foundation Grant to Further Carbon Cycle Research 
Two faculty members in SUNY Potsdam's Department of Geology have been awarded a major National Science Foundation grant to work with undergraduates on their exploration of Earth's carbon cycle across history. Dr. Page Quinton and Dr. Michael Rygel were awarded $370,113 from the NSF's Research in Undergraduate Institutions program to provide funding for as many as 10 SUNY Potsdam geology majors to complete research under their mentorship. 
"Not only will this funding provide hands-on training for SUNY Potsdam students, but it will also allow our research team to produce data and results that have important implications for our understanding of climate change in Earth's history and how to respond to modern climate change," Quinton said. 
The project will span at least three years, kicking off this fall, and will involve field work in central Montana and the Guadalupe Mountains of western Texas. Students will learn how to measure and describe rock outcrops in order to understand the environments in which they formed, and reconstruct the history of sea level change the rocks record. Field parties will collect samples of rocks that students will take back to the laboratory at SUNY Potsdam, where they will study the chemical signals recorded in the rocks. The data sets they generate will then be used to infer fluctuations in the carbon cycle. The grant will support student salaries, field work travel costs, and funding for a capstone field course.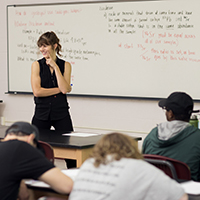 "One of the methods geologists use to study the history of Earth's climate is by reconstructing the history of the carbon cycle—or how carbon is moved between the atmosphere, ocean, biosphere and sediments. The carbon cycle is important because it directly controls the amount of greenhouses gases like carbon dioxide and methane present in the atmosphere. Changes in these greenhouse gases has caused Earth's climate to change over time. The research funded with this NSF grant will focus on documenting and understanding how changes in sea level influence the carbon cycle and thus Earth's climate," Quinton said. 
Quinton and Rygel will prepare the major findings for publications in peer reviewed scientific journals, and students will present the results at scientific conferences, gaining invaluable firsthand experience. 
As a paleoclimatologist, Quinton has extensive experience studying climate change across millennia. Research she conducted with colleagues at El Kef, Tunisia, received international attention when it was published in the journal Science in 2018. They analyzed microfossil data from what had been a subtropical sea, looking at the time period 66 million years ago, after an asteroid slammed into the Earth and killed off three-quarters of living species, including all non-avian dinosaurs. They were able to document that while the heightened carbon dioxide in the atmosphere (a result of soot, dust and sulfates from the blast blocking out the sun) lasted for a couple of decades, the planet's temperature rose 9 degrees Fahrenheit and actually stayed that way for thousands of centuries before finally returning to its historically normal range.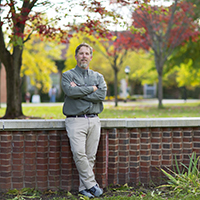 Rygel is chair of SUNY Potsdam's Department of Geology, and was recently elected to Fellowship in the Geological Society of America (GSA), in recognition of service to the profession, through geoscience education, public outreach, recruitment of geoscientists, mentoring of undergraduate research students, and scholarship. This prestigious designation follows on previous distinctions, including being awarded the 2010 Biggs Award for Excellence in Earth Science Teaching from GSA, and the 2019 GIS Champion Award from the New York State Geographic Information Systems (GIS) Association. 
SUNY Potsdam's Department of Geology prepares students for in-demand careers in the sciences, or for further study on the graduate or professional level. The department offers majors in geology and geographic information science (GIS), with a strong focus on both lab and field experience. SUNY Potsdam's location in the St. Lawrence Valley near the Adirondack Mountains provides a natural laboratory for geology students. To learn more, visit https://www.potsdam.edu/academics/AAS/depts/geol. 
About SUNY Potsdam:  
Founded in 1816, The State University of New York at Potsdam is one of America's first 50 colleges—and the oldest institution within SUNY. Now in its third century, SUNY Potsdam is distinguished by a legacy of pioneering programs and educational excellence. The College currently enrolls approximately 3,600 undergraduate and graduate students. Home to the world-renowned Crane School of Music, SUNY Potsdam is known for its challenging liberal arts and sciences core, distinction in teacher training and culture of creativity. To learn more, visit www.potsdam.edu.