SUNY Potsdam Class Leaders Ben Johnson '23 & Cassidy Welsh '23 Recognized with 2023 Faculty Awards 
Two outstanding SUNY Potsdam graduates have been recognized as the academic honorees for the Class of 2023, earning the 2023 Faculty Awards. The award recipients, Ben Johnson '23 and Cassidy Welsh '23, were chosen by the Faculty Senate and will be specially recognized during Commencement. 
The SUNY Potsdam Faculty Award recognizes two students in the graduating class with the highest grade point averages. One recipient must have completed all of their degree requirements at SUNY Potsdam, and the other is a transfer student.  
The honorees will receive a cash award and a certificate of recognition, and their names will be displayed on a plaque in the Lougheed Learning Commons. 
About the academic honorees: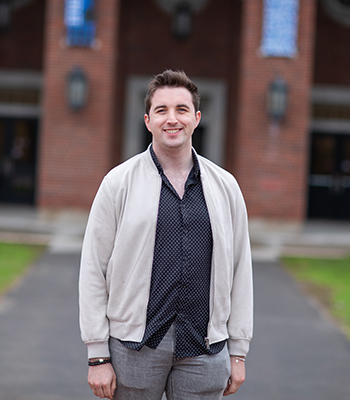 Ben Johnson '23 is graduating summa cum laude with bachelor's degrees in both musical performance and psychology, with a minor in musical theatre. Originally from Hallertown, Pa., he graduated from Saucon Valley Senior High School. A voice major, he served as president of the Crane Opera Club and performed with the award-winning Crane Opera Ensemble. He also was involved with the student-run Madstop Records. Johnson said he chose to double-major in psychology along with his studies at The Crane School of Music in an effort to broaden his skillset as a performer and practitioner. He drew on both disciplines for his Presidential Scholars research project, on "The Immortal Muse: The Story of Orpheus and Euridice." 
"Psychology is something that is constantly present within music, the human experience, and the thoughts and processes behind that are what inspire music. For a performer, psychology comes even further to the forefront. What prompts a character to act the way they do and what led to them becoming the person they are, are questions that consistently impact the performer; thus psychology makes sense as a double major in music. Additionally, I became interested in music therapy as a field and wanted to have the potential to delve further into that field," he said.  
This summer, Johnson will play the role of Tony in "West Side Story" in a production at Villagers Theatre in Somerset, N.J., before heading to the Mead Witter School of Music at the University of Wisconsin-Madison, on a full scholarship. He plans to pursue his graduate degree in vocal performance.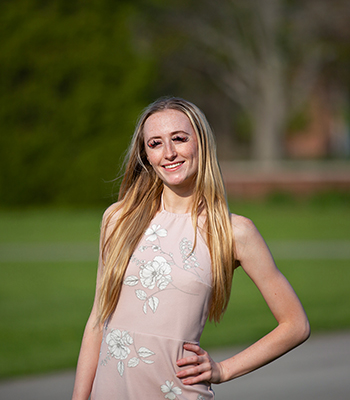 Cassidy Welsh '23 is from Hubbardsville, N.Y., and transferred to SUNY Potsdam after previously studying at the University at Albany and Utica University. She is graduating summa cum laude with majors in psychology and biology, along with a minor in chemistry. In recognition of her extensive achievements in the sciences, she was inducted into multiple honors societies, including Beta Beta Beta (biology), Gamma Sigma Epsilon (chemistry) and Psi Chi (psychology). She was also elected president of Psi Chi.  
Welsh has conducted research with Professor of Biology Dr. Jason Schreer, and Professor of Chemistry Dr. Fadi Bou-Abdallah and also completed an honors research project with Associate Professor of Psychology Dr. James Fryer. She received a Kilmer Undergraduate Research Apprenticeship to support her work on the "Purification and Characterization of Human Isoferritins" with Dr. Bou-Abdallah, ultimately co-authoring a paper with him, published in the Journal of Inorganic Biochemistry. She was also honored with the Canfield Scholarship from the psychology department, based on her achievement, demonstrated ability and potential for further professional growth. Welsh is also an exemplary leader within Greek Life, serving as service chair for All Greek Council and secretary for the Intersorority Council. She is a sister of Alpha Sigma Tau, serving as vice president of operations, member development and philanthropy.  
"My experience at SUNY Potsdam has been invaluable to me. The high caliber of faculty and fellow students made for a challenging and stimulating academic environment that allowed me to grow both personally and intellectually. The opportunity to engage in research across multiple subjects allowed me to explore different areas of interest and develop a well-rounded understanding of my field of study," Welsh said. "Additionally, the extracurricular activities I participated in helped me develop leadership and teamwork skills, which have been beneficial in all areas of my life. Overall, my time at SUNY Potsdam has provided me with a strong foundation for both my personal and professional pursuits." 
Welsh is graduating with a perfect 4.0 grade point average, and plans to attend graduate school to become a physician assistant (PA). 
Both students will receive special recognition during SUNY Potsdam's Commencement ceremonies on Saturday, May 20. To learn more about Commencement at SUNY Potsdam, visit www.potsdam.edu/commencement. 
About SUNY Potsdam:  
Founded in 1816, The State University of New York at Potsdam is one of America's first 50 colleges—and the oldest institution within SUNY. Now in its third century, SUNY Potsdam is distinguished by a legacy of pioneering programs and educational excellence. The College currently enrolls approximately 3,000 undergraduate and graduate students. Home to the world-renowned Crane School of Music, SUNY Potsdam is known for its challenging liberal arts and sciences core, distinction in teacher training and culture of creativity. To learn more, visit www.potsdam.edu.