2021 Helen M. Hosmer Excellence in Music Teaching Award Presented to Crane School of Music Alumna Patricia Arnold O'Connell '77 of Owego, N.Y.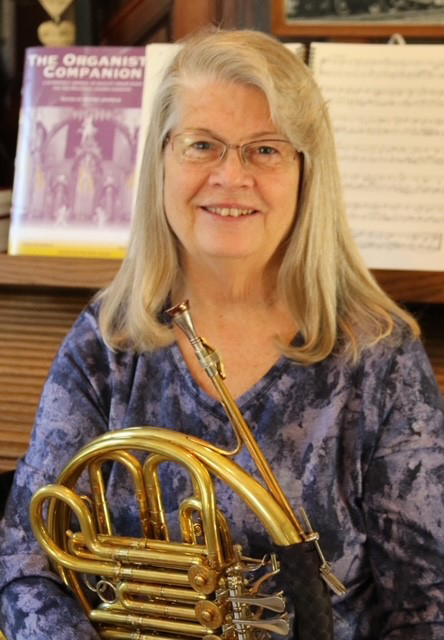 The Julia E. Crane Alumni Association recently honored Patricia Arnold O'Connell '77 of Owego, N.Y., with the 2021 Helen M. Hosmer Excellence in Music Teaching Award, during the College's Virtual Reunion.
The Helen M. Hosmer Excellence in Music Teaching Award is presented each year to Crane School of Music alumni in public school music education who have demonstrated exemplary service in any of the areas of choral, instrumental or general music education. O'Connell was honored in recognition of her dedication to her students and to the field of music education—whether in the band room, lesson room or on stage. 
About the recipient:
Patricia "Patti" Arnold O'Connell '77 spent her career as an educator teaching young musicians not only how to read bass clef and prepare for auditions, but how to build character traits that would prepare them for their futures. 
Reflecting on her career, Patti shared, "It is humbling to realize the incredible number of students whose lives I have touched, even in the smallest way. The students' time in the final grades before graduation are so very important in formulating their views to become positive contributors and citizens to society. Participation in a music program fosters infinite life skills."
Before retiring in 2010, Patti spent 35 years teaching in the Vestal School District, the majority of which was at the high school level. As is the case in many band rooms, her band was a family. She pushed students to play their absolute best while making sure everyone in the room knew what they were doing and felt included. Patti often traveled with the high school bands for festivals and competitions, including those in Florida, Virginia, New York City and Toronto. Beyond the traditional band classroom at Vestal, Patti also directed the Golden Bears Marching Band and Winter Guard, in addition to conducting the high school musical. 
A French horn player, Patti frequently performs in local ensembles. She currently plays Principal Horn in the Downtown Singers Orchestra, Southern Tier Concert Band and Tri-Cities Opera Orchestra. She also performs in the Binghamton Community Orchestra, the Binghamton Philharmonic, The Fair Winds (a woodwind quintet) and various high school musical pit orchestras. In 2020, Patti developed and performed a 45-minute solo recital sponsored by the Binghamton Philharmonic, to demonstrate the versatility of the French horn. Her love for music and passion for sharing it with others continues to grow. 
To find out more about how SUNY Potsdam connects with its devoted alumni, visit www.potsdam.edu/alumni. 
About The Crane School of Music:
Founded in 1886, SUNY Potsdam's Crane School of Music has a long legacy of excellence in music education and performance. Life at Crane includes an incredible array of more than 300 recitals, lectures and concerts presented by faculty, students and guests each year. The Crane School of Music is the State University of New York's only All-Steinway institution. For more information, please visit www.potsdam.edu/crane. 
---
Campus Announcements
General News