More Than 25 Years in Higher Education, from Faculty Member to Administrator Responsible for Academic Programming & Strategic Planning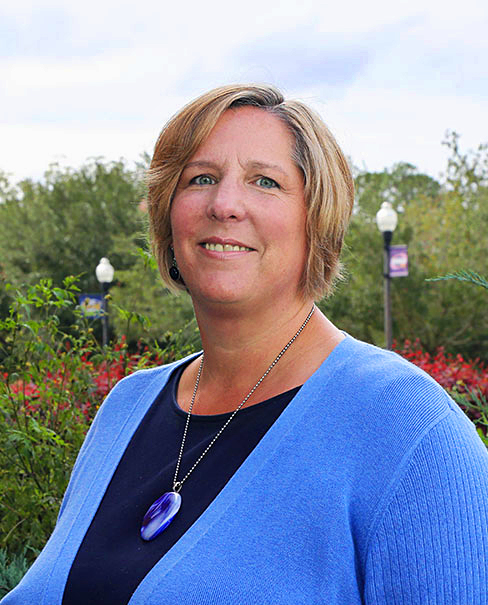 At the recommendation of State University of New York Chancellor Dr. John B. King, Jr., the SUNY Board of Trustees has appointed Dr. Suzanne Smith as SUNY Potsdam's next president. The announcement was made by the Board and Chancellor King today and becomes effective on April 17, 2023. 
Established in 1816, the Potsdam campus is SUNY's oldest college. The campus is known for its academic excellence as a teaching school, and home to the renowned Crane School of Music. Dr. Smith will be the 18th president following the passing of President Dr. John L. Graham (Hon. '22). Officer-in-Charge Dr. Philip Neisser '79 will assist with the leadership transition.  
"Dr. Smith is a phenomenal leader who is well-known for her expertise in academic programming and strategic planning," said SUNY Chancellor King. "While at Georgia Southwestern University, Dr. Smith led the school's Post-Pandemic Strategic Task Force, which helped guide the university back from the pandemic. She is well poised to build on Potsdam's longstanding history of excellence. I thank Officer-in-Charge Philip Neisser for manning the helm after the passing of Dr. Graham and commend him for an excellent job steering the college through the process of selecting its 18th president." 
"We are excited that Chancellor King and the SUNY Board of Trustees have recommended and appointed Dr. Smith as the next president of SUNY Potsdam. I am grateful to my fellow search committee members who worked so hard on this successful search. We were impressed by Dr. Smith's dedication to applied learning, and her commitment to making sure every graduate is both competitive in the marketplace and empowered to become their authentic selves. We have every confidence that Dr. Smith is the right person to rally our campus and the broader community to secure SUNY Potsdam's future and continue to build on our strong legacy," said June O'Neill (Hon. '99), the chair of both the SUNY Potsdam College Council and the Presidential Search Committee. 
Dr. Smith said, "I am deeply honored to have Chancellor King and the SUNY Board of Trustees charge me with leading the oldest institution in the SUNY system. Potsdam has stood the test of time and educated the next generation of learners for over 200 years. The college in the foothills of the Adirondacks has a lot to be proud of, including the world-renowned Crane School of Music. I am excited to build on the college's longevity and use that as a tool to drive it forward to attract new students while enhancing the already successful programs Potsdam offers." 
"It has been my honor to lead my alma mater and to further its mission over the past year. SUNY Potsdam is a very special place, and I have been fortunate to be part of this campus community for much of my life. I know just how important this institution is to our region, to the state, and to the world beyond, as we prepare students to lead lives enriched by critical thought, creativity and discovery. Dr. Smith shares this conviction, and will lead Potsdam forward with integrity and care," said Dr. Neisser. 
About Dr. Suzanne Smith: 
Dr. Suzanne Smith has served as the provost and vice president for academic affairs at Georgia Southwestern State University (GSW) in Americus, Ga., since July 1, 2018. In this position, she has been responsible for the academic programming and planning for the university, and the allocation of resources to meet programmatic priorities. During her time at GSW, Smith has led an academic planning process which resulted in the establishment of several new degree programs designed to meet student and regional workforce needs. She helped raise more than $2 million dollars for one of those programs by working with community partners and seeking external grants. She also led the campus post-pandemic strategic task force, which resulted in the development of GSW's three pillars of excellence: People, Purpose and Profession. Prior to GSW, Dr. Smith served at Washington State University Vancouver from 1997-2018, where she had most recently served as the director of academic planning and special assistant to the vice chancellor of academic affairs. During her time at Washington State Vancouver, she transitioned from faculty to administration by serving 10 years as an academic director. 
Dr. Smith is a tenured professor in GSW's Department of Psychology and Sociology. She has over 25 years of experience teaching sociology and human development at the university level. She has received multiple awards for excellence in teaching and has written numerous journal articles and books, including her latest co-authored textbook, Exploring Family Theories (5th Ed), published in 2021. Dr. Smith is an active member of the National Council of Family Relations and the Family Science Association. 
Dr. Smith received her Ph.D. in child and family development from the University of Georgia, her Master of Science degree in family and child development from Virginia Polytechnic Institute and State University, and her Bachelor of Arts degree in behavior science from Erskine College. She has completed the Harvard Graduate School of Education Management Development Program and the American Association of State Colleges and Universities Millennium Leadership Institute. 
About SUNY Potsdam:  
Founded in 1816, The State University of New York at Potsdam is one of America's first 50 colleges—and the oldest institution within SUNY. Now in its third century, SUNY Potsdam is distinguished by a legacy of pioneering programs and educational excellence. The College currently enrolls approximately 3,000 undergraduate and graduate students. Home to the world-renowned Crane School of Music, SUNY Potsdam is known for its challenging liberal arts and sciences core, distinction in teacher training and culture of creativity. To learn more, visit www.potsdam.edu.