Dr. John L. Graham Posthumously Named SUNY Potsdam President, in Recognition of Service & Dedication to Campus
The SUNY Board of Trustees today passed a resolution posthumously appointing Dr. John L. Graham president of SUNY Potsdam, in recognition of his extraordinary service and dedication to the campus prior to his recent passing.
With the official designation, Dr. Graham will be remembered as the seventeenth president of SUNY Potsdam, and the first Black leader in the College's 205-year history. SUNY Potsdam just concluded a week of mourning in his honor, following his unexpected passing on Nov. 27.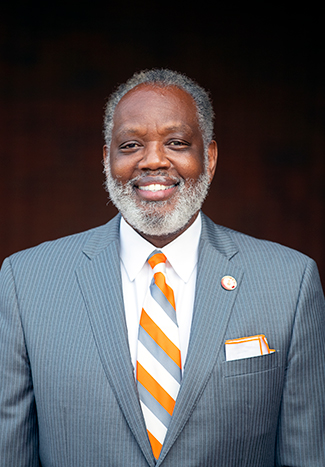 "The SUNY Board of Trustees today unanimously approved a resolution conferring the title of President of SUNY Potsdam on Dr. John Leon Graham posthumously. We thank the Chancellor, Chair Tisch and the entire Board for formally acknowledging Dr. Graham's leadership, vision, passion, dedication, service and love while here in Potsdam. John will forever be remembered and missed, as we continue to move our campus forward guided by his plans," said College Council Chair June O'Neill (Hon. '99).
The Board's action was preceded by resolutions and letters of support calling for the honor, from SUNY Potsdam's Faculty Senate, Black Faculty Caucus, Student Government Association, Diversity and Inclusion Action Coalition, President's Cabinet, the SUNY Student Assembly, the Alumni Association and the Potsdam College Foundation Board of Trustees.
"Many students, faculty, staff, and administrators were impacted and inspired by Dr. Graham, who often spoke of the power of the 'care gene.' May this time of shared reflection on his death be a symbol and reminder of our commitment to caring for one another in memory and in honor of his legacy," said Associate Professor of English and Communication Dr. John Youngblood, who helped organize the week of mourning and attended the President's funeral services, along with members of a campus delegation.
Dr. Graham was appointed to serve as SUNY Potsdam's campus leader on Sept. 1, and unified campus around his singular vision for the College's future. Prior to his service at Potsdam, he was most recently SUNY's student advocate and a senior advisor to the Chancellor. To learn more about his life and legacy, visit http://www.drjohnlgraham.us/.
About SUNY Potsdam:
Founded in 1816, The State University of New York at Potsdam is one of America's first 50 colleges—and the oldest institution within SUNY. Now in its third century, SUNY Potsdam is distinguished by a legacy of pioneering programs and educational excellence. The College currently enrolls approximately 3,000 undergraduate and graduate students. Home to the world-renowned Crane School of Music, SUNY Potsdam is known for its challenging liberal arts and sciences core, distinction in teacher training and culture of creativity. To learn more, visit www.potsdam.edu.