SUNY Potsdam Department of Theatre and Dance Presents 10 Hairy Legs Male Repertory Company for Oct. 3 Performance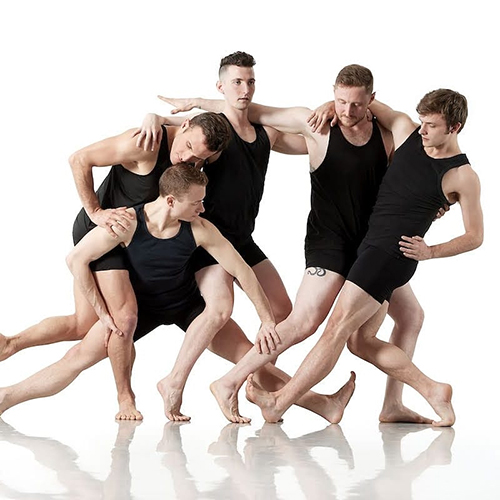 The SUNY Potsdam Department of Theatre and Dance is proud to present the male dance repertory company 10 Hairy Legs in concert next month.
The visiting dance company's concert will feature four original works by the internationally renowned choreographers, including two world premieres. The performance will take place in the Proscenium Theatre, located in the SUNY Potsdam Performing Arts Center, on Thursday, Oct. 3 at 7:30 p.m.
10 Hairy Legs, a male repertory company, provides a broad spectrum of dance. Widely acclaimed for its aggressive commissioning of new works and curation of master works, the company has served more than 85,000 patrons, students, artists and educators since its founding in 2012—nationally and internationally. Dance education is an important part of the company's mission and it provides a wide range of programs for all ages, exemplifying the many facets of maleness expressed through dance to more than 2,500 students and educators each year.
While at SUNY Potsdam, company members will be teaching classes in modern dance and choreography. The company will present four pieces at its concert. "So It Goes" is choreographed by Yin Yue. It is a technical tour de force that incorporates martial arts elements within a modern dance context. Stephen Petronio's "Bud" is a sinuous duet with intricate partnering, set to Rufus Wainwright's "Oh What a World." Two dances will be world premieres, including "Heist" by Adam Barruch and "Cruise Control" by Larry Kegwin.
Demetrius Klein of the Palm Beach Daily News wrote of the group that they are "…by far, the best American male modern dancers one could have the good fortune of seeing these days…gotta hand it to them: 10 Hairy Legs shows what modern dance should be."
This project is made possible with funds from the NYS DanceForce, a partnership program of the New York State Council on the Arts, with the support of Governor Andrew M. Cuomo and the New York State Legislature.
Tickets are $15 for general admission, $10 for SUNY Potsdam students, faculty and staff, and $5 for senior citizens and youth. Tickets will be available at the door and can be reserved in advance by calling the Community Performance Series Box Office at (315) 267-2277. Tickets will also be for sale at the door. For more information on the production, please contact the Department of Theatre and Dance at (315) 267-2556.
From directing, choreographing, acting and dancing to designing and technical work, to arts management—the department engages in highly collaborative arts endeavors. For more information about SUNY Potsdam's Department of Theatre and Dance, visit www.potsdam.edu/theatre.
Founded in 1816, The State University of New York at Potsdam is one of only three arts campuses in the entire SUNY system. SUNY Potsdam's arts curriculum offers the full palette: music, theatre, dance, fine arts and creative writing. No matter the discipline, people from all backgrounds can find their creative compass at Potsdam, with myriad arts immersion experiences available for both campus and community. To learn more, visit www.potsdam.edu.
---
General News
Arts & Culture