Dr. Fadi Bou-Abdallah Receives $18,500 Cottrell Instrumentation Supplements Award
An award announced this week will help SUNY Potsdam Chemistry Professor Dr. Fadi Bou-Abdallah to continue a groundbreaking examination of the role of iron imbalances in a host of human diseases — research that has moved forward despite the COVID-19 crisis.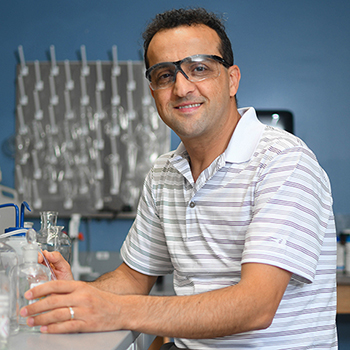 Bou-Abdallah has received the Cottrell Instrumentation Supplements award for $18,500, sponsored by the Research Corporation for Science Advancement (RCSA). The award will fund the purchase of a new protein purification system called an AKTA Go Chromatography System, allowing Bou-Abdallah to purify the proteins needed to press on with research into ferritin, the iron storage protein responsible for crucial biological processes in mammals.
The professor's work with ferritin involves creating a significant amount of synthetic protein called isoferritin, using a unique plasmid and methods he pioneered. The research was funded by a National Science Foundation grant of $387,030 this February, as well as a National Institutes of Health grant for $414,047 announced in September 2019.
"There is strong literature evidence that iron imbalance and deregulation lead to increased inflammation, oxidative stress, heart disease, cancer, and a host of iron-induced neurological conditions, including Pick's disease, Huntington's disease, progressive supranuclear palsy, Friedreich's ataxia, amyotrophic lateral sclerosis (ALS), prion disease and neuroferritinopathy," Bou-Abdallah said. "Some of these neurological diseases are characterized by significant accumulation of iron in specific regions of the brain." 
 Bou-Abdallah was one of 11 Cottrell Scholars nationwide at primarily undergraduate institutions to be selected for the Cottrell award, which will help enhance the research and educational activities of undergraduates in the SUNY Potsdam Department of Chemistry.
"Cottrell Scholars have an extremely strong record of engaging students in research, and for that to continue at a high level these investigators must have access to state-of-the-art scientific instrumentation," said RCSA President and CEO Daniel Linzer. "At a time when so many colleges are struggling financially, we thought it very important to help faculty and students continue to make significant research contributions." 
Despite the pandemic and stay-at-home orders, it's been a busy time for Bou-Abdallah. The chemistry professor was able to conduct summer research with a team of three SUNY Potsdam undergraduates after drafting a lab-reopening plan that addressed COVID-19 safety measures. Bou-Abdallah published three iron-related research papers, two of them co-authored with undergraduates using data they acquired before the pandemic hit, and one authored in partnership with Clarkson University Associate Professor of Chemistry Artem Melman.
"Because iron is the main culprit in many debilitating diseases, and because ferritin is the major iron storage protein in humans, we are trying to understand how different subunits co-assemble to form different ferritin structures, and how iron is taken up and released by these proteins," Bou-Abdallah said. "We are also looking at how certain mutations on the ferritin subunits lead to certain neurological diseases like neuroferritinopathy, protein aggregates, and iron accumulation in the brain.  Understanding these processes will provide new insights into the origin and causes of some neurodegenerative diseases, and the important role that ferritin plays in this process."
The papers are as follows:
SUNY Potsdam's Department of Chemistry offers a rigorous and well-balanced curriculum that provides a solid foundation for successful graduate study or a career in chemistry or a chemistry-related field. The department is known for its strong and diverse undergraduate research programs, robust grant funding to support teaching and research, and the success of its students' acceptance to competitive graduate and professional schools. To find out more, visit www.potsdam.edu/academics/AAS/Chem.
About SUNY Potsdam:
Founded in 1816, The State University of New York at Potsdam is one of America's first 50 colleges—and the oldest institution within SUNY. Now in its third century, SUNY Potsdam is distinguished by a legacy of pioneering programs and educational excellence. The College currently enrolls approximately 3,600 undergraduate and graduate students. Home to the world-renowned Crane School of Music, SUNY Potsdam is known for its challenging liberal arts and sciences core, distinction in teacher training and culture of creativity. To learn more, visit www.potsdam.edu.