Community Performance Series Welcomes Jeremy Dutcher and Jazz at Lincoln Center Presents Songs We Love 
Community Performance Series is thrilled to present two Guest Artist Series concerts this spring season at SUNY Potsdam's Crane School of Music. Tickets are now on sale for both live performances at www.cpspotsdam.org.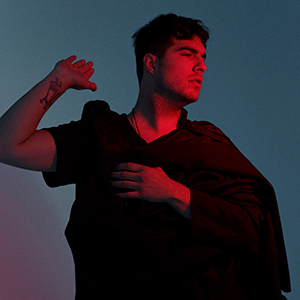 The Juno Award-winning Canadian Indigenous tenor Jeremy Dutcher will perform on Saturday, Feb. 26 at 7:30 p.m., in the Helen M. Hosmer Concert Hall, as the 37th Annual McElheran Visiting Artist.  
Dutcher is a classically trained operatic tenor and composer who takes every opportunity to blend his Wolastoq First Nation roots into the music he creates, blending distinct musical aesthetics that shape-shift between classical, traditional and pop to form something entirely new. Dutcher's debut release, "Wolastoqiyik Lintuwakonawa," involves the rearrangement of wax cylinder field recordings dating to the early 1900s from his community.  
"Many of the songs were lost because our musical tradition was suppressed by the Canadian government. I'm doing this work as there's only about a hundred Wolastoqey speakers left. It's crucial that we're using our language because, if you lose the language, you're losing an entire distinct way of experiencing the world," Dutcher said. 
Rounding out the lineup is Jazz at Lincoln Center Presents Songs We Love, taking the Hosmer Hall stage as the sixth Cania Visiting Artists, on Friday, March 18 at 7:30 p.m. Jazz at Lincoln Center Presents Songs We Love represents a journey through the first 50 years of jazz song. Under the musical direction of Riley Mulherkar, three guest vocalists will join an all-star band made up of New York's rising stars to take audiences on a journey through some of the most iconic songs of early blues and jazz.  
Those virtuosic vocalists are Vuyo Sotashe, finalist of the 2015 Thelonious Monk International Jazz Vocals Competition; Brianna Thomas, whom the Wall Street Journal says "may be the best young straight-ahead jazz singer of her generation," and Shenel Johns, who most recently performed with the Jazz at Lincoln Center Orchestra with Wynton Marsalis. Combining their distinct talents, the group will sing their way through four decades of music, beginning with the early blues and jazz of the 1920s and ending in the early 1950s. Iconic singers to be explored include Ma Rainey, Billie Holiday, Ella Fitzgerald, Frank Sinatra and Judy Garland. 
For audience safety, Community Performance Series concert attendees must show proof of vaccination and wear a mask at all times while on campus. These safety guidelines were developed in collaboration with CPS, SUNY Potsdam and each artist's management team. 
To purchase tickets, contact the Community Performance Series Box Office, located in the Performing Arts Center lobby, by calling (315) 267-2277 or online at www.cpspotsdam.org. Tickets are also available at Brick & Mortar Music in downtown Potsdam.   
About Community Performance Series: 
The Community Performance Series is a college-community partnership presenting distinctive and renowned performing artists and arts education opportunities in Northern New York. This rich mixture of programming links communities, classrooms and audiences of all ages and preserves access to the performing arts for future generations. For more information, visit www.cpspotsdam.org. 
About SUNY Potsdam:  
Founded in 1816, The State University of New York at Potsdam is one of America's first 50 colleges—and the oldest institution within SUNY. Now in its third century, SUNY Potsdam is distinguished by a legacy of pioneering programs and educational excellence. The College currently enrolls approximately 3,000 undergraduate and graduate students. Home to the world-renowned Crane School of Music, SUNY Potsdam is known for its challenging liberal arts and sciences core, distinction in teacher training and culture of creativity. To learn more, visit www.potsdam.edu. 
---
General News
Arts & Culture