Performance Series Returns to Summer Theatre on Aug. 8, with Free 'Back to Broadway! Summer Cabaret' Performance 
The Community Performance Series will return to in-person events and summer theatre with a marquee event on Sunday, Aug. 8, outdoors at SUNY Potsdam. The free, family-friendly show, "Back to Broadway! Summer Cabaret," will begin at 3 p.m., outside between the Performing Arts Center and the Sara M. Snell Music Theater at The Crane School of Music. In the event of rain, the performance will take place within the Performing Arts Center.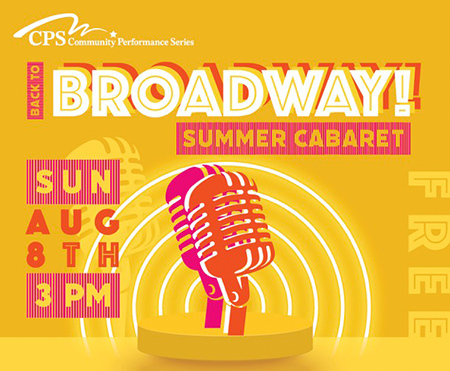 "Back to Broadway! Summer Cabaret" is a community-based summer theatre project that has been developed in anticipation of a 2022 return to musical theatre productions at SUNY Potsdam. The cast includes SUNY Potsdam alumni Kimberly Morgan Busch '93 (director), Andrea Carr Ellison '01, Laura Fitzsimons Gilbert '05, Shavon Lloyd '19, Meaghan Manor-Janovsky '06, George Scoville-Upham '99 and Brianne Wicks Sterling '10. Soon-to-be graduate Joshua Barkley '21 will accompany the cast. Their performances will include many family-friendly musical theatre classics, as well as modern songs.  
Free refreshments will be served from 2 to 3 p.m., courtesy of the Cania family, and complimentary gift bags will be handed out to the first 90 children in attendance. All are welcome to this free event. Please bring your own folding chairs for seating. 
No tickets or registration are required to attend. Donations to sustain the future of summer theatre at CPS are strongly welcomed. T-shirts will also be on sale at the event, thanks to Great Northern Screen Printing & Embroidery. 
Following current public health guidance from the U.S. Centers for Disease Control and Prevention, guests who are vaccinated are not required to wear a face covering at this outdoor event. Those who are unvaccinated are asked to please wear masks. If the event moves indoors due to rain, all will be asked to wear masks. The opportunity to provide your information for contact tracing purposes will be available. 
"CPS would like to welcome everyone back to our first in-person event since January 30, 2020, said CPS Executive Director Jason L. Dominie. "We are so excited to once again have an opportunity to come together and share in the performing arts—most importantly, the chance to work on our first musical theatre project since 2016. All of the credit is owed to our talented and dedicated community of artists. Please join in on the revival of summer theatre and help us ensure its future. In lieu of ticket sales, we are encouraging everyone who can, to please make a donation on the day of the event or online."     
Gifts can be made securely online at https://www.givecampus.com/campaigns/5335/donations/new. 
For more information, call the CPS Box Office at (315) 267-2277; visit  https://cpspotsdam.org  or www.facebook.com/cpspotsdam. The box office remains closed to walk-up business. 
About Community Performance Series: 
The Community Performance Series is a college-community partnership presenting distinctive and renowned performing artists and arts education opportunities in Northern New York. This rich mixture of programming links communities, classrooms and audiences of all ages and preserves access to the performing arts for future generations. For more information, visit  https://cpspotsdam.org.
About SUNY Potsdam:  
Founded in 1816, The State University of New York at Potsdam is one of America's first 50 colleges—and the oldest institution within SUNY. Now in its third century, SUNY Potsdam is distinguished by a legacy of pioneering programs and educational excellence. The College currently enrolls approximately 3,600 undergraduate and graduate students. Home to the world-renowned Crane School of Music, SUNY Potsdam is known for its challenging liberal arts and sciences core, distinction in teacher training and culture of creativity. To learn more, visit www.potsdam.edu.