The Corning Incorporated Foundation has once again extended its support for community programs at SUNY Potsdam.
In a recent visit to campus, Corning Canton Plant Manager David Lucht presented two checks to the Rebecca V. Sheard Literacy Center, including $3,500 to support the after-school mentor program, which serves 250 local school children annually, and $1,500 to the College's Mathematics and Science Education Center. The Math and Science Education Center outreach programs are administered by the literacy center, and serve local middle school students, enhancing their learning through fun and educational activities that they plan with college mentors who are studying to be teachers.
The Rebecca V. Sheard Literacy Center at SUNY Potsdam provides literacy education to the greater Northern New York community, including resources and educational support for parents and teachers, as well as partnering with projects that promote leadership and research on pedagogy and curriculum. For more information about the center, visit http://www.potsdam.edu/academics/SOEPS/education/litcenter/.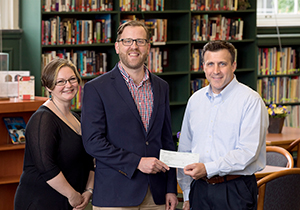 Lucht also presented a check for $2,000 to the Community Performance Series, which has been in residence at SUNY Potsdam since 1989. CPS is a college-community partnership presenting world-class performing artists and arts education opportunities in Northern New York. This rich mixture of programming links communities, classrooms and audiences of all ages and preserves access to the performing arts for future generations. To learn more, visit www.cpspotsdam.org.
Gifts to SUNY Potsdam can transform lives, elevate programs and secure a future for students. To learn more about giving back to SUNY Potsdam, visit www.potsdam.edu/giving. 
Founded in 1816, The State University of New York at Potsdam is one of America's first 50 colleges—and the oldest institution within SUNY. Now in its third century, SUNY Potsdam is distinguished by a legacy of pioneering programs and educational excellence. The College currently enrolls approximately 4,000 undergraduate and graduate students. Home to the world-renowned Crane School of Music, SUNY Potsdam is known for its challenging liberal arts and sciences core, distinction in teacher training and culture of creativity. To learn more, visit www.potsdam.edu.