SUNY Potsdam's Crane School of Music Hosts Faculty Performances & Presentation Commemorating Women Composers & Educators
In 1886, Julia Etta Crane founded the first institution devoted exclusively to preparing American music educators, at her alma mater, Potsdam Normal School. That same year, the U.S. Senate overwhelmingly defeated an amendment to grant voting rights to women. It wasn't until 1920 that the Nineteenth Amendment was ratified. By that point, Julia's vision was a reality, and The Crane School of Music was well established.
Now, in honor of the 100th anniversary of passage of women's suffrage in the United States, SUNY Potsdam's Crane School of Music is continuing a yearlong performance series highlighting the contributions of women to the field of music. Three free faculty-led events will be held in the coming weeks.
Works for Clarinet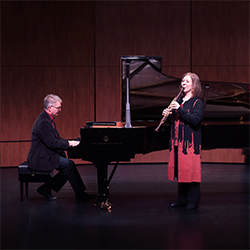 A faculty recital with Julianne Kirk Doyle on clarinet will also feature Dean Michael Sitton on piano and Timothy Sullivan on percussion on Wednesday, Feb. 26 at 7:30 p.m., in the Sara M. Snell Music Theater. The performance will include works by composers Germaine Tailleferre, Stacy Garrop, Katherine Hoover, Libby Larsen, Shulamit Ran and Amanda Harberg.
Among the program highlights, French composer Tailleferre's "Arabesque" is a short, monothematic work with a simple, haunting melody on a theme from the opera "La Petite Sirène." Garrop's "Phoenix Rising" consists of two movements representing the death and rebirth by flame of the mythical bird of ancient Egypt and Greece. Ran's "Spirit" is delivered in lively, inquisitive form ranging from declamatory to meditative.
"La Viola"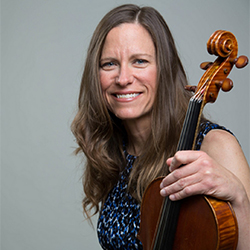 A faculty recital by Shelly Tramposh and friends, titled "La Viola," will be held on Monday, March 2 at 7:30 p.m., also in Snell Theater. The performance will include works by Rebecca Clarke, Hilary Tann, Andrea Reinkemeyer, Libby Larsen and Jennifer Higdon. In helping to celebrate the achievement of female composers, Tramposh will be joined by friends Colleen Skull, soprano; Anna Hendrickson, oboe; Julianne Kirk-Doyle, clarinet; Laura Matthews, viola; Liesl Schoenberger Doty, violin, and Tracy Lipke-Perry, piano.
Both recitals will be broadcast live on the SUNY Potsdam website at the performance time. To view the program and see other upcoming streaming performances, visit www.potsdam.edu/academics/Crane/streaming.
Women in Music Education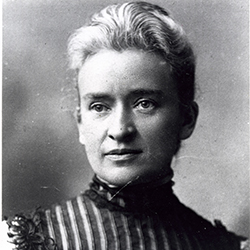 Professor Caron Collins will present a special multimedia lecture on Wednesday, March 4 at 7:30 p.m., also in Snell Theater. Titled "Crane Women in Music Education," the talk will highlight the historical perspective of Julia Crane, founder of The Crane School of Music, with Collins portraying "Julia." Selected women faculty, alumni and students will share examples of their innovative music teaching to round out the evening. Honored guests for this presentation include faculty members Kathryn Sherman and Tracy Wanamaker; alumni Melissa Natale-Abramo, Genevieve Lotze, Jennifer Moore, Melinda Phoenix-Heart and Marichelle Weill, and students Kayleigh Junz, Diana McEntee and Margaret Rempe. 
Collins, department chair and professor of music education, is in her 40th year of teaching. Her numerous publications include her book, "Messengers of Music: The Legacy of Julia E. Crane," (2011), and "Curious, Collaborative Creativity: A Guide to Transforming Music Ensembles" (2017).
All of the events are free, and the public is invited to attend.
About The Crane School of Music:
Founded in 1886, SUNY Potsdam's Crane School of Music has a long legacy of excellence in music education and performance. Life at Crane includes an incredible array of more than 300 recitals, lectures and concerts presented by faculty, students and guests each year. The Crane School of Music is the State University of New York's only All-Steinway institution. For more information, please visit www.potsdam.edu/crane.
---
Arts & Culture
General News