SUNY Potsdam's Crane School of Music Honors the Late Russian Baritone & Longtime Faculty Member Dr. Boris Loushin with Sept. 28 Concert
SUNY Potsdam's Crane School of Music will hold a memorial recital in honor of Professor Emeritus Dr. Boris Loushin, on Saturday, Sept. 28 at 7:30 p.m., in the Sara M. Snell Music Theater.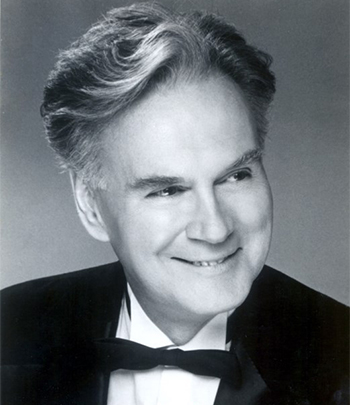 All are welcome to join in this musical remembrance of the longtime faculty member and renowned Russian baritone, who passed away on Jan. 7, 2019. Dr. Boris Loushin (1934-2019) taught voice at the Leningrad State Conservatory for 25 years, after which he was a professor of voice at The Crane School of Music for 20 years. He was dedicated to his mission to open the world of Russian vocal music to American singers and American audiences. To this end, he taught Russian diction and literature at Crane, and influenced generations of singers.
Loushin's wife, the pianist and Crane Professor Emerita Eugenia Tsarov, organized the recital. She will perform alongside fellow faculty members Margaret Chalker (soprano), Julianne Kirk Doyle (clarinet), Donald George (tenor) and Carol Lowe (bassoon). In addition, three alumni who studied with Loushin will return to Crane for the performance, including Michael Celentano '12 (tenor), Brandon Linhard '14 (piano) and Michael Pitocchi '14 (bass-baritone).
The performance will include works by Russian composers, including Mikhail Glinka, Pyotr Ilyich Tchaikovsky, Alexander Borodin, Nikolai Rimsky-Korsakov, Sergei Rachmaninov, Valery Gavrilin and Dmitri Shostakovich.
This concert will be broadcast live on the Crane School of Music YouTube channel at the performance time. To view the program and see other upcoming streaming performances, visit www.potsdam.edu/academics/Crane/streaming.
About The Crane School of Music:
Founded in 1886, SUNY Potsdam's Crane School of Music has a long legacy of excellence in music education and performance. Life at Crane includes an incredible array of more than 300 recitals, lectures and concerts presented by faculty, students and guests each year. The Crane School of Music is the State University of New York's only All-Steinway institution. For more information, please visit www.potsdam.edu/crane.
---
General News
Arts & Culture