SUNY Potsdam's Crane School of Music will host guest artists, alumni, educators and students for the 2018 Single Reed Summit on Saturday and Sunday, Sept. 15 and 16.
The Single Reed Summit at The Crane School of Music features recitals, lectures, clinics, discussion panels and masterclasses for students in middle school and older, performing on the clarinet or saxophone.
The Single Reed Summit will include performances and masterclasses by Richard Nunemaker (bass clarinet), a former member of the Houston Symphony; Kimball Sykes (clarinet) of the National Arts Centre Orchestra in Ottawa, Canada; Kyle Landry (saxophone) who is currently completing his Doctor of Musical Arts degree at Michigan State University, and Eric Troiano (saxophone) who is on the faculty of the University of Arkansas.
There will be an alumni recital on Saturday, Sept. 15 at 3:15 p.m. in the Sara M. Snell Music Theater, featuring Cameron Hewes '15 (clarinet), Rebecca Scholldorf '15 (bass clarinet) and Brandon Linhard '15 (piano). Immediately following, at 4 p.m., Miles DeCastro will present a clinic on "Getting the Best Out of Your Clarinet."
The Saturday evening Gala Concert with the Northern Symphonic Winds will feature Sykes, Grev, Landry and Troiano, at 7:30 p.m., in the Helen M. Hosmer Concert Hall. Tickets may be purchased at the door before the performance. Ticket prices are $10 for adults and $5 for senior citizens or SUNY Potsdam students. Single Reed Summit participants will be admitted for free.
Nunemaker will present a recital at 1 p.m. on Sunday, Sept. 16, and will be joined by Crane School of Music faculty member Raphael P. Sanders Jr., and Crane senior Solomon Elyaho '19. The Viridan Saxophone Quartet will present the final summit recital on Sunday at 2:15 p.m. Crane faculty members Casey Grev and Brian Doyle will perform in the Viridian Quartet alongside Landry and Troiano. Both concerts will be held in Snell Theater, and are free and open to the public.
Teachers or parents interested in bringing middle or high school students to attend the Single Reed Summit should contact Dr. Julianne Kirk Doyle at kirkj@potsdam.edu. Any students under the age of 18 must be accompanied by a parent or teacher.
About the alumni performers: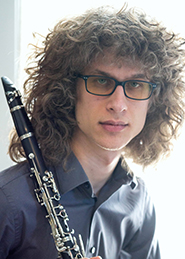 As a soloist, Cameron Hewes '15 has performed concerti with the Lynn Philharmonia and the Crane Symphony Orchestra. Recently, he was the first prize winner in the 2017 National Society of Arts & Letters Florida Woodwinds Competition. He has performed in the New England Conservatory's Jordan Hall, Boston's Symphony Hall and the Weill Recital Hall at Carnegie Hall. Hewes has appeared in masterclasses for Charles Niedich, John Bruce Yeh, Elsa Ludewig-Verdehr, Walter Seyfarth and Michael Lowenstern. He is a member of the International Clarinet Association, and has worked at ClarinetFest, the ICA's annual conference. Hewes studied with Jon Manasse at Lynn Conservatory, and with Julianne Kirk Doyle at The Crane School of Music. He is uniquely talented as both a musician and a visual artist, and holds degrees in both fields. In additional to his musical interests, Hewes is especially passionate about traditional printmaking and digital art. He took first prize in the 2017 Howard Isaacson Innovation Challenge, a business idea competition hosted by Lynn University, and this fall, he will launch CAMco, a new online sheet music store for clarinetists.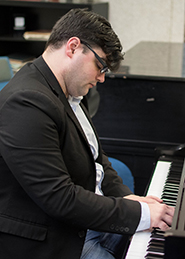 As a chamber musician and soloist, pianist Brandon Linhard '15 has given a profusion of performances worldwide, and has been seen in venues throughout Canada, England, France, Germany and the U.S. He has performed with such renowned artists as Charles Castleman, Benjamin Dickerson, Csaba Erdélyi, Miclen LaiPang, Thomas Landschoot, David Pittman-Jennings, Sō Percussion and Paulina Swierczek. He has also performed under the conductors James DePreist, Helmuth Rilling and Charles Schneider. Linhard has also been featured in masterclasses with world-renowned artists such as Emanuel Ax, Stephanie Blythe '93, Henri Bok, Narek Hakhnazaryan and Virginia Weckstrom. He has received full fellowships to attend the Bowdoin International Music Festival and the Castleman Quartet Program. At The Crane School of Music, Linhard studied music theory and piano performance under the instruction of Eugenia Tsarov. He also received a master's degree from the Eastman School of Music, where he studied with Jean Barr. Linhard is currently the recipient of the Agnes Varis Scholarship (as one of five inaugural recipients) and the T. and I. Kleppel Scholarship at The Juilliard School, where he is completing a graduate diploma in collaborative piano with a focus in instrumental collaboration in the studio of Jonathan Feldman. He also studies with Lydia Brown, and is both a teaching assistant for Thomas Cabaniss and a staff pianist at Juilliard.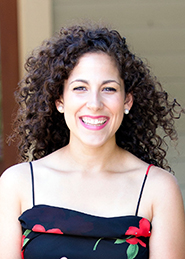 Rebecca Scholldorf '15 is a clarinet/bass clarinetist currently living in Bondville, Ill. She is a Crane School of Music alumna, where she earned a dual degree in clarinet performance and music business. Currently, Scholldorf works for DANSR Inc., the sole distributor and importer of Vandoren reeds, mouthpieces and accessories. At DANSR, she is the marketing assistant where she manages the company's social media and email marketing efforts. In addition, she handles the logistics of the DANSR Regional Artist program, which enlists more than 40 educational teachers to give free clinics to middle and high school students around the country.
The Single Reed Summit is sponsored in part by Backun Musical Services, the Crane Clarinet Studios, Crane Saxophone Studies, the Crane Student Association and The Crane School of Music.
To learn more about the Potsdam Single Reed Summit, visit www.facebook.com/potsdamsinglereedsummit.
About The Crane School of Music:
Founded in 1886, SUNY Potsdam's Crane School of Music has a long legacy of excellence in music education and performance. Life at Crane includes an incredible array of more than 300 recitals, lectures and concerts presented by faculty, students and guests each year. The Crane School of Music is the State University of New York's only All-Steinway institution. For more information, please visit www.potsdam.edu/crane.