SUNY Potsdam's Crane School of Music to Offer Music Instruction for Several Instruments Again Next Semester
SUNY Potsdam's Crane School of Music will once again offer free music instruction for local children during the Spring 2020 semester.
Crane undergraduate students will provide weekly lessons for children as a part of their music education curriculum. Lessons are taught using a variety of engaging instructional approaches and musical styles, for students at beginning through intermediate musical levels.
There are two programs to choose from next semester:
Woodwind, Brass & Percussion Instruments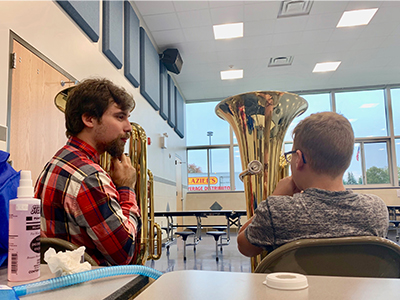 Children ages 9 to 15 (or in Grades 4 to 8) can learn to play flute, clarinet, alto saxophone, trumpet, trombone or percussion.
Lessons will be offered from 1 to 1:30 p.m. (for home-schooled students only), and from 3:20 to 3:50 p.m., every Wednesday. Lessons begin on Wednesday, Feb. 12, 2020.
 To learn more about this program, contact Dr. William L. Lake Jr., at lakewl@potsdam.edu. Registration is now open online, at http://craneschoolbands.weebly.com. Space is limited, and the program will reach capacity quickly, so applicants are urged to sign up now!
Guitar, Ukulele & Bucket Drumming
Local students in middle school or high school can also receive free instruction on guitar, ukulele or bucket drumming next semester. This new program is open to students of all educational backgrounds—including public, private or home school students.
Lessons will be offered on Thursdays at 4 p.m. There will be small group lessons for beginning musicians, and modern ensembles for more experienced musicians. Lessons begin on Thursday, Feb. 6, 2020, and will continue through May 14.
To learn more about this program and sign up for lessons, please contact Dr. Robert Docker at (315) 267-3241 or dockerrk@potsdam.edu. Space is limited for this program as well, so please register soon in order to reserve a spot.
About The Crane School of Music:
Founded in 1886, SUNY Potsdam's Crane School of Music has a long legacy of excellence in music education and performance. Life at Crane includes an incredible array of more than 300 recitals, lectures and concerts presented by faculty, students and guests each year. The Crane School of Music is the State University of New York's only All-Steinway institution. For more information, please visit www.potsdam.edu/crane.