SUNY Potsdam Professor of Chemistry Dr. Fadi Bou-Abdallah Receives 2021 Outstanding Mentorship Award from Council on Undergraduate Research 
SUNY Potsdam Professor of Chemistry Dr. Fadi Bou-Abdallah has been honored with the 2021 Outstanding Mentorship Award from the Council on Undergraduate Research. The award recognizes excellence in mentoring of undergraduate researchers, and Bou-Abdallah was one of three professors from across the country selected for the honor. 
"I am deeply honored to have received this award and to have been recognized by my peers for exceptional mentoring and advising of undergraduates. To me, mentorship is very important particularly for first-generation students who face multiple challenges in college," said Bou-Abdallah. "Because each student possesses unique talents, one of my goals is to support their individual growth and help them achieve their dream and be successful in life." 
This nationally competitive award celebrates the exceptional mentoring and advising of undergraduates by higher education faculty in all fields of chemistry. Specifically, the ChemCUR Outstanding Mentorship Award recognizes transformative mentoring and advising of undergraduate students in at least two of the four categories: faculty-mentored undergraduate research, integration of research into the curriculum, demonstrated advocacy for diversity, equity and inclusivity in chemistry, and the establishment of programmatic infrastructure.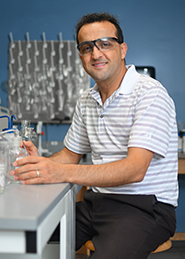 "When it comes to mentoring undergraduate research students, I know that tackling important scientific problems is intense work and is often very challenging, and so my mentoring philosophy in that area has always been to make sure that every student in my research group transitions from membership to leadership, and from being fully reserved to fully participating. I hope to continue to instill in my mentees a sense of belonging and empowerment, so they can develop their own innate talents and transform these challenges into excitement and scientific discovery." 
Bou-Abdallah works extensively with undergraduates in his lab, supported by major grant funding to support his research. His students often co-author papers published in research journals and present their findings at conferences, and many go on to graduate school and careers in the sciences.  
The Outstanding Mentorship Awards of CUR's Chemistry Division honor exceptional mentoring and advising by higher education faculty across all subdisciplines of chemistry. Each award consists of a $500 cash prize to the recipient, a certificate of recognition, a one-year individual membership to CUR funded by the Chemistry Division, and a letter of commendation from CUR sent to the recipient's institution. 
The Council on Undergraduate Research supports faculty development for high-quality undergraduate student-faculty collaborative research and scholarship. More than 700 institutions and nearly 13,000 individuals belong to CUR. CUR believes that the best way to capture student interest and create enthusiasm for a discipline is through research in close collaboration with faculty members. 
SUNY Potsdam's Department of Chemistry offers a rigorous and well-balanced curriculum that provides a solid foundation for successful graduate study or a career in chemistry or a chemistry-related field. The department is known for its strong and diverse undergraduate research programs, its $3 million in grants to support teaching and research, and the success of its students' acceptance to competitive graduate and professional schools. To find out more, visit http://www.potsdam.edu/academics/AAS/Chem. 
About SUNY Potsdam:  
Founded in 1816, The State University of New York at Potsdam is one of America's first 50 colleges—and the oldest institution within SUNY. Now in its third century, SUNY Potsdam is distinguished by a legacy of pioneering programs and educational excellence. The College currently enrolls approximately 3,600 undergraduate and graduate students. Home to the world-renowned Crane School of Music, SUNY Potsdam is known for its challenging liberal arts and sciences core, distinction in teacher training and culture of creativity. To learn more, visit www.potsdam.edu.