SUNY Potsdam English & Communication Professor Dr. James J. Donahue Releases 'Indigenous Comics & Graphic Novels: Studies in Genre,' Published by the University Press of Mississippi
Professor Dr. James J. Donahue, assistant chair of SUNY Potsdam's Department of English and Communication, is set to release a new book, "Indigenous Comics and Graphic Novels: Studies in Genre."  
The title will be published by the University Press of Mississippi and is available for pre-order in hardcover or paperback now. An eBook edition is also available. 
In recent years, studios like Marvel and DC have seen enormous success transforming comics into major motion pictures. At the same time, bookstores such as Barnes & Noble in the U.S. and Indigo in Canada have made more room for comic books and graphic novels on their shelves. Yet despite the sustained popular appeal and the heightened availability of these media, Indigenous artists continue to find their work given little attention by mainstream publishers, booksellers, production houses and academics. Nevertheless, Indigenous artists are increasingly turning to graphic narratives, with publishers like Native Realities LLC and Highwater Press carving out ever more space for Indigenous creators.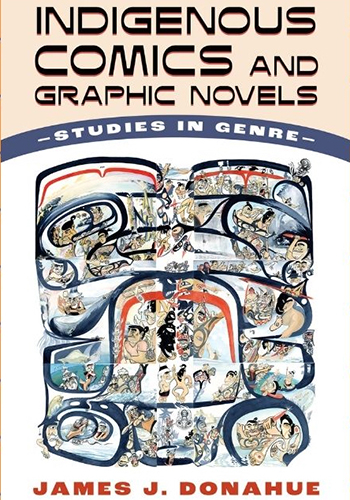 In "Indigenous Comics and Graphic Novels: Studies in Genre," Donahue aims to interrogate and unravel the disparities of representation in the fields of comics studies and comics publishing. Donahue documents and analyzes the works of several Indigenous artists, including Theo Tso, Todd Houseman and Arigon Starr. Through topically arranged chapters, the faculty member explores a wide array of content produced by Indigenous creators, from superhero and science fiction comics to graphic novels and experimental narratives. While noting the importance of examining how Indigenous works are analyzed, Donahue emphasizes that the creation of artistic and critical spaces for Indigenous comics and graphic novels should be an essential concern for the comics studies field. 
About the author: 
James J. Donahue is a professor at SUNY Potsdam. He is primarily interested in the study of narrative form, particularly with how authors construct their narratives to engage in social and political commentary. He introduces students to this work in his various classes, including his courses in Native American literature, young sdult literature and the graphic novel. In his scholarship, he works primarily at the intersection of narrative theory and identity studies, with a particular focus on race and representation. His other interests include historical fiction, experimental narratives, and the Beat movement.  
In addition to "Indigenous Comics and Graphic Novels: Studies in Genre," he is the author of "Contemporary Native Fiction: Toward a Narrative Poetics of Survivance" and "Failed Frontiersman: White Men and Myth in the Post-Sixties American Historical Romance." Donahue also co-edited two essay collections along with fellow SUNY Potsdam faculty member Dr. Derek Maus, "Post-Soul Satire: Black Identity after Civil Rights" and "Greater Atlanta: Black Satire after Obama," as well as co-editing "Narrative, Race and Ethnicity in the United States," along with Jennifer Ho and Shaun Morgan. Donahue earned his bachelor's degree from Northeastern University and a master's degree from Boston College before completing his Ph.D. at the University of Connecticut. He has been on the SUNY Potsdam faculty since 2007. 
SUNY Potsdam's Department of English and Communication challenges its students to complete a core of courses that explore the varied ways people speak, write and read. The department offers Bachelor of Arts and Bachelor of Fine Arts programs in creative writing, English, literature and writing. For more information, visit www.potsdam.edu/academics/AAS/Engl. 
About SUNY Potsdam:  
Founded in 1816, The State University of New York at Potsdam is one of America's first 50 colleges—and the oldest institution within SUNY. Now in its third century, SUNY Potsdam is distinguished by a legacy of pioneering programs and educational excellence. The College currently enrolls approximately 2,500 undergraduate and graduate students. Home to the world-renowned Crane School of Music, SUNY Potsdam is known for its challenging liberal arts and sciences core, distinction in teacher training and culture of creativity. To learn more, visit www.potsdam.edu. 
---
General News
Arts & Culture