Applications Now Being Accepted for Next Year's St. Lawrence Leadership Institute Class
The St. Lawrence Leadership Institute recognized the graduates of its Class of 2019 in a special ceremony earlier this summer. The successful cohort of students spent the past year gaining leadership experience, learning about pressing issues facing the North Country, and preparing final presentations relevant to their interests.
"I think this course was amazing. I am a lifelong St. Lawrence County resident, and I was able to learn so many new things at each class. I've been able to learn things on a Thursday evening that I was able to directly apply to my work on Friday morning. The things that we learned from this course aren't things that we will 'be able to use someday,' they are things that we will be able to use today, and tomorrow," said Kolby Weaver, who is a community relations associate for St. Lawrence NYSARC.
The St. Lawrence Leadership Institute is a not-for-profit entity serving St. Lawrence County, in partnership with SUNY Potsdam and the St. Lawrence County Chamber of Commerce.
The mission of the St. Lawrence Leadership Institute is to provide a venue for those committed to the county's growth and quality of life, where professionals can develop an awareness of the issues facing the county, and dedicate themselves to personal self-discovery and developing leadership skills.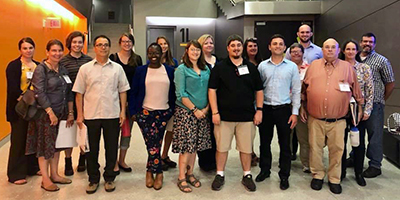 This year's SLLI graduates included:
Erin Armstrong of Waddington, N.Y.

Darcy Backus of Waddington, N.Y.

Michael Besaw of Massena, N.Y. 

Casey Caswell of Potsdam, N.Y. 

Karen Durham of Fine, N.Y. 

Brandon LaShomb of Parishville, N.Y.

Elizabeth Nee of Canton, N.Y. 

Tim Neuroth of Hammond, N.Y. 

Sam Polnak of Potsdam, N.Y. 

Jaclyn Ryan of Massena, N.Y. 

Kolby Weaver of DeKalb Junction, N.Y.
"Through this experience, I learned about other types of leadership in our community, outside of the education system. I learned about issues in our North Country community and ways small business owners were brainstorming solutions. I was able to network with a group of people I may not have met otherwise. Not only did I learn all of this, I was able to visit a variety of places I did not know about within our community," said Elizabeth Nee, who is a fourth grade teacher at Colton-Pierrepont Central School and is currently completing her advanced graduate certificate in educational leadership at Stony Brook University.
As part of her final project, Nee worked with two other participants to assist Reachout of St. Lawrence County, the 24-hour crisis hotline, to develop a comprehensive spreadsheet that will assist the organization with up-to-date referrals for those in need.
For her group's final project, Weaver worked with other SLLI participants to create a website, called Know Your Vote, to better inform county voters about local issues and candidates for municipal offices, before Election Day. The project was inspired by the class focused on local government, while inspired Weaver to vote for the first time herself, and underlined for her the importance of being informed on municipal elections.
For his part, Brandon LaShomb dedicated his efforts toward reinvigorating a countywide young professionals group. A commercial banking associate for Community Bank, N.A., LaShomb will be presenting at an upcoming chamber Business in the Spotlight event, and he is continuing to plan a series of local activities. He has also created a Facebook page to help young professionals network.
"Throughout this process, we challenged ourselves to be better every time we met… learning about local businesses, learning about problems and possible solutions," Weaver said. "Learning about leadership in general has taught me so much about myself, and about my colleagues. It has taught be more about what kind of leader I would like to be."
SLLI is still seeking applications from rising leaders with a passion for serving the region to join its next cohort of students in the fall. Classes will begin in September 2019, and will continue through June 2020.
The St. Lawrence Leadership Institute program runs from September to June, with sessions held once a month from 4 to 8 p.m. Each class is held in a different location across the county. The program includes curriculum developed and taught by experienced faculty and business professionals, with invited talks and panel discussions featuring community leaders.
Every session focuses on a different professional growth and leadership development topic, as seen through the lens of an issue facing the county, including government, media, business, education, healthcare, justice, agriculture, environment and quality of life.
SLLI participants complete a 360-degree feedback on their strengths and areas for growth, as well as completing exercises on the crucibles of leadership, emotional intelligence, team-building, strategic planning, organizational change, conflict resolution, negotiation, ethical leadership, inclusion and civic engagement, among other areas.
There are still openings for the class beginning in Fall 2019, and applications are now being accepted. To apply, visit www.potsdam.edu/slli to download the application, and mail all completed materials to St. Lawrence Leadership Institute, Attn: Steering Committee, 44 Pierrepont Ave., Raymond Hall 206, Potsdam, NY 13676.
The cost of attendance is $600, which includes all course materials, meals and a graduation dinner. Scholarships are available. Full tuition may also be paid by a student's employer or sponsoring organization.
For more information about the St. Lawrence Leadership Institute, please contact the steering committee by email at slli@potsdam.edu, by calling (315) 267-2165. You can also visit www.potsdam.edu/slli.
About SUNY Potsdam:
Founded in 1816, The State University of New York at Potsdam is one of America's first 50 colleges—and the oldest institution within SUNY. Now in its third century, SUNY Potsdam is distinguished by a legacy of pioneering programs and educational excellence. The College currently enrolls approximately 3,600 undergraduate and graduate students. Home to the world-renowned Crane School of Music, SUNY Potsdam is known for its challenging liberal arts and sciences core, distinction in teacher training and culture of creativity. To learn more, visit www.potsdam.edu.