Community Performance Series Receives Donation from Stewart's Shops
Community Performance Series received a $1,250 donation from Stewart's Shops through the company's Holiday Match Program, which benefits children's organizations directly within the geographic regions where Stewart's Shops are located.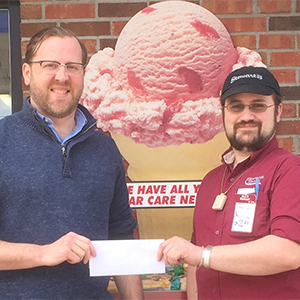 All of the funds collected from Stewart's customers, as well as the amount matched by Stewart's, stays in the communities that contributed to the program. The program has been providing direct support for youth since 1986. More information can be found at www.stewartsshops.com/community-giving.
Throughout their 2018-19 Meet the Arts season, CPS provided performing arts education and outreach to more than 2,500 Northern New York students. The series has been engaging the hearts and minds of area youth since 1995.
"CPS could not provide these valuable opportunities to our community without the support of thoughtful organizations like Stewart's Shops. We are immensely grateful to them for their donation, as well as to the numerous individuals who have supported the Holiday Match Program," said CPS Executive Director Jason L. Dominie.
About Community Performance Series:
The Community Performance Series is a college-community partnership presenting distinctive and renowned performing artists and arts education opportunities in Northern New York. This rich mixture of programming links communities, classrooms and audiences of all ages and preserves access to the performing arts for future generations. For more information, visit www.cpspotsdam.org.
About SUNY Potsdam:
Founded in 1816, The State University of New York at Potsdam is one of only three arts campuses in the entire SUNY system. SUNY Potsdam's arts curriculum offers the full palette: music, theatre, dance, fine arts and creative writing. No matter the discipline, people from all backgrounds can find their creative compass at Potsdam, with myriad arts immersion experiences available for both campus and community. To learn more, visit www.potsdam.edu.