SUNY Potsdam Alumni Association Honors Dr. Jesse M. Millek '12 of Ann Arbor, Mich., with 2019 Rising Star Award
The SUNY Potsdam Alumni Association recently honored Dr. Jesse M. Millek '12 of Ann Arbor, Mich., with the 2019 Rising Star Award.
The Rising Star Award is presented to alumni who have demonstrated outstanding professional achievement in the first decade following graduation.  Millek was recognized for his stellar professional achievements already early on in his career.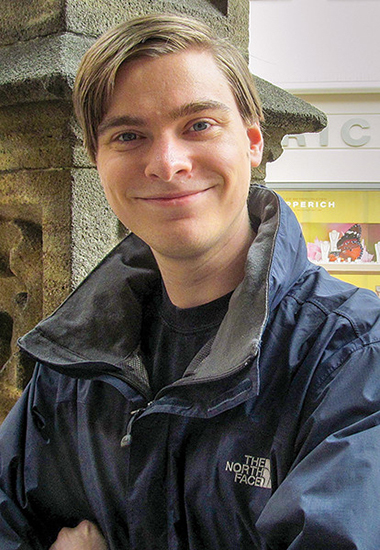 About the recipient:
Dr. Jesse M. Millek '12 first distinguished himself as an undergraduate at SUNY Potsdam, where he was a Presidential Scholar, while double-majoring in archaeological studies and art history. As an undergraduate, he served as a teaching assistant in the anthropology and art departments, and taught a First Year Success Seminar as well. In 2012, he graduated with highest honors, receiving numerous scholarships, honors and awards.
After Potsdam, Millek earned his Master of Arts degree in Near Eastern archaeology, with a minor in Egyptology, at Leiden University in the Netherlands. In recognition of his outstanding undergraduate accomplishments, he was awarded the prestigious Leiden University Excellence Scholarship toward completing his graduate studies. 
After earning his master's degree, Millek was hired as a researcher while completing his Ph.D. in Near Eastern archaeology at Eberhard Karls University in Tübingen, Germany. His dissertation focused on economic changes in the Late Bronze Age and Early Iron Age in the southeastern Mediterranean region. In 2014, Millek was awarded the Sean W. Dever Memorial Prize for the best published article presented by a Ph.D. candidate in Syro-Palestinian or Biblical archaeology—the highest award for a doctoral student in the field.
Millek has presented at international conferences in Vienna, Austria; Atlanta, Georgia; and Warsaw, Poland. In January 2018, he began a three-year postdoctoral fellowship funded by the German Research Foundation hosted at the University of Michigan. He has published several articles in academic journals, including the German version of the popular magazine Science.  He is currently in the process of publishing his dissertation as a book.
Through his scholarly endeavors in the United States and Europe, Millek has become fluent in German and French, as well as the ancient languages of Biblical Hebrew and Greek. He has done archaeological fieldwork in Israel for the Hebrew University of Jerusalem, and in Iosepa, Utah for SUNY Potsdam.
For more information about SUNY Potsdam's Alumni Association, visit www.potsdam.edu/alumni.
About SUNY Potsdam:
Founded in 1816, The State University of New York at Potsdam is one of America's first 50 colleges—and the oldest institution within SUNY. Now in its third century, SUNY Potsdam is distinguished by a legacy of pioneering programs and educational excellence. The College currently enrolls approximately 3,600 undergraduate and graduate students. Home to the world-renowned Crane School of Music, SUNY Potsdam is known for its challenging liberal arts and sciences core, distinction in teacher training and culture of creativity. To learn more, visit www.potsdam.edu.