The SUNY Potsdam Alumni Association recently presented the 2020 Minerva Award to John R. Angier '88 of New York City, during the College's Virtual Reunion Week.
The Minerva Award is presented annually to graduates who have demonstrated outstanding professional achievement in his or her field. It is the highest honor that a SUNY Potsdam graduate can receive from the association. Angier was recognized for his outstanding professional achievements.
About the recipient: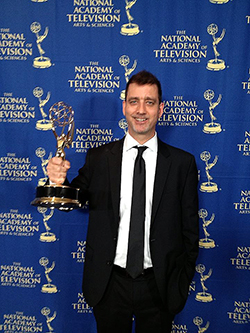 John R. Angier '88 was, by all accounts, a child prodigy. He studied piano starting at the age of six in his hometown of Hudson, Quebec. He eventually got into keyboards and played in rock bands as a teenager.
As a student at The Crane School of Music, John studied classical piano and jazz, where he discovered a love for composing and a love of electronic music. After earning his Bachelor of Music degree in music education in 1988, he continued his studies at New York University, where he earned a master's degree in music technology and film music.
Today, John is an award-winning composer and arranger who writes music for film and television, and who has composed music for many well-known artists. He has composed music for over 30 television series, including "The Teenage Mutant Ninja Turtles," "Yugioh," "Bubble Guppies," "Speed Racer: The Next Generation," "Sonic X," "Jolly Rabbit" and "Dinosaur King," to name a few.
He has written themes and other music for "City News" and "City International," as well as "Breakfast Television" and "Much Music" in Canada. John has written music for over 20 feature films, including "Kurbaan," "Raajnetti Yugioh," "Yugioh 3D," "Pokemon, The Movie" and "Pokemon 3." He has collaborated with many studios, including Lionsgate, Nickelodeon, Sesame Street and 4Kids Entertainment.
His gift for writing music for television earned him a 2014 Daytime Emmy Award for Outstanding Achievement in Music Direction and Composition for his score to the children's show "Bubble Guppies," which was featured on the network Nickelodeon. One of his most recent awards was a 2017 Northwest Regional Emmy Award from the National Academy of Television Arts and Sciences for his score for the documentary "Thin Ice: A Polar Bear's Plight." He has also been nominated for a Canadian Gemini Award and an Annie Award.
John has written orchestral, keyboard and string arrangements for albums by such mainstream artists as Dionne Warwick, Joss Stone, the Jonas Brothers, Paula Abdul, Joan Osborne and Donny Osmond. He works with the renowned Academy Award-winning Broadway composer Stephen Schwartz as a studio engineer, arranger and producer, including work as an arranger/programmer for "Wicked," "Working" and "My Fairy Tale."
To find out more about how SUNY Potsdam connects with its devoted alumni, visit www.potsdam.edu/alumni.
About The Crane School of Music:
Founded in 1886, SUNY Potsdam's Crane School of Music has a long legacy of excellence in music education and performance. Life at Crane includes an incredible array of more than 300 recitals, lectures and concerts presented by faculty, students and guests each year. The Crane School of Music is the State University of New York's only All-Steinway institution. For more information, please visit www.potsdam.edu/crane.
---
General News
Arts & Culture