Strategic and Global Management Students at SUNY Potsdam Take Home Prize in College Competition
SUNY Potsdam's Department of Business Administration recently hosted its 53rd Business Plan and Product Prototype Competition, which challenges students to develop an entrepreneurial business plan fulfilling the need of a specific group of consumers.
This semester, more than 34 business students, grouped into five strategic teams, worked cooperatively to develop products made specifically to appeal to busy travelers passing through major airport hubs in the U.S., according to Professor Dr. Edwin J. Portugal.
All five teams competed for the Team Excellence Trophy, which honors the team that best exemplifies team work, innovative thinking, integration of business concepts and professional business presentation skills.
The products created ranged from a vegan leather travel bag with travel essentials, to a foam lumbar support with wooden beads embedded to target sore back muscles. One team came up with an all-in-one phone charger attached to the bottom of a coffee mug, and another developed a prototype of safety bracelets with quick response codes, designed for children traveling with their parents through busy airports.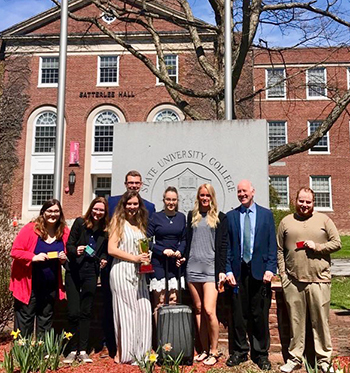 The winning idea was a luggage tag with radio frequency identification (RFID) information printed on the tag. When a passenger checks in with their luggage, the airline personnel would scan the tag. Information such as the traveler's name, home address, email, phone number, connecting flights and destination would then be seamlessly recorded in the airline computer system which tracks the location of the luggage. The RFID luggage tag offers convenience to passengers and airlines and lessens the chance of misplaced luggage.
The winning team included: Sarah Berger (Syracuse, NY), Emrys Burl (Saranac Lake, NY), Claire Burns (Eagle River, AK), Tori Peters (Mohawk, NY), Dylan Staple (Durhamville, NY), Brad Sweet (Corning, NY) and Tatum Walber (Orchard Park, NY).
"This project challenged our ability to work cooperatively as a team. Not only did we have to create a product supported by a cohesive business plan, we also had to be able to communicate our ideas to other people effectively," said team leader Claire Burns. "I am thrilled my team was able to face the challenge and experience the excitement in receiving the trophy as a result of months of hard work. This was the most rewarding aspect of this project for me as a team leader."
Even members of teams that didn't ultimately take home the trophy shared that they felt they took away many lessons from the competition.
"Learning to develop and present a business plan for a unique product is a great experience, but working on a team is how I grasped useful skills that I can apply outside of the classroom and even after college," said team leader Victoria Hocking, whose team competed but did not win the trophy. "My teammates and I challenged one another, motivated each other, and worked really hard to complete the project."
"Working with a team as vigorous as ours was comforting, and it was just so rewarding to have this experience," said Tatum Walber, a member of the team. "It doesn't matter what you're trying to accomplish, it's all a matter of discipline, and my team had it."
This is the 26th year and 53rd competition for the Team Excellence Trophy. In Fall 1993, Portugal introduced the team presentations competition to showcase his students' semester-long team projects, which require a 100-page strategic business plan and a team presentation, with a rapid 10-minute, 20-slide "Pecha Kucha."
"Teams develop a strategic business plan that integrates the students' understanding of the functional areas of accounting, finance, management, marketing, information systems, legal environment of business, human resource management and operations," Portugal said. "Students experience the stimulation of working in teams, the exhilaration of innovative thinking, the excitement of public speaking and the challenges of coordinating  team members' unique talents."
The panel of external judges was composed of Dr. David Kistler, the Rev. Dennis Lowe and Illiana Wong.
SUNY Potsdam's Department of Business Administration offers flexible bachelor's and master's degrees in competitive fields, and provides students with an understanding of how for-profit and non-profit organizations function efficiently and effectively. The College offers its business administration programs both at the Potsdam campus and in Watertown, N.Y., at the SUNY Jefferson Higher Education Center. For more information, visit http://www.potsdam.edu/academics/SOEPS/BusinessAdmin.
About SUNY Potsdam:
Founded in 1816, The State University of New York at Potsdam is one of America's first 50 colleges—and the oldest institution within SUNY. Now in its third century, SUNY Potsdam is distinguished by a legacy of pioneering programs and educational excellence. The College currently enrolls approximately 3,600 undergraduate and graduate students. Home to the world-renowned Crane School of Music, SUNY Potsdam is known for its challenging liberal arts and sciences core, distinction in teacher training and culture of creativity. To learn more, visit www.potsdam.edu.