Nearly 900 students were recognized for earning their baccalaureate and graduate degrees at The State University of New York at Potsdam on Saturday, May 18.
For the speakers, the day represented one stop along a remarkable journey—for some, a journey that is in many ways still beginning, and for others, one that has come full circle.
Student Government Association President Kadiatou Balde '19 opened her remarks by reciting a verse from the Koran, in recognition of Ramadan and her position as the first black Muslim female student body representative to take the stage at the College. She reflected on her first years living with her extended family in Conakry, Guinea, and later her first years beginning school in the United States. In West Africa, she was called "the American," but at home in the Bronx, students taunted her with cruel nicknames mocking her religion, dual nationality and ethnicity.
"That all changed here at Potsdam. This time, I found my strength in the details. The more people assigned me labels, the more I learned to unlearn and relearn," Balde said. "Just like all of you, I still have many transitions to come."
At SUNY Potsdam, Balde majored in biology and speech communication, and minored in Arabic studies. She threw herself into campus life, becoming an RA and a University Police dispatcher, while finding time to conduct research as a Presidential Scholar, eventually studying abroad in Morocco. Balde encouraged her classmates to take pride in leaving a mark and finding a second family at Potsdam.
"We must show gratitude for where we are in life right now, because there are many who aren't walking across this stage with us, and there are many more who will never experience this privilege. This is not the end, but a start to a very dramatic beginning—of becoming the best you."

This year's Commencement ceremonies opened with an expanded celebration of diversity. The Potsdam Pointercounts, led by speech communication major Sekayi Williams '19, performed an original rendition of "Lift Every Voice and Sing," a hymn that is often called the "Black national anthem." The singers followed Chelsea Sunday '16, who recited the Ohen:ton Karikwatekhwen ("The words before all else") in the Mohawk language and in English translation.
Morganne McClement '19 and Shavon Lloyd '19 led the crowd in the national anthems of Canada and the United States, respectively. Both students were graduating with their degrees in music education.
SUNY Potsdam President Kristin G. Esterberg mused about where the students' journeys would take them next—some with destinations known, and many unknown. No matter where they end up, she urged the Class of 2019 to always feel welcome at their alma mater.
"From here on, your paths will diverge. Although many of you will maintain lifelong friendships with your classmates, and many will stay in touch with faculty and staff. We hope that one day—hopefully more than one day—your paths will lead back to Potsdam again," Esterberg said.
Alumni Association President Romeyn Prescott '92 was one student who graduated from SUNY Potsdam, and not long after, found himself back on campus, this time as an employee in Computing and Technology Services.
"As a young adult, my experience here was one of exploration, growth and wonder. The campus quickly became my home away from home—its people, the faculty, staff and my fellow students, my family," Prescott said. "I have made serving this institution my life's work. Helping to contribute to SUNY Potsdam's ongoing legacy of welcoming and fostering the exploration, growth and wonder of others is something that makes me both happy and immensely proud."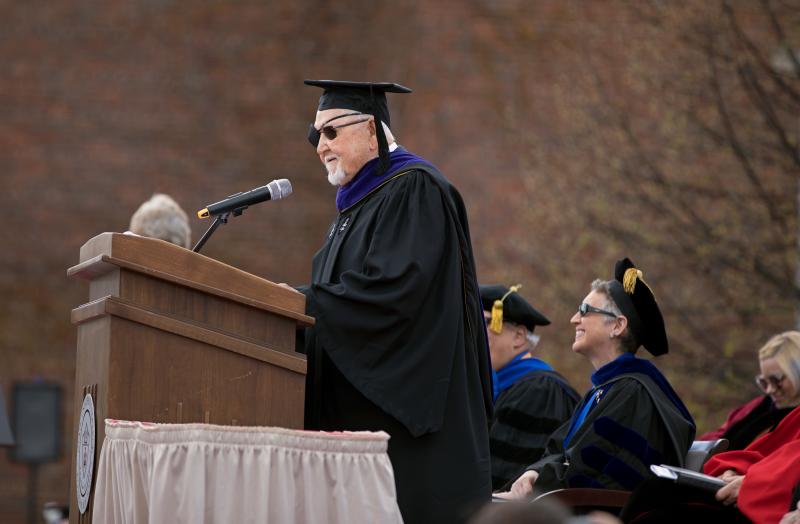 Commencement speaker Donald Lougheed (Hon. '54) had a lifetime of memories and a long journey to reflect upon. In his keynote address, the entrepreneur and benefactor shared nuggets of wisdom from his long life—and his hopes and dreams for each of the graduates.
"So, what can an old fella share with a bunch of young college graduates? I've honestly asked myself that very question many times. I know that the world you are entering is so, so different from the world I walked out into when I was your age. But I believe that these truths are universal, and can still have an impact on your life, as they did on mine," Lougheed said.
The generous benefactor and honorary alumnus shared several lessons, beginning with ones learned on his family farm, to his time at university, in the U.S. Air Force, and later in business. He also spoke lovingly about the life and legacy he has built with his wife, Kathy Kofoed Lougheed '54, who studied at The Crane School of Music.
The Lougheeds are the largest individual donors in SUNY Potsdam history, having committed a total of more than $7.5 million to the College. Last year, Don and Kathy pledged a historic gift commitment of $5.25 million to support applied learning initiatives at the College, on top of $2.3 million in previous giving to support scholarships and found the LoKo Arts Festival.
"Throughout my life, I have run many successful businesses and derived much joy from their success and from the hard work that went into each. However, nothing compares to the pure joy and delight Kathy and I receive from our investment in Potsdam and in all of you," Lougheed said. "Our gifts and subsequent relationship with Potsdam represents the single greatest thing we have ever done in our entire lives. You are more than an investment—you are part of our family!"
"Our gifts and subsequent relationship with Potsdam represents the single greatest thing we have ever done in our entire lives. You are more than an investment—you are part of our family!"
SUNY Potsdam also recognized the recipient of a major award during the ceremony, which was presented by College Council Chair June O'Neill (Hon. '99). Dr. Steven Marqusee (Hon. '19), who is retiring as dean of the College's School of Arts and Sciences, was presented with the Roger B. Linden Distinguished Service Award, the institution's highest honor.
The ceremony concluded with the conferring of 890 master's and bachelor's degrees, followed by the traditional singing of the "Alma Mater," led by Gabrielle McCormack '19, a music education and performance double-major, accompanied by the Crane Commencement Band.
During Commencement, SUNY Potsdam recognizes all students who have either earned their degree or are eligible to graduate between December 2018 and December 2019. Of those graduates, more than 750 crossed the stage at SUNY Potsdam on Saturday.
To find out more about Commencement at SUNY Potsdam, visit www.potsdam.edu/commencement.

About SUNY Potsdam:
Founded in 1816, The State University of New York at Potsdam is one of America's first 50 colleges—and the oldest institution within SUNY. Now in its third century, SUNY Potsdam is distinguished by a legacy of pioneering programs and educational excellence. The College currently enrolls approximately 3,600 undergraduate and graduate students. Home to the world-renowned Crane School of Music, SUNY Potsdam is known for its challenging liberal arts and sciences core, distinction in teacher training and culture of creativity. To learn more, visit www.potsdam.edu.