NYS Assemblyman Mark Walczyk & SUNY Potsdam President Kristin G. Esterberg Recognize Veterans, Service Members & Students from Military Families
SUNY Potsdam President Dr. Kristin G. Esterberg and New York State Assemblyman Mark Walczyk recognized students who are veterans, military service members or who come from military families, during a reception at the President's home earlier this week.
In honor of the upcoming Veteran's Day holiday, SUNY Potsdam invited veterans, military service members and dependents who are currently enrolled at the College to the gathering on Nov. 4.
There are more than 100 active-duty, National Guard and Reserve service members, veterans and their family members currently enrolled as undergraduate and graduate students at SUNY Potsdam, either on the Potsdam main campus or in the College's programs offered at Jefferson Community College in Watertown, N.Y., in close proximity to Fort Drum.
Esterberg and Walczyk thanked students for their contributions and service, and presented them all with special challenge coins. Esterberg presented SUNY Potsdam challenge coins, with the College seal and the Potsdam Bears logo on either side. Walczyk handed out challenge coins from his own office, including the New York State seal.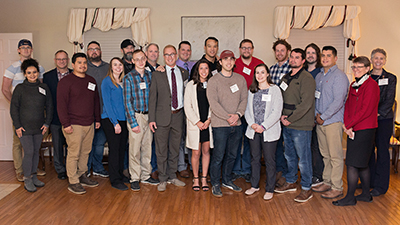 "I'm beyond humbled to have had the opportunity to recognize students who are veterans, current service members and military family members," said Assemblyman Walczyk. "I'd like to thank SUNY Potsdam and President Esterberg for hosting this event. These individuals and their families are willing to make the ultimate sacrifice to protect the freedoms we enjoy every day. This is just one small way to say 'thank you' for their bravery and selflessness."
"We are grateful for the service and sacrifices of our nation's veterans, military service members and their families. At SUNY Potsdam, we know that students from military backgrounds enliven our classrooms and enrich our communities. We are so proud to help them reach their educational goals," said SUNY Potsdam President Dr. Kristin G. Esterberg.
The event was organized by SUNY Potsdam's Office of Veteran Support Services, overseen by Lt. Col. (Ret.) Jeffrey Gerrish. The office assists students and families with reviewing benefit options, awarding possible credit for military training and experience, and advising and social support. SUNY Potsdam also offers waivers for parking fees, recreational facilities fees and application fees for veterans, and even has dedicated parking spots reserved for veterans as well.
SUNY Potsdam's intramurals program and Potsdam Bears Athletics will hold a Veteran's Day 5K Walk/Run on Monday, Nov. 11 at 4 p.m., departing from the Maxcy Hall ramp. This event is for the campus community only.
Potsdam Auxiliary and College Educational Services (PACES) will honor Veterans Appreciation Week, including discounts and free coffee deals for students with military ID. For more information, see https://www.potsdam.edu/events/veterans-appreciation-week.
SUNY Potsdam has been recognized as a 2019 Military-Friendly School by G.I. Jobs magazine. To learn more about Veteran Support Services at SUNY Potsdam, visit https://www.potsdam.edu/studentlife/support/veteran-support-services.
About SUNY Potsdam:
Founded in 1816, The State University of New York at Potsdam is one of America's first 50 colleges—and the oldest institution within SUNY. Now in its third century, SUNY Potsdam is distinguished by a legacy of pioneering programs and educational excellence. The College currently enrolls approximately 3,600 undergraduate and graduate students. Home to the world-renowned Crane School of Music, SUNY Potsdam is known for its challenging liberal arts and sciences core, distinction in teacher training and culture of creativity. To learn more, visit www.potsdam.edu.